Found June 21, 2012 on Wizards Extreme:
Late Wednesday night, Andray Blatche's Twitter account posted the following:
"Lol love it or hate it I'm here forever lol"
When a fan asked him what he meant, he made sure to declare that he meant he was going to be in Washington forever…even if he was traded.
And then he opened the flood gates.
As of just after 2:00 AM early Thursday morning, Blatche had been responding to nearly every one of his mentions on Twitter.
One of the highlights was his exchange with Wizznutzz asking if he could come work out with Blatche.
But it didn't stop there. One person decided to call Blatche out on the many blunders of his time here in DC, to which Blatche got on his defensive…you know, in that Andray sort of way.
He also proceeded to correct the same person that the Lapdance Tuesday he hosted was not at a strip club.
There were instances when one might be lead to believe that someone had hacked Blatche's account (but not in the way it was 'hacked' when he challenged a follower to a fist fight; I'm talking seriously hacked, here.) But for some reason, it's not too unrealistic to believe that Blatche really is making light of everything and answering everyone as a means to get back on the good side of the fans of Washington D.C.
The string of tweets was enough to believe it really is him. The selling point for me is that he's had these sorts of outbursts from time to time on his account before. Also, if someone was hacking his account, they got his lack of spelling and grammar down better than I could have.
Also, all of Dray's tweets (including ones before last night) have been posted via a blackberry mobile phone. So unless he lost his phone and someone is tweeting from it, I have a strong suspicion that Blatche is the man behind the keyboard.
Whether or not this truly was him (as of 2:30AM, he was still tweeting his followers), there's no doubt he's caused some sort of raucous in the Washington Wizards organization.
Could he be outsmarting all the fans and really just doing this to try and get out of Washington? Could it be that Dray just had six too many drinks last night? Or was his phone really stolen?
Either way, one thing is for sure. He's ready to die for this account.
Original Story:
http://www.wizardsextreme.com/blatche...
THE BACKYARD
BEST OF MAXIM
RELATED ARTICLES
The Washington Wizards haven't given me too much to talk about as of late. That is until now. The Wizards made a move that truly makes sense as they were able to unload forward Rashard Lewis to the New Orleans Hornets in exchange for Emeka Okafor and Trevor Ariza. Both players come to the Wizards as defensive specialists, an area Washington needed to improve. In addition to...
The Wizards' organization came out of left field today with a trade sending Rashard Lewis and the number 46th overall pick in this year's draft to the New Orleans Hornets in exchange fo Emeka Okafor and Trevor Ariza. Wizards GM Ernie Grunfeld held a conference call with members of the media to discuss the trade; and the one word that everyone left with was versatility. ...
The Washington Wizards are an intriguing team.  They have talent, but they haven't been able to turn that talent into wins.  They started to re-make their roster last season, grabbing Nene from the Nuggets for JaVale McGee in a deal that also sent Nick Young to the Clippers. Now, the Wizards are making more moves, sending Rashard Lewis and a second round pick for Trevor Ariza and...
According to Michael Lee of the Washington Post, the Washington Wizards have agreed to trade Rashard Lewis and the No. 46 2012 draft pick to the New Orleans Hornets for Emekah Okafor and Trevor Ariza: Lewis is entering the final year of his contract, so his expiring $23.8 million is attractive to the rebuilding Hornets [...]
The New Orleans Hornets acquired forward Rashard Lewis and the 46th pick in the upcoming draft from the Washington Wizards in exchange for forward Trevor Ariza and center Emeka Okafor. Lewis, a two-time NBA All-Star, will enter his 14th season in the NBA after averaging 7.8 points and 3.9 rebounds in 28 games, including 15 starts, last season for Washington. He sustained a left...
ESPNThe Washington Wizards have reached an agreement with the New Orleans Hornets on a trade to acquire Hornets center Emeka Okafor, according to sources close to the process. The Wizards will get Okafor and Hornets forward Trevor Ariza for Rashard Lewis and Washington's No. 46 pick in next week's draft.Contracts aside the Wizards just got a lot better. Okafor is still a...
The Wizards and Hornets have agreed to a trade of Emeka Okafor and Trevor Ariza for Rashard Lewis and the 46th overall pick.
By all accounts Washington Wizards Team Owner Ted Leonsis is a very bright and accomplished man; he was one of the figures that helped the Internet Age get through its infancy, allowing it to play such a prominent part in our society today. He is an award-winning filmmaker and is the majority owner for the Washington Capitals, the Mystics and the Verizon Center. Despite that impressive...
Wizards News

Delivered to your inbox

You'll also receive Yardbarker's daily Top 10, featuring the best sports stories from around the web. Customize your newsletter to get articles on your favorite sports and teams. And the best part? It's free!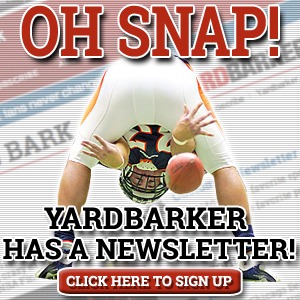 Latest Rumors
Best of Yardbarker

Today's Best Stuff

For Bloggers

Join the Yardbarker Network for more promotion, traffic, and money.

Company Info

Help

What is Yardbarker?

Yardbarker is the largest network of sports blogs and pro athlete blogs on the web. This site is the hub of the Yardbarker Network, where our editors and algorithms curate the best sports content from our network and beyond.