Found February 11, 2013 on Celtics Life:
The Boston Celtics and Charlotte Bobcats battled it out at the Time Warner Cable Center in a back and forth battle all night. Bobcats snapped their 7 game losing streak in the win tonight, which also happened to snap the Celtics win streak. The second game of a back to back is killer, never mind when it's a triple overtime game. This was your classic old, tired basketball team playing down to the level of a bad, young team. As we expected the game plan to be, Pierce and Garnett got a lot of rest tonight coming off big minutes last night. The offense continued to be more fluid without Rondo, as the ball flowed free to the open man. The Celtics lack of size inside was on display as the Bobcats pretty much got to the rim at will. But the wily veterans hung in the game, relying on the bench till the end when it came down to the final few possessions. The Celtics had a few chances to tie/take the lead down the stretch but missed some wide open looks. The Bobcats should change their nam...
Original Story:
http://www.celticslife.com/2013/02/bo...
THE BACKYARD
BEST OF MAXIM
RELATED ARTICLES
Last week Kevin Garnett became the first player in NBA history to accumulate 25,000 points, 10,000 rebounds, 5,000 assists, 1,500 steals and 1,500 blocks, a feat that shows his incredible all-around play since entering the league in 1995. With that said, it's not a shock to see Garnett hit another ridiculous milestone last night as he passed Sleepy Floyd for 50th on the NBA...
Paul Pierce wasn't picked as a reserve for the 2013 All-Star game, nor was he picked as a replacement to fill Rajon Rondo's vacant spot. This despite the fact that Pierce's numbers are remarkably similar to his his stats in previous All-Star seasons. Pierce has been on fire lately (A couple huge triple doubles included) and it appears there might be an All-Star roster...
The worst-case scenario for Leandro Barbosa's knee appears to have been confirmed. The Celtics guard, who came up lame during Monday's loss in Charlotte, reportedly has torn the ACL in his left knee. Such an injury would end his season. Kevin Garnett told reporters in the locker room after the game that the team was informed Barbosa would join Rajon Rondo and Jared Sullinger...
Kevin Garnett grinned when he was told on Sunday that teammate Jason Terry was amazed at what Garnett was able to do on a basketball court "at 50 years old." Garnett, who is actually only 36, shot back. "Jet's no spring chicken, either," he said. Garnett and Terry are two of the NBA's oldies but goodies. Along with Paul Pierce, another player performing at an All-Star...
CelticsLife readers and writers. I need your help. I can't wrap my head around this crazy season the Celtics are having. Before the year began, I thought this was the best Celtics team we've had during the Garnett era.  Unfortunately, we sputtered out of the gate, and while we've had our moments, it has pretty much been a disappointing season up until this recent win...
The Celtics finally broke through and have their second longest winning streak by beating the Denver Nuggets last night.  It took 3OT's but they prevailed in the end, with Paul Pierce and Kevin Garnett leading the team. Winning without Rondo seems to have lifted a burden off of these Celtics.  As a result, No. 9's run of being the face of the franchise may be over. We...
Earlier this morning we noted that folks continue to drop the n-word way too easily and what does The Big Lead come up with? Kevin Garnett dropping the word on a local broadcast last... Full story at Bob's Blitz ~ http://www.bobsblitz.com
The Boston Celtics can't catch a break.  They lost their star point guard, Rajon Rondo, to a torn ACL.  Now, as the team has found a way to continue winning, they have lost another guard to a knee injury.  Leandro Barbosa went down after driving to the basket and making a pivot move. According to A. Sherrod Blakey of CSN Boston, the injury is likely season-ending.  Barbosa...
Bobcats fans seem like a decent bunch.  They are sticking with their team through all the lean years, which says a lot.   They also felt bad when Barbosa went down unlike several other teams whose fans would be cheering (or wishing for) an injury on the Celtics.   While I hate to lose any game, this one wasn't too bad.  They were competitive right to the end in spite of...
More Snow, Please It's such a fun year in the Asso- ciation, people. LeBron James and Kevin Durant have both taken their games up another notch, which seemed more or less impossible last year; it's not too much of a stretch to say that they might be authoring the two best individual seasons in league history right now. The Knicks, of all teams, turned into a sharing and...
Last night was one of the best bouts of insomnia I've ever had. Even though I had to chug a keg of coffee with a Scarface-sized pile of Splenda to get me going this morning, it was all worth it. That's how psyched I was to see the Bobcats take out the Boston Celtics. I [...]
In the middle of a grueling, 82-game NBA campaign, Zach Randolph and Brendan Haywood are still providing energy. In parallel acts that should not be overshadowed, both big men recently decided to step out into their respective communities to help single mothers and families struggling to make ends meet, notably offering donations to provide electricity and utility services. For...
NBA News

Delivered to your inbox

You'll also receive Yardbarker's daily Top 10, featuring the best sports stories from around the web. Customize your newsletter to get articles on your favorite sports and teams. And the best part? It's free!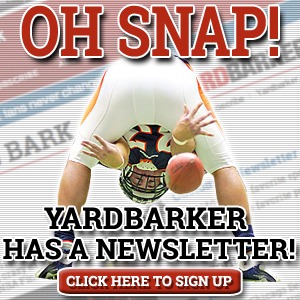 Latest Rumors
Best of Yardbarker

Today's Best Stuff

For Bloggers

Join the Yardbarker Network for more promotion, traffic, and money.

Company Info

Help

What is Yardbarker?

Yardbarker is the largest network of sports blogs and pro athlete blogs on the web. This site is the hub of the Yardbarker Network, where our editors and algorithms curate the best sports content from our network and beyond.