Posted May 17, 2012 on AP on Fox
A 12-year-old Texas boy who was suspended from school after shaving his head to resemble the face of Spurs forward Matt Bonner scored tickets to a playoff game and props from his favorite NBA player. Patrick Gonzalez was suspended for a day from Woodlake Hills Middle School because the district deemed his $75 haircut a distraction. He returned to class Thursday after reluctantly shaving his head. Gonzalez says Bonner is his favorite player, noting they're both redheads. Bonner, whose mother is a teacher, says the school could have just moved Gonzalez to the back of the room. Bonner sent Gonzalez a message, saying: ''Keep supporting us redheads in the NBA.'' Gonzalez's story prompted the Spurs to give him and his family tickets to Thursday's playoff game against ... the Clippers.
Original Story:
http://msn.foxsports.com/nba/story/Te...
THE BACKYARD
BEST OF MAXIM
RELATED ARTICLES
One San Antonio Spurs fan took his love for power forward Matt Bonner just a little too far, at least according to his middle school. Patrick Gonzalez shaved a picture of Bonner into his red hair for the Spurs' playoff push. But there was a problem when he went to Woodlake Hills Middle School with the new haircut. "My first period teacher called the principal," Gonzalez...
A school kid in San Antonio earned the wrath of his teachers after having an image of Spurs forward Matt Bonner shaved into the back of his head. Patrick Gonzalez was ordered to shave off the design, which pictures his fellow redhead poised beyond the arc, or face suspension from Woodlake Hills Middle School, FOX station KABB reported. Patrick and his mother said they believed...
Gregg Popovich is the most accomplished head coach in the NBA. He is a two-time Coach of the Year and has coached the San Antonio Spurs to four championships during his time with the organization but there is one thing missing from his resume. Now I don't want to give the impression that this missing item is something major that will determine his legacy because it won't or at...
The 2011-12 San Antonio Spurs team is stacked and their depth is staggering. From rookie Kawhi Leonard, the "Big 3," to having Stephen Jackson, Manu Ginobili, Boris Diaw, Tiago Splitter, Gary Neal come off the bench, there is no doubt San Antonio's roster can be intimidating for any opposing team. Much of this is due to Spurs GM R.C. Buford. Buford was able to create...
They are the two premier forwards in the NBA of this generation -- San Antonio Spurs' Tim Duncan and Boston Celtics' Kevin Garnett. Both have won NBA titles, been selected to countless All-Star games, collected many individual awards and had their fair share of battles on the court. Perhaps the biggest on-the-court battle between TD and KG happened when Garnett was playing...
Tony Parker scored 22 points on his 30th birthday, Tim Duncan had 18 and the San Antonio Spurs beat the fading Los Angeles Clippers 105-88 on Thursday night, pushing their winning streak to 16 and taking a 2-0 lead in their Western Conference semifinal series. Chris Paul responded to his awful Game 1 with only a slightly better encore, scoring 10 points as the Clippers now head...
Air Diaw10) From watching these first two games, you'd never guess that Chris Paul is actually any good9) When Tim Duncan looks quick and comfortable, the Spurs' opponents really don't have a chance in hell8) If Blake Griffin is going to continue to get one more rebound than a dead man, we're going to really have to start calling him a power forward7) ESPN cared so...
Down 2-0 against the San Antonio Spurs, the Los Angeles Clippers face the tough task of needing two victories at home to keep pace with the NBA's hottest team. Making things worse are injuries to Chris Paul and Blake Griffin that have robbed the superstars of their effectiveness. Game 3 on Saturday is particularly crucial for the Clippers because no team in NBA history has ever...
"They're going to come much harder next game," said Tim Duncan of the San Antonio Spurs after his team defeated the Los Angeles Clippers on Tuesday to take a 1-0 Semi Finals series lead. The Spurs didn't play their best offensive game with 18 turnovers, but after a rough first quarter, they played sound defense against the explosive Clippers for an 18-point win. The Clippers...
If the Los Angeles Clippers are trying to take Tony Parker out in this series, they're not doing a very good job. The San Antonio Spurs' point guard dished out 11 assists in Game 1 and scored 22 in Game 2. San Antonio also happens to lead the Western Conference semifinals 2-0, with the best-of-seven shifting to Los Angeles for the next two games, beginning Saturday. The...
Down 2-0 against the San Antonio Spurs, the Los Angeles Clippers face the tough task of needing two victories at home to keep pace with the NBA's hottest team. Making things worse are injuries to Chris Paul and Blake Griffin that have robbed the superstars of their effectiveness. ''The mood is still pretty good,'' Griffin said Friday after practice and a video...
Spurs News

Delivered to your inbox

You'll also receive Yardbarker's daily Top 10, featuring the best sports stories from around the web. Customize your newsletter to get articles on your favorite sports and teams. And the best part? It's free!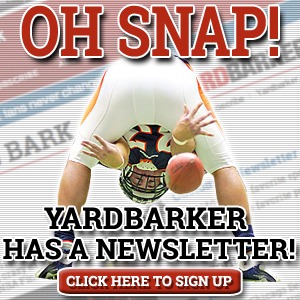 Latest Rumors
Best of Yardbarker

Today's Best Stuff

For Bloggers

Join the Yardbarker Network for more promotion, traffic, and money.

Company Info

Help

What is Yardbarker?

Yardbarker is the largest network of sports blogs and pro athlete blogs on the web. This site is the hub of the Yardbarker Network, where our editors and algorithms curate the best sports content from our network and beyond.