Found July 31, 2013 on isportsweb.com:
Dumars is not being shy this off-season. The Detroit Pistons have made another sizable splash this offseason, adding talented point guard Brandon Jennings via sign-and-trade. This was another move that signaled the Pistons' willingness to try and push their team back into its usual playoff realm. Through personal experience, when I see a franchise make a bold move such as this one, I initially become filled with exuberance, but, after some deep thought and over-analyzing, I also shake my head begrudgingly in disbelief. Yes, Brandon Jennings is an immediate upgrade at the point guard position over Brandon Knight, but is he that much of an upgrade? Jennings, 23, shot a lousy 39 percent from the field last season in Milwaukee and was a non-factor in his second career postseason appearance against the Miami Heat (shooting 29.8 percent in the series). During his short career, Jennings has garnered the reputation of a bad shot-taker, who relies too heavily on his outside jumper; a jumper displaying a funky, elongated release. Alongside the shooting woes, Jennings is known for not being the greatest perimeter defender. He often takes too many chances and gets himself out of position regularly. But, instead of dogging on his short-comings, let's analyze why he had these issues. For starters, Jennings played for the Milwaukee Bucks–I don't think I have to elaborate too much on that. Some would say, "But they made the playoffs last year?" Well, Mr. Jennings had a lot to do with that. Jennings played on a roster that lacked in depth and big-time talent, so it's conceivable that his reputation for taking bad shots comes with a reasonable amount of understanding. When you're a talented guy playing with teammates not as talented as yourself, it's not beyond comprehension that Jennings felt he needed to carry the brunt of the load offensively, hence the forced shots, turnovers and gambling defensive mentality. Also, while we're on the topic, can we remember that Brandon Jennings is still only 23 years old. Brandon Jennings has a lot of good years ahead of him and he has yet to scratch the surface on the type of player he can be. The reported 3-year, $25 million deal with Detroit is a steal in comparison to the $12 million he was reportedly asking for. The Pistons are receiving potentially an All-Star caliber point guard at the same rate other point guards like Jose Calderon and Jeff Teague signed for this offseason. Jennings also comes to a situation and city where he's wanted. Jennings will be under the tutelage of guard-friendly head coach Maurice Cheeks and veteran former-Finals MVP Chauncey Billups. If there were two mentors for a young guard in this league, these guys are two of the best and Jennings should thrive under their wings. Jennings biggest obstacle that may prove to be not an obstacle whatsoever, is the adjustment from being a scoring point guard to a facilitator and buying in defensively. The young guard will now have an uber-talented front-court at his disposal that will take a mountain of scoring pressure off his back. This will be the first time in Jennings' short career where he will be able to dish the rock and set up teammates using his superior athleticism and playmaking bravado. Defensively, Jennings will have to showcase the ability to play a good, smart  team game. I'm sure a defensive-minded head coach in Maurice Cheeks will hammer into Jennings' mind that a lot of the team's future success will hinge on his willingness to play both ends at an equally high level. But, in my opinion, the most important thing for Brandon Jennings is getting a fresh start. He's going to a young team featuring a new coach, a larger market and a passionate fan base: these factors will be profoundly important to Jennings' success. This deal also does a lot of good for the Detroit Pistons. The Pistons didn't have to give up Greg Monroe in the process, whereas in other trade rumors (Rondo) it would have potentially featured him and a slew of other assets. The Pistons only had to cut ties with point guard Brandon Knight, center Slava Kravtsov and forward Khris Middleton in this deal, which could prove to be an absolute bargain for Detroit. It also helps in terms of future cap room and roster space. The Pistons signing Jennings for $8 million per season, like I mentioned before, is a great deal for both sides. Jennings wanted $12 million, the Bucks were giving him $4.5 million and now he gets $8 million with Detroit; the perfect medium. It's a great rate for all sides involved. Detroit has two large contracts on it's roster: Charlie Villanueva (one-year, $8.5 million) and Rodney Stuckey (one-year, $8.5 million). They can now dangle these contracts as trade-bait for a potentially useful piece in a playoff run or let them expire and use the freed up money to re-sign Greg Monroe, whose deal is up at the end of the season. They also free up roster space with this deal giving up three players to one and now have enough roster space to sign rookie point guard Peyton Siva, who impressed at the Orlando Summer League, or use it to sign a back-up center, of whom they lost trading the Ukranian big-man Slava Kravtsov. Could this be the triumphant return of Mo-town round-ball? Or is this just the Gordon-Villanueva Disaster version 2.0? I say lets not think about all that just yet and just bask in the fact that Detroit Pistons basketball just got exciting again. Really exciting.
Original Story:
http://feedproxy.google.com/~r/isport...
THE BACKYARD
BEST OF MAXIM
RELATED ARTICLES
LEAKED NEWS
The Pistons acquired Brandon Jennings from the Bucks in a sign-and-trade deal. Did the point guard tip news of the trade with a shirt?
Point guard Brandon Jennings was traded to the Detroit Pistons earlier this week, and this picture of Jennings wearing a Pistons jersey as a kid has just surfaced on the Internet. It's quite the coincidence considering Jennings grew up in Compton, California, but then again Grant Hill was just awfully awesome in the '90s and sold a ton of jerseys. I'm pretty sure I wore this...
The Detroit Tigers made two trades in two days right before the trade deadline, in hopes to bring a much-awaited World Series title to Motown. Over the past few weeks the Pistons have made noise as well, bringing back Detroit favorite Chauncey Billups and acquiring two all-star caliber players in Josh Smith and Brandon Jennings. The Lions placed one more boulder on the already huge...
The situation in Milwaukee between the Bucks and Brandon Jennings has been well-documented, and it seems their relationship may be coming to an end. Adrian Wojnarowski of Yahoo! Sports has learned that the Bucks are nearing a deal to ship Jennings to the Detroit Pistons: Detroit and Milwaukee are nearing a sign-and-trade agreement to send Brandon Jennings to the Pistons, league sources...
The Detroit Pistons apparently aren't done dealing. Reports say the Pistons are nearing a sign-and-trade agreement that would send point guard Brandon Jennings to Detroit. The deal would be 3 years at approximately $24 million or possibly more. ESPN's Marc Stein and Yahoo! Sports' Adrian Wojnarowski are reporting the negotiations. Jennings 23 averaged 17.5 points 6.5 assists...
Brandon Jennings found out that he's not yet worth $12 million per season, and he also got the change of scenery he was seeking. Jennings will now try to fit in with the long lineage of great point guards in Detroit, and even though he didn't get the money he was seeking, he is happy. While playing in a pickup game with friend and Raptors forward Amir Johnson, Jennings told the Toronto...
A person familiar with the deal tells The Associated Press that the Detroit Pistons have acquired point guard Brandon Jennings from the Milwaukee Bucks for point guard Brandon Knight and two prospects. The person, who spoke Tuesday on condition of anonymity because the trade hasn't been announced, says Jennings has agreed to a $24 million, three-year contract with the Pistons...
According to Adrian Wojnarowski of Yahoo! Sports, the Bucks and Pistons are closing in on a sign-and-trade that would send Brandon Jennings to Detroit on a 3-year, $24 million deal. The Pistons will send Brandon Knight to Milwaukee as part of the package. The 23-year-old point guard averaged 17 points, 5.7 assists and 3.4 rebounds in four seasons in Milwaukee. The Detroit Pistons are...
Brandon Jennings brings another young player with star potential to the Pistons, who have had their busiest, most exciting offseason in recent memory. The pundits are already lining up to crush Joe Dumars in the press. Why would he trade anything to get streaky, moody Brandon Jennings on the Detroit Pistons? Why, you ask? Because Dumars literally had no other choice. If he had sat...
Yesterday, the Pistons signed "point guard" Brandon Jennings to a 3 year, $25 million deal. I put it in quotes because Jennings is a point guard simply by default. In reality he's a ball dominating combo guard that shoots a lot (15.5 FGA per game in his career), but is terribly inefficient (39.4% career FG). Still, at only 23 years old the Pistons clearly thought...
Every morning, we compile the links of the day and dump them here… highlighting the big storyline. Because there's nothing quite as satisfying as a good morning dump.   The Pistons' offseason hasn't stopped since it began, as they are reportedly agreed to a sign-and-trade deal Tuesday, acquiring restricted free agent Brandon Jennings from the Milwaukee Bucks for Brandon...
It's been a few years since we've been able to say it, but the Detroit Pistons seems to be make strategic moves to become relevant again.  On the eve of the Major League Baseball trade deadline, two NBA teams got together today and made some noise.  The Detroit Pistons completed a sign-and-trade deal with the Milwaukee Bucks for Brandon Jennings, giving the high-motor, undersized...
Pistons News

Delivered to your inbox

You'll also receive Yardbarker's daily Top 10, featuring the best sports stories from around the web. Customize your newsletter to get articles on your favorite sports and teams. And the best part? It's free!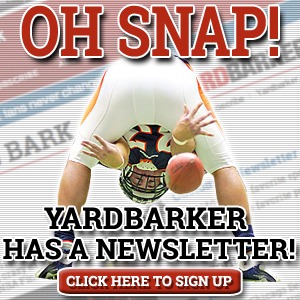 Latest Rumors
The Backyard

Today's Best Stuff

For Bloggers

Join the Yardbarker Network for more promotion, traffic, and money.

Company Info

Help

What is Yardbarker?

Yardbarker is the largest network of sports blogs and pro athlete blogs on the web. This site is the hub of the Yardbarker Network, where our editors and algorithms curate the best sports content from our network and beyond.