Monk, the eighth overall pick in the 2017 NBA Draft, is averaging just 5.0 points per game this season.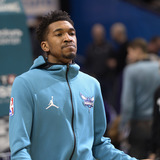 Malik Monk banged up his car in an accident this week, and police determined that the Charlotte Hornets rookie was at fault for the crash because of the way he was driving.According to police documents obtained by TMZ, Monk was driving near the University of Arkansas campus early Sunday morning when his 2002 Lexus went off the road and crashed into a gate. The car needed to be towed...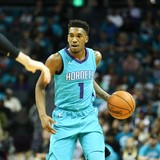 Charlotte Hornets rookie shooting guard Malik Monk reportedly was involved in a car accident early Sunday morning and was cited for reckless driving.Per TMZ Sports, which obtained police documents about the incident, "Monk was driving near the University of Arkansas around 5:46 AM when his red 2002 Lexus ran off the road and crashed into a gate."In addition to the reckless driving...
Twenty-nine Kentucky players are in the NBA. The Charlotte Hornets' Malik Monk on the almost nightly Wildcat reunions.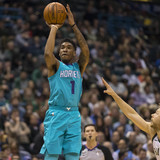 In addition to looking for help at center, the Bucks are reportedly also interested in potentially acquiring a shooting guard before next week's trade deadline. According to Gery Woelfel of the Racine Journal Times, one possible candidate is Hornets' rookie Malik Monk, who has fallen out of Charlotte's rotation while working to improve his defense and adjust to the NBA game.The Bucks...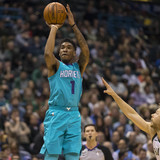 A lack of depth played a role in the Wizards' recent loss to a shorthanded Cavaliers team, Chase Hughes of NBC Sports Washington writes. In a matchup where both teams were missing players, the Cavs still managed to hurt them with a capable 10-man rotation.Hughes writes that the Wizards will be in a better position when John Wall and Markieff Morris completely return to full health...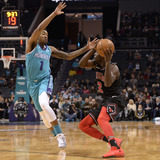 Charlotte Hornets rookie guard Malik Monk already appears to be in the doghouse just two months into his NBA career.Marc Berman of the New York Post reported on Monday that Monk has been pulled from the Hornets rotation due to his poor defensive play. The 19-year-old Monk, who was picked by the Hornets No. 11 overall in this year's draft, had been averaging just 6.3 points and 1...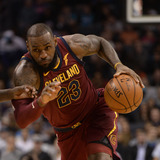 Malik Monk put LeBron James' greatness into perspective prior to his Charlotte Hornets' clash with the Cleveland Cavaliers on Wednesday.Monk, who is a rookie, was asked prior to the game what it was like going up against a guy he grew up watching in James."It's super weird. He was in his prime when I was watching. He's still in his prime now. It's crazy," Monk said. That is very...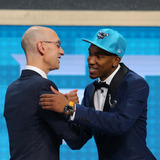 Malik Monk is trying to channel his inner LaVar Ball.Speaking with David T. Foster III of The Charlotte Observer on Saturday, the Charlotte Hornets rookie guard said that he would be able to beat team owner Michael Jordan in a game of 1-on-1 right now."He's pretty old right now," Monk said of His Airness. "I think I can get him."Of course, Monk is a springy 19-year-old, while Jordan...
MORE STORIES >>
Hornets News

Delivered to your inbox

You'll also receive Yardbarker's daily Top 10, featuring the best sports stories from around the web. Customize your newsletter to get articles on your favorite sports and teams. And the best part? It's free!