Found November 14, 2012 on Waiting For Next Year:
Anderson Varejao. Daniel Gibson. Alonzo Gee. These three names would be the only ones that a visually preturbed Scott would list off following his team's recent loss to the Brooklyn Nets, one which included a solid first quarter coupled with three quarters of defense that would best replicate that of the All-Star game or an And1 mixtape. A young roster, full of upside and excitement and YouTube-ready highlights, all ignored with the focus on three players. With 15 bodies filling the roster of the Cleveland Cavaliers, head coach Byron Scott claims that only one-fifth of those who are afforded Cavalier uniforms have proven to be worth their weight on the defensive end of the floor on a nightly basis, posessing the passion to provide a hinderance to their opponent, showing that there are, after all, two sides to the game of basketball and going into each game in attempt to merely out-shoot the opposition is by no means a recipe for success. Heading into the contest, the Nets averaged 93 points per game on 43 percent shooting. Against the Cavaliers and their marks were elevated to 114 points on 55 percent shooting. These marks were enough for Byron Scott to completely ignore the fact that his 20-year-old point guard provided a career-best 34 points to go with eight assists; it was even impetus to not discuss Varejao's 35-point explosion, output that demolished his previous career-high. Shooting back at a member of the New Jersey "It's a team game," quipped the frustrated coach. Scott admitted that this team undoubtedly has weapons who can fill up the box score each time they take to the floor. The only thing keeping Irving from having his named etched in stardom is the likely ascent to superstardom. Rookie guard Dion Waiters has already had multiple evenings of high point totals. Even Tristan Thompson and the aforementioned Gibson have had their share of double-digit outings, but that is essentially the end of the rope — four players, five coutning Varejao, who can consistently put the ball through the rim. The other option? Play efficient basketball on the offensive end while defending the absolute hell out their own goal. "We've got to get more guys who are going to be competitive and passionate about the defensive end," Scott said. Not exactly a shot across the bow of one Chris Grant as much as it is the calling out of 12 other players in the Cavalier locker room, but the message remains: this team cannot expect to win basketball games if it is not going to play defense. If Daniel Gibson is on the floor, that means either Irving or Waiters is watching him play. If Alonzo Gee can't find his stroke on a given night, he becomes one-dimensional and is often tasked with chasing around the best athlete on the floor. When the Cavaliers opted to trade JJ Hickson during his contract year and draft the athletic Thompson, they were doing so knowing that his offensive game was raw, but he was an athletic post defender who could run the floor — on Tuesday night, Thompson managed to pull down five rebounds and block zero shots. In fact, of every Cavalier to take the floor on Tuesday, nary a one managed to block a shot despite the Nets taking 29 shots at the rim. The difficulty lies in the fact that players simply do not become better defenders overnight, if at all. If Scott is not going to alter his defensive scheme and chooses to rely on improved effort, the impact may be marginal at best. Waiters is a hard-nosed player, but was a part of a zone defense in college. Irving has long had defense listed as his biggest weakness. And while Donald Sloan finds himself watching back door passes zoom past his head, the cost of punshing backcourt tandem may be more than the benefits of the message being sent. The Cavaliers now find themselves in the midst of a three-day break from in-game play, their longest stretch of "off" days until the mid-February All-Star break. They've been away from Cleveland for roughly two weeks and will likely have alot to catch up on with friends and family. However, if Scott's post-game message was any indication, there will not be much a break to be had. "We've got three more days before our next game," Scott said. "I can promise you we will work on it a hell of a lot the next three days. A hell of a lot." –  (AP Photo/Sue Ogrocki)
Original Story:
http://www.waitingfornextyear.com/201...
THE BACKYARD
BEST OF MAXIM
RELATED ARTICLES
It was not all that long ago when the NBA world was praising the Cleveland Cavaliers' reserve unit. Ramon Sessions was playing key minutes off of the bench, allowing then-rookie Kyrie Irving to get some much-needed rest; Alonzo Gee was providing instant offense, athleticism and some surprisingly solid defense when subbing in for Omir Casspi; a young Tristan Thompson thrived in...
Before the Cavaliers suffered a 114-101 loss to the Nets in on Tuesday night, Kyrie Irving stopped by Foot Locker's "Week of Greatness" launch event in New York City to help unveil his new TV commercial and preview the chain's holiday retail sneaker lineup. The result is below, complete with the perfect Kyrivian ending. Do enjoy. "[The commercial is] truly a blessing,...
We know the Cavaliers' defense is bad. But how bad in comparison to the rest of the league is measurable, and the measurement is ugly. Tha answer: very ugly. "When Kyrie Irving and Dion Waiters combined for 52 points in a road win over the Los Angeles Clippers last week, we started to see some real potential in the Cleveland Cavaliers. Since then, the Cavs have lost four straight...
The trading block is a beautiful thing in the mind of a basketball writer. Just remember, once you're on our trading block, you will not be taken off until you are dealt. At least, that's the perception. Until Kevin Martin got traded to Oklahoma City, I've seen at least 12 different trades involving him. Clippers backup point guard Eric Bledsoe has gain heavy trade momentum...
While We're Waiting serves as the early morning gathering of WFNY-esque information for your viewing pleasure. Have something you think we should see? Send it to our tips email at tips@waitingfornextyear.com. "Anderson Varejao scored 35 points and grabbed 18 rebounds last night in a loss to the Nets. It feels crazy to write that, because Varejao isn't the kind of center you...
MAGIC HANDLES
Tweet   Kyrie Irving of the Cleveland Cavaliers is quickly working his way up the list of top point guards in the NBA, justifying Cleveland taking him with the top pick in last year's draft just about every time he takes the court. Tonight against the Brooklyn Nets, in the presence of another of league's [...]
The holiday shopping season will soon be upon us and Foot Locker is heating things up this season with the Week of Greatness. They have kicked things off with the official Week of Greatness launch party with special guest, Cleveland Cavaliers star Kyrie Irving. The 2011-2012 NBA Rookie of the Year and newest member of Foot Locker Team Approved stopped by the exclusive event to debut...
Nights like this are gonna happen, but that doesnt make them enjoyable or easier to handle. The verdict: Brooklyn 114, Cavaliers 101 on Tuesday in a game that was only close when it didnt really seem to matter. This was the Cavs first visit to the new Barclays Center, and the only people who seemed willing to get the most out of the experience were Anderson Varejao and (who else...
The bad news for the Cleveland Cavaliers (2-5, 12th in the East) is that once again, they are playing on the road. The good news is the game is in the Eastern Time Zone and closer to home. The even better news is that this one is  this is the final game of a debilitating and demoralizing road trip. Yes, mercy comes to the Cavaliers as they head to Brooklyn to check out the Nets'...
NEW YORK (AP) -- Deron Williams had 26 points and 10 assists, Joe Johnson scored 25 points, and the Brooklyn Nets beat the road-weary Cleveland Cavaliers 114-101 on Tuesday night for their third straight victory. Brook Lopez added 23 points for the Nets, who opened a 20-point lead at home for the third straight game, but this time barely let up and beat the Cavaliers for the sixth...
About the only thing Anderson Varejao didn't do yesterday was win.  As his Cavaliers got dismantled in Brooklyn, Varejao (along with his teammate Kyrie Irving, who scored a career-high 34 points) refused to go down without a fight.  By the time the final buzzer put an end to his boisterous 37-minute outing, Varejao had scored 35 points, collected 18 rebounds, doled out 3 assists...
While We're Waiting serves as the early morning gathering of WFNY-esque information for your viewing pleasure. Have something you think we should see? Send it to our tips email at tips@waitingfornextyear.com. Wow. Honest admission. Great interview- "ESPN.com's John Hollinger is very high on Cavaliers point guard Kyrie Irving, who by many measures performed about as well last...
NBA News

Delivered to your inbox

You'll also receive Yardbarker's daily Top 10, featuring the best sports stories from around the web. Customize your newsletter to get articles on your favorite sports and teams. And the best part? It's free!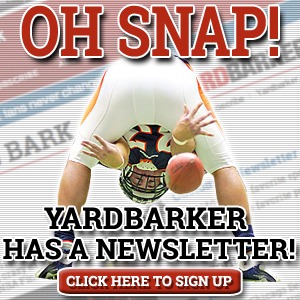 Latest Rumors
Best of Yardbarker

Today's Best Stuff

For Bloggers

Join the Yardbarker Network for more promotion, traffic, and money.

Company Info

Help

What is Yardbarker?

Yardbarker is the largest network of sports blogs and pro athlete blogs on the web. This site is the hub of the Yardbarker Network, where our editors and algorithms curate the best sports content from our network and beyond.