Found July 16, 2012 on Project Spurs:
PLAYERS:
Steve Nash
,
Luis Scola
,
Goran Dragic
,
Eric Gordon
,
O.J. Mayo
,
Marcin Gortat
,
Channing Frye
,
Hakim Warrick
,
Markieff Morris
,
Robin Lopez
,
Kendall Marshall
TEAMS:
Phoenix Suns
,
Los Angeles Lakers
,
New Orleans Pelicans
,
Memphis Grizzlies
The Phoenix Suns are undergoing a drastic facelift. Actually, they're going with the facelift, tummy tuck, liposuction on the arms and throwing in a boob job.
After letting their 2-time MVP point guard Steve Nash go to the Lakers, the Suns have been throwing around money to bring in some replacements. They've already signed Michael Beasley and Goran Dragic. They lost the contest for Eric Gordon when the Hornets matched their offer sheet, but that didn't stop them. The Suns won the bidding war for amnestied Rockets forward Luis Scola and now he'll join the team as well. The Suns may not even be done yet, rumored to be going after Grizzlies guard O.J. Mayo, but that's still way up in the air. It's kind of funny how Steve Nash has encouraged the Suns for years to spend some money and go get some talent for him to play with and they wait until he leaves to do it. Now I'm not going to go crazy and say this Suns team is ready to rise back to the top of the Western Conference and compete with the likes of the Spurs like they once did. But there's some potential here. They still have more work to do this offseason. I think the bid for Scola was the best move they've made so far, but their team is now overloaded with big men.
They have Scola, Beasley, Marcin Gortat, Channing Frye, Hakim Warrick, Markieff Morris and possibly Robin Lopez. To me, that's a lot of average post players that they can find a better use for than keeping them all on the roster. In the age of dominating trios in the NBA, the Suns are doing what they can with what they have. They haven't pulled in any real superstars, but they're starting to build a talented roster. The Suns will have to be all about the "team dynamic." They have been for years, but that was with Steve Nash running the show, a guy who makes everyone around him better. They don't have that anymore and while Dragic was Nash's understudy for many years, he doesn't have nearly the same level of talent. Rookie point guard Kendall Marshall could be something special, but that remains to be seen. This new Suns roster has a lot of question marks. They haven't had this level of talent since the days of Nash and Amar'e Stoudemire, but they'll all have to play well together if they want to succeed. We'll quickly find out if this is a real team or just a bunch of misfits.
(Photo illustration by RealGM) 
Original Story:
http://www.projectspurs.com/2012-arti...
THE BACKYARD
BEST OF MAXIM
RELATED ARTICLES
<a href="http://www.mogreet.com/moshare/it/" class="moshare-button-hor" data-channel="wordpress-1.2.8" data-message="Steve Nash is really getting his bearings in Los Angeles as of late. Nash was being driven along a LA freeway recently and a group of Lakers fans were beyond excited to see the newest addition to the purple and yellow. The fans...
I'm going to go out on a limb and say that Lakers fans are somewhat gay (relax, they're excited) about two-time NBA Most Valuable Player Steve Nash getting traded to Los Angeles.  He was acquired through a sign-and-trade with the Phoenix Suns on July 11. So how are fans showing their support to Nash, who has yet to sport the purple and gold?  They're handing him beer while...
If this video is any indication, Steve Nash's tenure in Los Angeles is getting off to a glorious start. Here he is cruising along on a freeway in L.A. and being handed a brewski from some (drunk?) bro patrol in a completely different vehicle, all while video taping it, too. Sounds totally safe and practical to me. And of course it was a Keystone Light. Because nothing quite says...
Duuuude, Naaash! Forget about action that took place on a field or a court this weekend. We've got the sports highlight of July here for you. It also happens to be the best assist you may see all season long. I can't say we've got background on this clip beyond the visual evidence, but you could not create this scene any better if you scripted and staged this one better than...
Seriously is there any better way to welcome your next star point guard to the Lakers?  Just strait hand off a beer on the highway and have Steve Nash grab it.  Just awesome. Only thing I can fault these guys for is drinking Keystone Light.  Gotta go Natty Light.  Must be a Cali thing.  Video is below. Check out our Home Page for more stories and follow us on Twitter...
Always a good sport, Steve Nash recorded fans handing off a Keystone Light on the from their car to his cab, on the highway.
Which beer maker want's to sponsor these people? A group of California kids apparently recognized new Laker, Steve Nash, driving down the freeway. Instead of just screaming, "Steve, hey, Steve!" they yelled "Steve, take the beer." Keystone Light needs to hire these guys to drive down the freeway and pass out beers as celebrities drive by.  We can call them the "celebrity...
Luckily for sports fans, the NBA free agency period has created a lot of excitement and buzz in a time when baseball is the only sport in season. There have been many crazy moves, even though we haven't even seen how the Dwight Howard situation will play out. With players now able to officially sign offer sheets, expect the madness to continue as several GMs will have to make several...
Normally Steve Nash is the guy in charge of driving and dishing, but watch as these Laker fans hand the newly-signed guard a beer on the highway! As much as I cringe at the damage the Lakers can deal... [[ Read More ]]
Ramon Sessions is so hurt.
<a href="http://www.mogreet.com/moshare/it/" class="moshare-button-hor" data-channel="wordpress-1.2.8" data-message="The great and very talented folks at the NOC, who are responsible numerous videos including the Steve Nash Batman and Bourne parodies, have now launched the Jeremy Lin Song Parody: "Jeremy I Used to Know." As always,...
NBA News

Delivered to your inbox

You'll also receive Yardbarker's daily Top 10, featuring the best sports stories from around the web. Customize your newsletter to get articles on your favorite sports and teams. And the best part? It's free!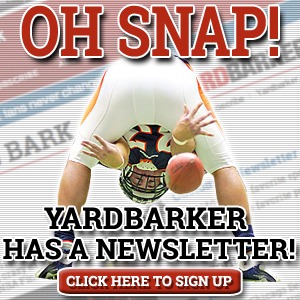 Latest Rumors
Best of Yardbarker

Today's Best Stuff

For Bloggers

Join the Yardbarker Network for more promotion, traffic, and money.

Company Info

Help

What is Yardbarker?

Yardbarker is the largest network of sports blogs and pro athlete blogs on the web. This site is the hub of the Yardbarker Network, where our editors and algorithms curate the best sports content from our network and beyond.