Found May 06, 2013 on Blog So Hard Sports:
How would DC fans feel about Dwight Howard in a Wizards jersey? I had a crazy thought this morning. I must have been a dream or something.  And more than likely, it would only be a dream scenario. Anyone think the Wizards should pursue a sign and trade for Dwight Howard? It's no secret that Kobe Bryant and Dwight Howard aren't the best of buds. I'm not sure what kind of package it would take but the Wizards certainly could send two players entering the final year of their contracts in Emeka Okafor (coming off one of his best seasons in his career) and Trevor Ariza (SF on the 09 Lakers Championship team) plus their 2013 1st round pick for Dwight Howard. But the salaries going out would have to match up closely with the salary of Howard coming in. And on top of everything, he would have to want to come to DC to make it work — which isn't as much as a stretch as it would have been last year or the year before with the back court the Wizards have built. I'm sure many people would shoot this down but I think it'd be good for both teams. It would get Dwight away from Kobe, which seems to be what Kobe wants. The Lakers would get two front court starters to go with Pau Gasol up front and a lottery pick to develop for their future. I would imagine the Lake Show would be looking for a PG in the draft, as Steve Nash is finally showing his age. And that is putting it nicely for the future Hall Of Famer.  The Lakers starting line up would be: PG: Nash/13 Draft Pick (Burke or Carter-Williams) SG: Bryant SF: Ariza/World Peace PF: Gasol C:   Okafor The Wizards starting line up would be: PG: Wall SG: Beal SF: Webster PF: Nene C:   Howard While the Lakers goal of getting younger and more athletic aren't fully met in this trade it does provide some interesting pieces for them. They get a defensive minded center who doesn't demand shots in the offense, a younger wing player who is familiar with the franchise, and a young draft pick that hopefully turns into their PG-of-the-future. Also in this scenario, the only salary the Lakers are committed to in 2014/15 is Steve Nash's and whoever they draft with the Wizards pick. In essence, the Lake Show would be wide open to pursue LeBron if he decides to become a free agent in the off-season before the 14/15 season.  The Wizards accomplish their goal of landing another star to play beside Wall. A 3-man trio of Wall, Beal, and Dwight sure sounds like a top 3 seed in the East to me! Anyways… what do you think? Blast away!   Related posts: The Wizards SHOULD Trade for Josh Smith Will The Wizards Make Any Trade Deadline Moves? Wizards sign Shaun Livingston, waive Jannero Pargo
Original Story:
http://blogsohardsports.com/wizards-2...
THE BACKYARD
BEST OF MAXIM
RELATED ARTICLES
Via Lakers.com: Over the course of last week's exit interviews, many of Dwight Howard's teammates plus general manager Mitch Kupchak and coach Mike D'Antoni weighed in on the big man's season, adding their thoughts on the impending free agent's future. The post Lakers weigh in on Dwight Howard appeared first on Laker Nation.
With the Los Angeles Lakers taking an early vacation after getting swept by the Spurs, the biggest question mark surrounds center Dwight Howard.  Either he resigns with the Lakers or [...]
The NBA world isn't just about what you do on the court. We scoured the web for Lakers-related quotations to provide you with the 10 best quotes from the past fourteen days: #10: I think championship should be an expectation. Realistically we have enough talent here that there will be enough to where our goal is a championship. Mike D'Antoni, via Lakers.com #9: [The fans'...
Carolyn Moos, the former fiancee of Jason Collins, revealed last week she is planning on freezing her eggs — after she said the basketball star wasted eight years of her life lying to her about his sexuality. Moos said she always thought she would get married to Collins and have his children but these dreams were understandably shattered when he broke up with her in 2009 without...
Personally, the best that I've ever done for a girlfriend on their birthday is taking them to a nice Italian restaurant but Lakers star Kobe Bryant brought an Italian chef to cook his wife Vanessa, a special birthday dinner. Vanessa turned 31 over the weekend and Kobe surprised her with a special birthday dinner that can be seen in the below  image via his Twitter account: *...
This is very weird situation with Kobe and his mom. His mom seems to be upset that Vanessa's mom got a bigger house that she has, so her way of getting payback, is stealing Kobe's stuff and auctioning them off. I don't know the inner workings of the Bryant family, but regardless of what is going on behind the scenes, that seems a bit petty on her part. Kobe is suing his mom...
Guys--correct me if I am wrong, but our wives/girlfriends like to claim that it is not the price tag on the gift that counts, but the thought right? As long as it is something that is from the heart and really shows that we care they are cool with it (supposedly). So we do it. We put our hearts and soul into coming up with the right gift that says what we feel, but doesn&...
Are Los Angeles Lakers Fans Spoiled? By Stefan Abramian: Hoopstuff Contributor https://twitter.com/StefanAbramia As a Los Angeles Lakers fan, I have always wondered, are we spoiled? It may be crazy to ask, but yet personally I have always wondered. Every year, almost every Laker fan thinks that they are going to win the championship. I, personally, look at our team every year and...
The Democratic National Committee says NBA veteran Jason Collins will headline its annual lesbian, gay, bisexual and transgender gala. Last week, Collins became the first active player in any of four major U.S. professional sports leagues to come out as gay. President Barack Obama called the 34-year-old athlete the same day to congratulate him and tell him he was proud of his courage...
Never has a Los Angeles meltdown been met with more high-fives in Dallas. Well, the sweep of the defending champion Lakers in two years back was pretty darn close. But what's transpired for LaLa Land's two basketball franchises over the past couple of weeks has Mavericks fans absolutely giddy with hope. Same goes for the front office, as a snowball's chance suddenly...
For all of the bad publicity that Dwight Howard has been getting headed into free agency, Los Angeles Clippers point guard Chris Paul has quietly been in the exact same position. Eerily getting ejected in his last game just like Dwight to end his season, Paul and the Clippers now face questions about his future. [...]
NBA News

Delivered to your inbox

You'll also receive Yardbarker's daily Top 10, featuring the best sports stories from around the web. Customize your newsletter to get articles on your favorite sports and teams. And the best part? It's free!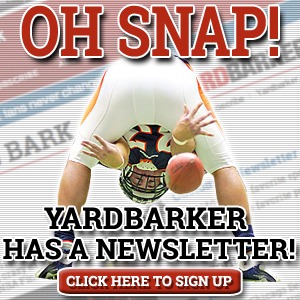 Latest Rumors
Best of Yardbarker

Today's Best Stuff

For Bloggers

Join the Yardbarker Network for more promotion, traffic, and money.

Company Info

Help

What is Yardbarker?

Yardbarker is the largest network of sports blogs and pro athlete blogs on the web. This site is the hub of the Yardbarker Network, where our editors and algorithms curate the best sports content from our network and beyond.