Found December 31, 2011 on Waiting For Next Year:
Flashback to June 23rd, 2011 and yours truly watching the NBA Draft at my college house in Columbus. Knowing that Kyrie Irving was a near certainty and still basking in the warmth of our new point guard on board, the number four came as a shock to me. The pick: Tristan Thompson, the 6'9″ freshman power forward out of Texas. Admittedly, I had not researched Thompson nearly as much as other potential Cavalier selections leading up to the draft. I had my heart set on the seven-foot Lithuanian big Jonas Valanciunas, who Toronto took with the very next selection after the Cavs. Given the team's structure at that time, I was not happy with the choice.
My biggest concern with the selection at the time was that we already had a young, talented power forward in J.J. Hickson. Adding Thompson immediately forced the Cavaliers hand to deal Hickson. With a lockout looming, that's exactly what happened one week later under the gun when the Cavs sent J.J. to Sacramento for small forward Omri Casspi and a heavily protected conditional draft pick. I felt we were selling Hickson for 75 cents on the dollar only because of the lockout, and I felt with such few assets, giving possibly the best one up that we had not just drafted was not in our favor. While I'm still not thrilled with the trade itself, if the Cavaliers end up getting the first-round pick out of it and Casspi can contribute for the next few years, then it will have been a decent trade as long as Tristan Thompson becomes a real good player.
What I failed to realize at the time was the flaws in J.J. Hickson's game. He was an incredibly gifted big man in the open floor and on the boards. But, he was inconsistent on offense, settled for and took far too many jumpers, failed to even come close to grasping Coach Scott's new offense, and he was not always committed to working hard on the defensive end. In short, J.J. is a nice player, but he was never going to be a key cog to build around, and my logic back then was flawed. When you're still reeling from being a 66-win team the year before and falling to the basement, there was probably a tendency to overvalue some of the players the team still had.
Now, for the real point of this article, to talk about what I've seen in Tristan Thompson in three short games of NBA action. First, he's a superiorly aware on the defensive side  of the ball. His instincts are great, he always know where the ball and his man are. Other than Varejao, he is easily the team's best pick-and-roll defender. There was one play last night where he switched the pick-and-roll and covered George Hill who hit a jumpshot over Thompson, but it was good D nonetheless. While he can be out of position on the defensive glass once in a while, he makes up for a lot of that with his ability to block shots. Thompson has all the tools to become not just a good, but an elite, shotblocker.
On offense, the limitations of Thompson's offensive game appear to have been exaggerated. While he isn't a perimeter threat, Thompson seems to have at least a decent touch around the rim, since he's shown the ability to finish with both hands from around the rim out to eight feet or so. Tristan has a chance to be an absolute menace on the offensive boards, and we've already seen him take a couple hard fouls from frustrated big men trying to box him out and keep him away from the bucket. He has also flashed some capable moves on the block to get those eight feet and in shots. I'm fairly confident that Tristan will be able to develop at least a foul-line jumper given a couple of years.
It's not just the on the floor traits that have impressed me in the early going. Tristan's personality and the way he carries himself in interviews is impressive for someone just 20 years old. He seems to have a great work ethic, and it's hard not to root for a kid like that to make it big.
I'm not going to say that I'm sure Thompson will be an All-Star or anything of that sort. What I am saying is that right now, I'm seeing a little too much of Antawn Jamison with his volume shooting and porous defense and not enough Tristan Thompson. There will be ups and downs with Thompson's offensive game this season, but I like Tristan's chances of being a key piece of a good team moving forward. That's much more than I could say six months ago.
(Photo: Tony Dejak/AP)
Original Story:
http://www.waitingfornextyear.com/201...
THE BACKYARD
BEST OF MAXIM
RELATED ARTICLES
Tristan Thompson's line from the New Jersey game- 9 points on 4 of 5 shooting, 6 rebounds, 3 blocks and 2 fouls. In 17 minutes. I was out yesterday, and so I caught the Browns game on the radio. When the Cavs tipped off I was trying to keep tabs on that game through my phone while listening to the Browns and trying not to completely ignore my family. Right before the Cavaliers...
by Brendan Bowers / @StepienRules After being selected this past June out of the University of Texas as a player relatively unknown to the majority of Cleveland Cavaliers fans prior to Draft night, Tristan Thompson has already emerged as a fan favorite during this young season almost as quickly as he elevates up off the hardwood. The electric leaper from Toronto, Canada is proving...
19-year old point guard Kyrie Irving and 20-year old power forward Tristan Thompson are off to fast starts for the Cavs.  Irving has not shot the ball too well (33.3%) as he is 7 of 21 from the floor, but, he is still playing solid overall basketball.  Irving has played in 2 games (both starts) for the Cavs so far this year and he is averaging 23.0 minutes, 10.0 points, 3.5 rebounds...
As the Cleveland Cavaliers took to the floor against the Detroit Pistons for each team's second game of the season on Wednesday, so too did three of the Top-8 selections from this past June's Draft. While Tristan Thompson, the 4th overall pick by the Cavaliers, was already impressive himself in his debut on Monday (12 points, 5 rebounds), Kyrie Irving and Brandon Knight...
While We're Waiting serves as the early morning gathering of WFNY-esque information for your viewing pleasure. Have something you think we should see? Send it to our tips email at tips@waitingfornextyear.com. Leading off, our own Brendan Bowers caught up with Tristan Thompson for SLAM Magazine, and when asked about starting for the Cavs being a goal right now, Tristan replied "No...
Indianapolis -- Cavaliers rookie Kyrie Irving was taking advice this week from a coach other than Byron Scott. A cause for concern? Scott said in general terms it can be. But not when that coach is Coach K. Irving...
Kyrie Irving and the Cavaliers hope to bounce back from a heartbreaking loss when they entertain the reeling New Jersey Nets on New Year's Day.
If theres one thing we should know about the NBA by now, its that you dont have to be a lottery pick to make an immediate impact. Granted, that may be the idea behind the NBA Draft, where the lousy teams get to celebrate for a day. But sometimes, the good teams win as well, discovering a gem later in the first round, or perhaps even in the second. Other times, the lousy teams get...
A slice through the lane off an Anderson Varejao screen, open hardwood between him and the bucket, Kyrie Irving may have been just a little surprised that he was so wide open. As Danny Granger sliced through the lane, flying by in a panic to challenge the shot, he caused just enough disruption to break Kyrie's concentration at the hoop as his game-winning layup try spun off the...
The Cavaliers only shot 38.6% from the floor and they were outrebounded 60-49 last night, so they probably got blown out right?  Nope.  That is because the Cavs played stellar defense in holding the Pacers to 38.3% shooting from the floor.  The Cavs had the last shot in regulation, so they should have won this game, but Kyrie Irving's shot barely missed, sending the game into...
Antawn Jamison scored 23 points and the Cleveland Cavaliers made 16 3-pointers in a 98-82 win over the New Jersey Nets on Sunday. Kyrie Irving, the No. 1 pick in the draft, had 13 points, four assists and four rebounds for Cleveland (2-2). Deron Williams led New Jersey (1-4) with 16 points. The Nets dropped their fourth straight game despite having all five starters score in double figures.
CLEVELAND — Antawn Jamison scored 23 points and the Cleveland Cavaliers made 16 3-pointers in a 98-82 win over the Nets on Sunday. Kyrie Irving, the No. 1 pick in the draft, had 13 points, four assists and four rebounds for Cleveland (2-2). Deron Williams led New Jersey (1-4) with 16...
NBA News

Delivered to your inbox

You'll also receive Yardbarker's daily Top 10, featuring the best sports stories from around the web. Customize your newsletter to get articles on your favorite sports and teams. And the best part? It's free!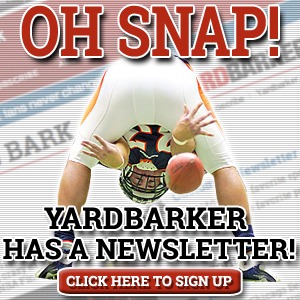 Latest Rumors
The Backyard

Today's Best Stuff

For Bloggers

Join the Yardbarker Network for more promotion, traffic, and money.

Company Info

Help

What is Yardbarker?

Yardbarker is the largest network of sports blogs and pro athlete blogs on the web. This site is the hub of the Yardbarker Network, where our editors and algorithms curate the best sports content from our network and beyond.