Found December 28, 2012 on Waiting For Next Year:
PLAYERS:
Tristan Thompson
,
Anderson Varejao
,
Monta Ellis
,
Larry Sanders
,
Kyrie Irving
,
Garrett Temple
,
Dion Waiters
,
Alonzo Gee
,
Tyler Zeller
,
Jordan Crawford
,
Brandon Jennings
,
Ray Allen
TEAMS:
Cleveland Cavaliers
,
Milwaukee Bucks
,
Washington Wizards
,
Miami Heat
Last week, I brought you a well-timed snapshot of Tristan Thompson's offense at the beginning of four straight double-doubles for the second-year power forward. This week, we'll take a look at just how the wine and gold strung a pair of wins together (against the Bucks and Wizards, both on the road) for the first time since March last season when they rattled off three against Denver, Oklahoma City, and Houston. They snagged these pair of wins without Anderson Varejao thanks to more effort on the defensive end and some clutch plays down the stretch. Let's dive in, shall we? Let's start with the Milwaukee game, where it really wasn't even that close at the end of the game. The Bucks shot just 39%, and other than Monta Ellis's 37 point effort, the Cavaliers willed Milwaukee to take mostly tough jumpers. Here's one third quarter possession that showed some of the good the Cavaliers were doing on defense. We begin with a Brandon Jennings-Larry Sanders pick and roll. Sanders picks Kyrie and Zeller is the man between Jennings and a lane to the bucket. Jennings drives to the foul line, where he pulls up for the shot. Zeller doesn't hang back too far as to allow Jennings a cushion to drive by, but he doesn't make the shot an easy one either. He closes out and gets extension as Jennings releases. Jennings misfires, and Tristan Thompson grabs the rebound. From this freeze frame, notice Irving and Waiters both ready to take the outlet pass and fastbreak. This is the benefit of having two guys who are confident in directing the offense and pushing the tempo. Waiters get the ball this time, and races up the court with only Ellis to beat, who is also accounting for Zeller as well. The Bucks just did not get back quick enough on this play. Here, we see Waiters with two options as the other three Bucks retreat and close in on this 2-on-1 break: take it up himself or dump it down to Zeller. Dion makes the right call, tossing in a slight hesitation to give the illusion of passing and instead taking it strong to the basket himself against the smaller Ellis. Dion scores it, and the Cavaliers show how they can excel at being opportunistic in running off of missed shots and turnovers. The other play we'll take a look at is in the closing moments of the Washington game. I think you know where I'm going with this one. With the score tied at 82 and under 30 seconds left, Kyrie Irving has the ball in his hands in a 1-4 set against 6'6″ recent D-Leaguer Garrett Temple. Tristan Thompson and Dion Waiters are to his right, and Alonzo Gee and Tyler Zeller are to his left. Spacing is everything here, because Kyrie gets his 1-on-1, or someone is left wide open. Temple tries to force Kyrie to his left, and Okafor leaves Zeller to double Kyrie. We've seen this strategy become commonplace at the end of games 1 Temple doesn't overplay him enough, however, and Kyrie makes a tremendous All-Star caliber move. Kyrie gets physical with Temple and creates space going to his right down the edge of the key. Notice the eyes and where they are drawn. Everyone is concerned with where Kyrie is going with the basketball. In particular, watch Nene and how he gets drawn into Irving's path. You can see the lane for Tristan opening up. It's no secret that the Cavaliers run a number of plays like this where Tristan starts behind the basket and out of sight and creeps in to a wide open dunk. The difference is the Cavaliers a) having Tristan on the floor in crunch time thanks to Varejao's injury and b) running said play with the game on the line. Kyrie draws and kicks it to Tristan who has daylight to the basket. Watch how Thompson brings himself from the catch to a good position to score the basketball by squaring up with one big stride with his left leg. Now, Tristan is completely squared up, two hands on the basketball, in a jump stop position, both feet planted on the ground, ready to surge up and put the ball in the hole. Sure, it's only the smaller Temple, but he's definitely trying to pull his arms down and prevent the bucket. How many times have we sat there verbally ridiculing Tristan for not converting those and-one opportunities? He doesn't dunk it, but he lays it up, and it bounces, rolls around, and falls in the hoop. Best of all, Tristan converts the free throw to give the wine and gold a three-point lead. One more thing, sometimes…. 2 …you just get lucky… 3 .. and the ball… 4 …bounces your way. 5 Until next week, folks, the film room is closed! 6   ___________________________________ For instance, at the Garden during Kyrie's "Dark Knight" 41-point effort when the Knicks met Kyrie way beyond the three-point arc and forced him to pass the ball to Varejao, sending him to the line where he split the pair to lose the game. Jordan Crawford uses a Nene screen to get by Gee, but Thompson picks him up and contests the release. Offensive rebound three point attempt by Temple, which always seem to go against us. Crawford again who goes into hero mode instead of taking another dribble or looking to pass the ball with nearly three seconds left. Zeller gets out on him with a hand up, which is more than enough on a 30-plus-foot three point heave. And sometimes it doesn't. Isn't that right, Brandon Jennings? And Ray Allen? Have an idea for something you want to see dissected in Cavaliers Film Room? Drop me a line at kirk@waitingfornextyear.com
Original Story:
http://www.waitingfornextyear.com/201...
THE BACKYARD
BEST OF MAXIM
RELATED ARTICLES
As if getting the cover of the latest ESPN The Magazine was not enough, the four-letter network out of Bristol, Connecticut continues to rain praise on Cleveland Cavaliers point guard Kyrie Irving. Within an Insider feature penned by Amin Elhassan, the NBA front office personnel director, we find the opinon that the Cavaliers' star will be the preeminent point guard in all of...
Following last night's win against the Cavaliers, All-Star center Al Horford was very flattering of the opponent's fans. Cleveland fans are great! Very impressed with the way they support their team. — Al Horford (@Al_Horford) December 29, 2012 Horford was teammates at the University of Florida for two seasons with another center in the association who's not quite so fond...
The Cleveland Cavaliers held a "Wild Thing Wig Night" promotion at Quicken Loans Arena for Friday night's game against the Atlanta Hawks as a tribute to center Anderson Varejao. The first 10,000 fans received a wig modeled after Varejao's curly hair, complete with a yellow Cavs headband. The fans seemed to enjoy wearing the wigs, and even guard Daniel Gibson...
Cleveland guard Daniel Gibson sustained a concussion Friday against Atlanta and will sit out the Cavaliers' game Saturday night in Brooklyn. Gibson was injured when he collided with Atlanta's Anthony Morrow midway through the second quarter. Gibson was on the floor for several minutes before being helped to his feet. He walked to the locker room under his own power, but...
CLEVELAND -- With the game in the balance, Cavaliers rookie guard Dion Waiters dribbled near the top of the key, passed to rookie center Tyler Zeller, who then passed it back. Two rookies. One ball. One outcome to be determined. The results werent likely to be very good. And they werent. Waiters missed an off-balance jumper from the perimeter, a shot that came with enough time...
2012 was one crazy year in the wild wacky world of Cleveland Sports. Some would tell you 2012 was as bad as it has ever been here. As the year comes to a close, like we have done the last four years, WFNY will take a look at what we view to be the 10 biggest sports stories affecting our local sports scene. Each day through the rest of the year, we will be counting down from ten to...
Tweet   Unfortunately, Cleveland Cavaliers big man Anderson Varejao did not take part in Friday's 102-94 defeat to the Atlanta Hawks due to a bruised right knee. But he was in the building to see a promotion in his honor. The Cavs held "Wild Thing Wig Night", giving away a wig that resembles the hair of [...]
We've seen this episode before: three and a half great quarters and a stinker in the final few minutes. The Cavaliers went cold, quit running their offensive sets, and were unable to stop Jeff Teague as the Hawks came from nine down in the third quarter to get their revenge against the Cavaliers 102-94 in Quicken Loans Arena. The collapse spoiled a good offensive display from Kyrie...
After yet another heartbreaking loss late in the game to the Cleveland Cavaliers on Wednesday night, the media gathered as usual in the press room awaiting Randy Wittman's press conference. In a room that has seen a decrease in the number of representatives, I had a side conversation with one of the writers. I mentioned that I could probably tweet Randy Wittman's quotes in advance...
While We're Waiting serves as the early morning gathering of WFNY-esque information for your viewing pleasure. Have something you think we should see? Send it to our tips email at tips@waitingfornextyear.com.  Leading off, with Pat Shurmur and Tom Heckert soon filling cardboard boxes with personal belongings, it's time to start looking for new faces to fill their spots. Ryan...
Tristan Thompson's three-point play with 24.4 seconds remaining gave the Cleveland Cavaliers their first two-game winning streak of the season as the Cavaliers beat the Washington Wizards 87-84 on Wednesday night. Kyrie Irving, who had 26 points to lead Cleveland, made one of two free throws with 9.5 seconds left after Jordan Crawford and Garrett Temple missed jumpers for the...
NBA News

Delivered to your inbox

You'll also receive Yardbarker's daily Top 10, featuring the best sports stories from around the web. Customize your newsletter to get articles on your favorite sports and teams. And the best part? It's free!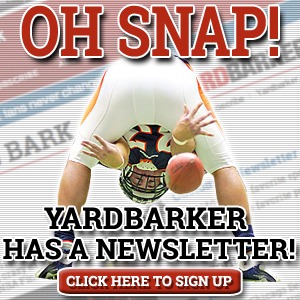 Latest Rumors
Best of Yardbarker

Today's Best Stuff

For Bloggers

Join the Yardbarker Network for more promotion, traffic, and money.

Company Info

Help

What is Yardbarker?

Yardbarker is the largest network of sports blogs and pro athlete blogs on the web. This site is the hub of the Yardbarker Network, where our editors and algorithms curate the best sports content from our network and beyond.