Found March 18, 2013 on Project Spurs:
There's not a lot of comparisons to San Antonio Spurs' Tim Duncan in this modern era.   With Duncan defying the aging process and playing at a level we haven't seen in 10 years, you'd probably have to go a few years back to find a comparison for Duncan. In fact, you'd probably have to go close to 30 years to find someone who was in Duncan's situation.   Cleveland Cavaliers head coach Byron Scott finds the comparison with former teammate and Hall of Famer, Kareem Abdul Jabbar. When asked about the similarities between the two, Scott wasn't shy with how similar Duncan is right now to when Jabbar was at the same stage of his career.   "First of all, he's kept himself in pretty good shape. The same thing with Kareem at 37-years old, he was still in fantastic shape. I don't know if there are a whole lot of parallels between the two," said Scott after Cleveland played San Antonio.  "They play a little bit different but Tim is still one of those guys you have to deal with even at his age. He can still get it done in the post, he can still pop out and make shots. He's making free throws now."   At 36-years old, Duncan is averaging 17.1ppg and 9.8rpg while Jabbar averaged an impressive 21ppg and 7.3rpg.   Jabbar's scoring is more impressive at this point of his career, but we also have to factor in that Duncan is playing in a different era of NBA basketball. Unlike the big men in Jabbar's days, the big men are bigger, stronger, and more athletic along with more athletic power forwards sliding into the center position.    We can't know how Kareem would do in this day and age in basketball, but the way Duncan is playing this season can't be denied with this current mission he's on to capture his fifth NBA championship. Duncan isn't leading his team like Jabbar did during the 1983-1984 season, but he is helping lead the Spurs in an impressive category.   The San Antonio Spurs are currently rated 3rd out of 30 (101.2) in defensive rating while the Lakers were 9th out of 23 (107.3). This is obvious with Duncan focusing more on the defensive end of the ball while Jabbar was more of an offensive player at this point of his career.   Nonetheless, both men showed no signs of slowing down at this point of their respective careers.   Jabbar played until he was 41 years old while it's heavily thought that Duncan will be on the court until he finds a championship during his possible final contract with the Spurs.   Duncan is still showing his worth by carrying the team with Tony Parker being injured and notching up three 30-point games this season, something we haven't seen out of him for 3 years or so. The Lakers and Jabbar found their way to three more championships after 36 years old age and Duncan is looking for similar luck on his end to a Hall of Fame career.   One thing for sure is that Duncan will be looking to have some Jabbar-like performances where he defies aging in the playoffs and carries the team in whatever capacity they need him to.
Original Story:
http://www.projectspurs.com/2013-arti...
THE BACKYARD
BEST OF MAXIM
RELATED ARTICLES
The San Antonio Spurs have recalled Aron Baynes from the Austin Toros today. [Press release] Spurs recall Aron Baynes: http://j.mp/Yp1oc1  #GoSpursGo This shouldn't be too much of a surprise as the Spurs are trying to win games but also rest some of their main rotational players. Since the team has been without Tony Parker, the majority of the players like Tim...
SAN ANTONIO (AP) -- Tim Duncan had 30 points and 12 rebounds, Kawhi Leonard added 24 points and 13 boards, and the San Antonio Spurs beat the Cleveland Cavaliers 119-113 on Saturday night. Manu Ginobili added 14 points and 10 assists, Nando De Colo had 11 points and Tiago Splitter had 10 for San Antonio (51-16), which is 1 games ahead of Oklahoma City in the Western Conference....
San Antonio Spurs fans have been patiently waiting for the return of Tony Parker. When he injured his ankle against the Sacramento Kings early this month, the timetable was set at him returning in one month. With the team struggling on both ends on the floor and working harder than they should, fans have been hoping the days go by faster so Parker can return to the team. ...
The media world is hung up on the Miami Heat's 22-game winning streak. The San Antonio Spurs were in that territory last season, but had the majority of that streak in the playoffs. The mainstream media wasn't in love with the Spurs' streak as the Heat's longer streak, but that might be a good thing that it may be a forgotten stretch. For Gregg Popovich, it would...
Tim Duncan has been on a roll this season leading the San Antonio Spurs in Tony Parker's absence and breaking records left and right these last two years. He's been climbing up lists in various categories and cementing his legacy as one of the best big men in the history of the NBA. Duncan is 14th in all time rebounds and only needs 16 to pass his former rival, Shaquille...
The San Antonio Spurs (51-16) squeaked by the Cleveland Cavaliers (22-44) in San Antonio 119-113. Tim Duncan led the team with a double-double 30 points and 12 rebounds. The Spurs dominated the Cavs in the paint 62-46. For a first half recap, click here but here is how the second half went down at the AT&T Center including some notes and quotes. Third Quarter Recap: ...
This happened a lot. Offensively, the Cavs were great. They scored 61 points in the first half, had 90 at the end of three periods and shot over 50% for the game. Unfortunately, those same stats could've also be used to describe the Spurs' Saturday night. The Spurs' offense is incredible. They shot 61% in the first half, 57% for the game and they confused the young Cavaliers...
Manu Ginobili went in to his bag of tricks and came out with the following gem during the game versus the Cleveland Cavaliers. This play sums up the San Antonio Spurs and Manu - don't give up on a play and always hustle. Just because the play didn't go as planned, he showed the desire to do anything possible to get the job done. Check out Manu being Manu, including him showing...
Portland Trail Blazers' Nicolas Batum is one of the many French players who have made an impact on the NBA. He along with San Antonio Spurs' Tony Parker, Boris Diaw, Nando De Colo and Chicago's Joakim Noah, are paving the way for future French players and making their mark on the league. With many French players currently in the NBA, and on the Spurs, Batum says there...
The San Antonio Spurs hosted the Cleveland Cavaliers tonight in the AT&T Center and after the first half, the Spurs are leading the Cavs 66-61. Here is how the first half went down in San Antonio. First Quarter Recap: The Spurs raced to an early double-digit lead and shot 5 for 7 early on but soon the Cavs started to hit some shots to close the gap to 13-8 before...
Tonight's matchup will be between Tim Duncan and Tristan Thompson when the Cleveland Cavaliers visit the San Antonio Spurs on Saturday night. The Cleveland Cavaliers are coming off a disappointing loss to the Dallas Mavericks and will be looking to play spoiler to the Spurs' number one seed hopes tonight. Tristan Thompson played a starter low 30 minutes last night while...
D. Clarke Evans/NBAE/Getty Images Veteran Game: It just doesn't matter what father time does anymore, Tim Duncan, at the age of 36, is having none of it, going off for 30 points on 13 of 19 shooting, 12 rebounds, 4 assists and 5 blocks in the victory over the younger Cleveland Cavaliers. Spurs' sophomore, Kawhi Leonard added 24 points (8 of 16) and 13 boards to take off the offensive...
NBA News

Delivered to your inbox

You'll also receive Yardbarker's daily Top 10, featuring the best sports stories from around the web. Customize your newsletter to get articles on your favorite sports and teams. And the best part? It's free!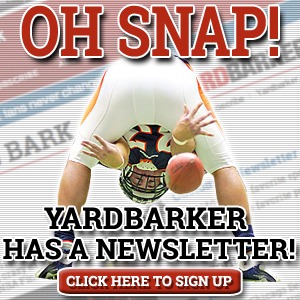 Latest Rumors
Best of Yardbarker

Today's Best Stuff

For Bloggers

Join the Yardbarker Network for more promotion, traffic, and money.

Company Info

Help

What is Yardbarker?

Yardbarker is the largest network of sports blogs and pro athlete blogs on the web. This site is the hub of the Yardbarker Network, where our editors and algorithms curate the best sports content from our network and beyond.