Found February 16, 2013 on Waiting For Next Year:
Kenneth Faried may have been the MVP of the Rising Stars challenge on Friday night, but it was the Cavaliers youngsters who stole the show. With four Cavaliers (Irving, Thompson, Waiters, and Zeller) in the game there was rarely a minute of action that went by where a Cavalier was not involved. During a stretch in the middle of the first half, with all four Cavs on the floor, the game went Waiters dunk, Tristan alley-oop, Kyrie open 3, and then a Tristan jump hook. The Cavaliers showed themselves well in a game that is less of a game and more of a skills exhibition. Kyrie very well could have been the MVP over Faried, scoring 32 points, handing out 6 assists, and grabbing 6 rebounds. And in a game full of highlights, Kyrie had the highlight of all highlights. Late in the second half Irving and Brandon Knight were isolated on the wing, Kyrie lulled Knight to sleep with some yo-yo like handles, stepped back, causing Knight to fall to the ground, and drained an 18 footer. If you haven't seen it yet, it's a beauty. A few minutes later, Dion added the dunk of the night. For some reason or another all nine other guys on the floor cleared out for Waiters to throw down a between the legs jam. It's unclear what prompted the entire game to stop and allow Waiters to do his dunk, but I have a hunch there were a few shekels on the line if in fact Dion could pull it off. Waiters chipped in with 23 points, making him the game's third leading scorer behind Faried and Irving, including this flush off the backboard from Kemba Walker. Tristan Thompson also got into the action, adding 20 points to team Chuck's 163-135 win. While Irving, Waiters, and Thompson all shined bright, Tyler Zeller looked a little out of place with high flying athletes running all around him, taking only 2 shots and scoring just 4 points. The frantic pace and absence of defense led to highlights all around, but very little can be taken away from this game that will carry over into the real season. It was a night for Cavalier fans to watch their youngsters on the national stage, and any night where Dion goes 11-12 from the floor is a fun night. [Related: NBA Rookie Rankings: Waiters and Zeller impress against Spurs] Follow Ryan Jones on Twitter @CzarJonesey7
Original Story:
http://www.waitingfornextyear.com/201...
THE BACKYARD
BEST OF MAXIM
RELATED ARTICLES
Brandon Knight is going to be hearing about this one for sometime. It looks like he's playing the shell game on the streets of New York except Kyrie left the shells at home and just used his dazzling handiwork instead. Poor guy--but in his defense this Kyrie Irving kid is pretty good.
With the Cavaliers having two rookies playing prominent minutes, WFNY thought it would beneficial to see how the fresh meat around the league is faring in comparison with the Cavalier rookies. Each week, we'll have NBA rookie power rankings where we'll rack and stack the freshman class of the NBA. The rankings will be weighted with the most recent games carrying the most importance...
While We're Waiting serves as the early morning gathering of WFNY-esque information for your viewing pleasure. Have something you think we should see? Send it to our tips email at tips@waitingfornextyear.com. Kyrie sat down with David Jacoby of Grantland.com to give a little insight into his strategy for tonight's 3-point shootout and his love for video games. —- Tristan...
Jason Lloyd of the Akron Beacon Journal is reporting the Cavaliers will submit a proposal to bring the 2016 or 2017 NBA All-Star game to Cleveland. Last week NBA Deputy Commissioner, Adam Silver, was in Cleveland exploring the possibility of bringing the NBA's biggest and brightest stars to Northeast Ohio. Silver met with Gilbert and his staff last Friday. One of the questions...
We all know that the best part of watching the NBA Rising Stars game is the insane dunks that will happen during the exhibition.So far, the best jam came courtesy of Cleveland Cavaliers rookie Dion Waiters who took a nice feed off the backboard from Charlotte Bobcats guard Kemba Walker:
It was a coming out party for Cleveland Cavaliers guard Kyrie Irving. The sophomore left Brandon Knight on skates during the rising stars challenge and took the top spot in the "Footlocker Three-Point Shoot-Out." Check the highlights:
From the mustache to the swag, I have an infinite amount of respect for Matt Bonner aka the Red Rocket. But like I predicted on Cleveland.com's Sports Insider show with Glenn Moore on Wednesday, Kyrie Irving was just too much for Bonner in the three-point shootout.  The YouTube video—that will one day be what the '94 Mark Price shootout is for me to some kid in...
Second year Cleveland Cavaliers point guard Kyrie Irving breaks Detroit Pistons guard Brandon Knight's ankles with a dirty crossover in the Rising Stars game last night.  Check out the video below. Check out our Home Page for more stories and follow us on Twitter and Facebook
As suspected by many leading up to this weekend's festivities, Miami Heat forward Chris Bosh will start in the All-Star game in place of injured point guard Rajon Rondo. Miami Heat head coach Eric Spolestra was given the final decision and chose one of his players over other point guards in Cleveland' s Kyrie Irving and Philadelphia's Jrue Holiday. Bosh will start alongside...
If you are familiar with me, you know about the hashtag I created – #NBAFree. Let me give you some background. I grew up with the Cavs a close third to the Indians and Browns as my Cleveland sports loves. My father had season tickets at the old Richfield. I probably went to between 20-25 games a year on average from 1986-1993.  I was a child of the Lenny Wilkens era. Prior to...
Kyrie Irving was featured in the 3-Point Contest on Saturday night, a skill he's not known much for in the league despite shooting 42% from beyond the arc. The men he was going up against were known for this and probably viewed as favorites for the event, namely San Antonio Spurs' Matt "Red Mamba" Bonner and New York Knicks' Steve Novak. These two reserves don...
Cavaliers News

Delivered to your inbox

You'll also receive Yardbarker's daily Top 10, featuring the best sports stories from around the web. Customize your newsletter to get articles on your favorite sports and teams. And the best part? It's free!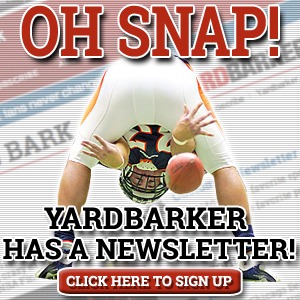 Latest Rumors
Best of Yardbarker

Today's Best Stuff

For Bloggers

Join the Yardbarker Network for more promotion, traffic, and money.

Company Info

Help

What is Yardbarker?

Yardbarker is the largest network of sports blogs and pro athlete blogs on the web. This site is the hub of the Yardbarker Network, where our editors and algorithms curate the best sports content from our network and beyond.