Found December 23, 2011 on NBA 24/7 365:
Guangsha 96, Zhejiang 85: JR Smith scored an incredible 51 points to go along with 7 rebounds and 5 assists, but Wilson Chandler, Peter John Ramos, and Guangsha's role players were too good to be beaten by one man.  Chandler shot the ball poorly from the outside but made a variety of impressive takes to the rim on his way to 33 points and 12 boards.  Peter John Ramos proved to be far too big a load for Josh Boone to handle; he finished with 23/14 to Boone's 14/12.  Ramos snatched a lot of Wilson's misses from the outside and hammered them down with his powerful right hand.  Despite the loss, JR Smith's individual dominance stretched from the moment he entered the game until the final buzzer.  With his 18 field goals and 5 assists he played a role in 70% of his team's baskets, and he was also responsible for 9 of Zhejiang's 13 made freethrows.  It was basically JR vs Guangsha today.  Like I said, Boone couldn't do a damn thing with Ramos, and Zhejiang's role players were destroyed by Guangsha's.  Guangsha got 40 points from their Chinese players while Zhejiang got just 20.  All eyes were on JR every single time he touched the ball, yet he still managed to pour in jumper after jumper.  Unlike his 52-point game from earlier in the season, nothing was catch-and-shoot.  JR created all of his own opportunities… he litterally did everything.  His 51 came in 38 and a half minutes as he spent the first 8 minutes and 30 seconds on the bench (it's standard procedure in the CBA to bring one of your two best players off the bench and let them go the rest of the way). Foshan 105, Beijing 101: Beijing's season is no longer perfect as they've suffered their first defeat at the hands of Foshan, who came into this round in 14th place.  To put it in NBA terms, this would be like the Heat starting the season 13-0 and losing to the Raptors.  Marcus Haislip was big-time in the upset with a game-high 32 points, out-doing Stephon Marbury by one.  Beijing was down 20 points early on in the game.  They won the fourth quarter 28-18, but they simply ran out of time. Fujian 122, Dongguan 118: Anthony Roberson exploded for 41 points on 9 of 14 from three in this one.  This is only Roberson's second-best scoring output this season, but it comes as a big surprise because he hasn't been racking up this points lately.  Over the past four games he'd only been averaging about 12 PPG.  I didn't see the game, but it appears that Roberson's counterpart, Josh Akognon, was thoroughly styled on.  He finished 4-17 from three.  Assuming this Sina box score is accurate (not always a safe assumption), Dongguan played just eight players.  Four of those players accounted for all but 11 of their points. Liaoning 120, Shanxi 117: I've watched quite a few Liaoning games, and I always chuckle when I see this dude Han Dejun.  He's this big, wide-body center for the Dinosaurs who looks like a chubby, overgrown preteen that does nothing but eat doritos and play video games all day.  Well, I wish I saw today's game, because the most unsuspecting professional basketball player I've ever seen scored 38 points on 15-17 from the field.  I'm laughing out loud just thinking about it.  Not even Shanxi's Marcus Williams, a former San Antonio Spur, and his team-high 37 could f@ck with Han today.  Tianjin 95, Shandong 92: Tianjin picks up their fourth win of the season as Donnell Harvey does 24/12.  Tianjin Ws are few and far bewteen, but Shandong is an inconsistent team that can lose on any given night.  One thing that Shandong can normally hang it's hat on is a double-double from Othello Hunter, but he failed to grab 10 boards for just the second time this season.  Guangdong 109, Xinjiang 92: The championship rematch was an eight-point game at the half, but Patty Mills had already tweaked his hamstring and never returned for the third or fourth quarters.  This was Xinjiang's first game without Kenyon Martin, but it should probably be thrown out due to Patty's injury.  Six Guangdong players scored in double figures.  Aaron Brooks was not one of them. Jilin 90, Bayi 80: Jilin's Cartier Martin is shooting an impressive 41.8% from three on the season.  Just felt like throwing that out there.  He made the only one he took today as he led Jilin with 20 points.  Cartier has shown impressive efficiency in his scoring compared to a lot of the other Americans playing in the CBA.  Shanghai 100, Jiangsu 96: Jackson Vroman continues to do numbers (25/11), but Jiangsu continues to lose.  This one was a winnable game for them… they're just really struggling.  Mike Harris dropped 26/11 for the Sharks.
Original Story:
http://nba247365.com/?p=4015
THE BACKYARD
BEST OF MAXIM
RELATED ARTICLES
Sulaiman Folarin / @sulaiman4real Denver Nuggets are set to cut Corey Higgins and Michael Ruffin, a  source in the organization has revealed to SLAMonline exclusively. Higgins and Ruffin were invited to the Nuggets' short training camp and will be released from the team shortly. The team was scheduled to cut Higgins and Ruffin on Tuesday but delayed it till now. Higgins scored...
The Denver Nuggets have waived G Cory Higgins and F Michael Ruffin, team executive vice president of basketball operations Masai Ujiri announced today. The move brings Denver's roster to the NBA-maximum 15 players. Higgins, 6-5, 185, signed with Denver on Dec. 9. He scored seven points in 13 minutes in two preseason games. Ruffin, 6-10, 248, joined the [...]
Kenyon Martin has been the trail blazer, showing the path out of China back to the NBA. But the path isn't that appealing — you can't sign to play anywhere else until the Chinese season ends, which is mid-February at the earliest and the playoffs go until late March. And you stop getting paid. So…
Chris Andersen arrived on the scene during the Nuggets' exhibition opener Tuesday night, scoring nine points.
According to the Denver Post, the deal is worth as much as $67 million over five years. The 6-foot-11 native of Brazil has played his entire nine-year career in Denver.
Now that the Knicks' Steve Novak era has begun, will there be a K-Mart in the club's future? Last night, the Knicks claimed 6-foot-10 reserve shooting forward Steve Novak off waivers on the same day Kenyon Martin's contract was bought out by his Chinese team, Xinjiang. Martin, according...
PHOENIX (AP) -- Danilo Gallinari scored a game-high 23 points and the Denver Nuggets opened the fourth quarter with a 16-3 run en route to a 110-85 win over the Phoenix Suns in an exhibition game Thursday night.
Carmelo Anthony and Kenyon Martin played seven seasons together with the Nuggets.
Danilo Gallinari scored a game-high 23 points and the Denver Nuggets opened the fourth quarter with a 16-3 run en route to a 110-85 win over the Phoenix Suns in an exhibition game Thursday night.
Danilo Gallinari scored a game-high 23 points and the Denver Nuggets opened the fourth quarter with a 16-3 run en route to a 110-85 win over the Phoenix Suns in an exhibition game Thursday night.
7 p.m.: Get updates on the game here as the Suns conclude their regular season at home.
By CHRIS BROUSSARDJ.R. Smith would like nothing more than to follow Kenyon Martin out of China and back to the United States. But a source close to the situation said we shouldn't expect other NBA players - Smith, Wilson Chandler or Aaron Brooks - to follow Martin's example and make an early exit from the Chinese Basketball Association.All the NBA players who signed to play...
NBA News

Delivered to your inbox

You'll also receive Yardbarker's daily Top 10, featuring the best sports stories from around the web. Customize your newsletter to get articles on your favorite sports and teams. And the best part? It's free!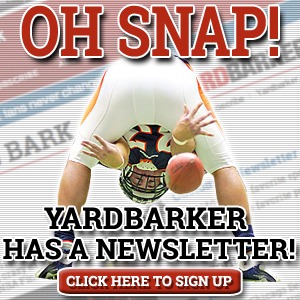 Latest Rumors
Best of Yardbarker

Today's Best Stuff

For Bloggers

Join the Yardbarker Network for more promotion, traffic, and money.

Company Info

Help

What is Yardbarker?

Yardbarker is the largest network of sports blogs and pro athlete blogs on the web. This site is the hub of the Yardbarker Network, where our editors and algorithms curate the best sports content from our network and beyond.