Found June 28, 2012 on The Sports Headquarters:
Well, as we all know, Lebron James and the Miami Heat finally won the NBA title. This was supposed to be their 2nd in what was supposed to "7″ titles. However, it was their first. What changes with this championship other than me no longer being able to wear my "RINGLESS" shirt to mock Lebron? Well, for starters, my view on Lebron is changing. For the past 2 years, I have considered myself a true "Lebron Hater". There are several reasons for this. To start with, while I was not necessarily a "Lebron fan" when he was in Cleveland, I loved the story. A hometown kid gets drafted by his hometown team and takes them to heights that they had never reached in their history and he did it virtually by himself (or at least as close as anyone has come). It was a great story for a league that needed a great story. Then came "The Decision"!! My issue was never that he left Cleveland. It was how he left Cleveland. Not that he "colluded" with D-Wade and Bosh either. You cannot tell me that in today's NBA, players aren't talking to each other all of the time about ways to get together and play on the same team. Lebron, Wade and Bosh just did it relatively publicly. The problem was that he did it in a way that made it look like he thought he was bigger than the game. In hindsight, it becomes a bit hard to blame him because he was treated like he was bigger than the game. Following "The Decision" came "The Party" when those "3 Kings" were acting as if the very fact that they decided to play together meant that winning championships would come easy. We all remember "Not 1, Not 2, Not 3……etc." Just when we thought Lebron couldn't possibly make himself look any worse, he showed us how wrong we were. From the comments about the rest of us having to go back to our lives while he went on with his great life, having video of a college kid dunking on him taken away from the person who shot it and all the way to he and D-Wade making fun of Dirk Nowitzki being sick during last years finals made Lebron into the the ultimate villain. He was making Allen Iverson's "We talkin' 'bout practice" rant look like the good ol' days. He was even blamed for changing D-Wade from a beloved and respected player to a villain. So why am I changing my view on Lebron? Is it that he finally won a championship? In a word…..No!! Then what it is? Remember the third paragraph of this article when I said my issue was with how he left Cleveland? Well, my change in how I view Lebron is about how he won the championship. He did it with class and with that "assassin" mentality that we all appreciated in past winners of multiple championships like Magic, Bird, Michael and Kobe. Gone was the grandstanding and celebrating. Gone was the bragging. Gone were the "crunch-time" disappearances and "deferring" to D-Wade. This time, Lebron did not tell usthat he is the best player in the game, he showed us that he is the best player in the game and he did it with a humility and class that we have not seen from him previously. He was the closer that we have been expecting him to be. Was he perfect in the 4th quarters of the finals? No, he missed some free throws, he missed some shots. But, he was aggressive, he made plays on both ends of the floor, he found the open man and because he was finally taking those big shots in the big moments because he wanted to rather than because he had to, he was hitting most of them. That 3 that he hit when he was fighting leg cramps (and we were all thinking "Here he goes again. Ducking out under pressure") was the series clincher. Beyond his play, was also his attitude. He showed a class, grace and humility in winning that he never showed in losing. In interviews he owned his past mistakes, even referring to himself as immature. After winning the title, he could have easily stood up and said "I told you so", but he didn't. If the Lebron that we saw in the finals, is the "new Lebron" that we will see from now until the end of his career, then I suspect that many will go from "Lebron haters" to respecting him to maybe even "Lebron fans". Lebron is finally a champion because he figured it out and started acting like a champion. Of course, if he gets his championship ring fitted for his middle finger as a Miami Heat beat writer suggested, then you can forget all of the above!!
Original Story:
http://feedproxy.google.com/~r/TheSpo...
THE BACKYARD
BEST OF MAXIM
RELATED ARTICLES
On this edition of The UC Show, Justin Tinsley's long-awaited celebration came to life for LeBron James and the Miami Heat. The man was as joyous as anyone associated with the show could be, and that was due to the Heat winning the NBA Championship one week ago. We had Cuffs the Legend join us, [...]
LeBron James couldn't have asked for a better scenario to win his first NBA title. Not only was he finally able to silence the critics who said he is incapable of winning big games, but he also put the Heat on his back and carried them most of the way. LeBron capped off an MVP regular season with an incredible postseason where he averaged more than 30 points and nearly 10 rebounds...
The Miami Heat just completed its victory parade on Monday as the 2011-12 NBA champions, with the proverbial championship monkey finally off LeBron James' back. So while there were a few days of celebrations in South Beach, Heat officials no doubt already are preparing for next season, starting with this Thursday's NBA draft. The Heat were the preseason NBA title favorites in...
The Boston Celtics have been a constant road block for LeBron James. He's had a personal rivalry with Paul Pierce for years and he's seen his playoff hopes dashed by the Celtics enough to make his distaste for anything Green understandable. And last night on Twitter, after the Celtics selected Ohio State's Jared Sullinger with the 21st pick of the draft, LeBron made...
It's been over a week since the Miami Heat won the NBA title, yet it's hard to be sure if the vitriol towards the franchise or LeBron James has abated or not. If you caught the post-championship appearance on "Late Night" where the three-time MVP was given a standing ovation from the crowd, you'd probably [...]
More Olympians to watch this summer: BASKETBALL LeBron James, United States The three-time NBA MVP won his first league title this year, leading the Miami Heat past the Oklahoma City Thunder in the finals. This will be his third appearance in the Olympics. He helped the U.S. win gold in 2008 and will face increased pressure this summer with the American team depleted by injuries...
Last night, Miami Heat star LeBron James stopped by "The Late Show with David Letterman" to talk about winning first NBA title. There were many notable moments from Dave telling him to get a room after being shown a picture of LeBron kissing the Larry O'Brien trophy and making a Kardashian joke about LeBron:
Newly crowned champion LeBron James made a talk show stop in New York to talk with David Letterman.
WALTHAM, Mass. -- Mickael Pietrus watched LeBron James and the Miami Heat cruise to victory in five games over the Oklahoma City Thunder in the NBA Finals, but the free agent swingman never stopped to wonder, "What if?" What if the ball had bounced Boston's way just a couple more times, and Pietrus and the Celtics had outlasted the Heat in seven games in the Eastern...
LeBron James appeared on the David Letterman show last night, and right out of the gate Letterman jumped into the topic of leaving Cleveland- "Now that you've gotten this out of your system, you ready to go back to Cleveland and play some ball?" Letterman asked more questions about leaving Cleveland than ESPN did on the night of 'The Decision'. James of course side-stepped...
As once upon a time the cover of NBA Live was highly anticipated, as fans and media seeked to find out who would be beset with the dreaded "NBA Live Cover Curse", now the most hotly awaited hoops video game cover of the year comes from the NBA 2K series. 2K Sports have played to this anticipation this year, by starting with a slow reveal on their facebook page, which could...
The lasting image from the Miami Heat winning the 2012 NBA championship may be the unfettered exuberance of LeBron James. James spent the whole night smiling, cradling the Larry O'Brien trophy and partying around South Beach. But apparently his teammate, old man Chris Bosh, was counting down the minutes until he could get home. Bosh kept using the word "tired" when...
NBA News

Delivered to your inbox

You'll also receive Yardbarker's daily Top 10, featuring the best sports stories from around the web. Customize your newsletter to get articles on your favorite sports and teams. And the best part? It's free!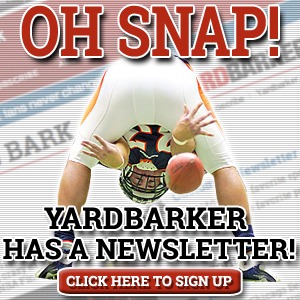 Latest Rumors
Best of Yardbarker

Today's Best Stuff

For Bloggers

Join the Yardbarker Network for more promotion, traffic, and money.

Company Info

Help

What is Yardbarker?

Yardbarker is the largest network of sports blogs and pro athlete blogs on the web. This site is the hub of the Yardbarker Network, where our editors and algorithms curate the best sports content from our network and beyond.