Found December 19, 2012 on NorthWest Sports Beat:
PLAYERS:
Kobe Bryant
,
Steve Nash
,
DeMarcus Cousins
,
Jimmer Fredette
,
Isaiah Thomas
,
Tyreke Evans
,
Marcus Thornton
,
Jason Thompson
,
John Salmons
,
Aaron Brooks
,
Chuck Hayes
,
Travis Outlaw
,
Francisco Garcia
TEAMS:
Sacramento Kings
,
Los Angeles Lakers
,
Phoenix Suns
Less than a year to go! This is still all hypothetical, but it sure is nice to be able to look forward to the Northwest original back in the NBA soon. With a good your core, the Sacramento Kings have the building pieces already in place to be a contender in the aging Western Conference. By the time they roll into town as the Sonics, Kobe Bryant, Steve Nash, Tim Duncan, and the likes will either already be retired, or on Heavens Gate waiting to get in. So take this how you like, but as the dreamer that I am, I'm asking Santa for a basketball floor full of Sonics in the near future. Not quite there yet At 7-17, the Kings aren't knocking on anybody's doors this season, especially the playoffs. Even in a weaker Pacific Division, it hasn't been easy. With a tough loss on Monday against the Phoenix Suns, the loss dropped the Kings to dead last in the division, and second to last in the conference, a whole 13 games behind the unmentionable. Still, the upside of this team is huge. Once they finally figure out how to please the ever angry DeMarcus Cousins, and find out what to do with 1st round flop Jimmer Fredette, they will be on their way. Isaiah Thomas could end up back in Seattle real soon. (Photo: Yahoo) Starting 5 to die for The Kings can roll out more than a few productive starting rotations, but my favorite is the Cousins, Tyreke Evans, Marcus Thornton, Jason Thompson, and Isaiah Thomas one. 5 great young talents still trying to find a way to gel with each other, and by the time this team hits the new arena in downtown Seattle, hopefully the kinks will be all worked out. Their bench isn't too shabby either. With players like John Salmons, Aaron Brooks, Chuck Hayes, Travis Outlaw, and Francisco Garcia, you know they will be good in the future. How does the future look? But, as is the problem with every team in professional sports, injuries have to come along and ruin everything, Only one player, Jason Thompson, has started every game this year. And only a handful of others have played in every game. To be a team on the rebuild, and we all know a thing about rebuilding here in Seattle, players need to be able to stay healthy. Once the heath comes along though, I think you will see just how dangerous this team can be. Right now, they are only averaging 94.4 points a contest, while giving up just over 100. Those numbers will need to improve in a hurry. We don't want fan interest in Sacto Or will they? With the way this team is playing now, and with the future of the team looming over everyone in Sacramento's head, maybe if this team sucks enough, it will make the city council's job that much easier. Kind of like in Major League, when the owner wanted the team to bomb so attendance would drop allowing them a move to Miami, that is the kind of thing we need to happen too. I know we should feel compassion for a city that may lose it's lone franchise, as we know all too well what it feels like to be lied to. But personally, I don't think I feel that way. Call me selfish, but I think we deserve the Green and Gold back in our town more than the cow pokes in Sactown deserve a team their city doesn't want. Heartless, maybe, but I honestly don't care. I just want my Sonics back!!!
Original Story:
http://www.nwsportsbeat.com/sonics/ch...
THE BACKYARD
BEST OF MAXIM
RELATED ARTICLES
Kings to Virginia Beach: The "Largest" Small Market   There have been many talks about moving the current Sacramento Kings NBA franchise to another location.  Multiple new locations have been proposed over the last 4 or 5 months, with the top three destinations being Seattle, Kansas City, and Virginia Beach (in that order).  Seattle makes the most sense, among the three,...
The Sacramento Kings are playing horrible basketball right now.  They give up the third most points in the league at 102, and on offense they don't share the ball, they're dead last at assists per game with 18.5. "They know that they're playing terrible basketball right now," a source told NBC Sports.  They also that part of that problem is not having Isaiah Thomas as...
Although the 2012-13 NBA season is currently on its way to the mid-point, the 2012 calendar year is coming to a close and we here at A Royal Pain (along with the rest of the FanSided network) wanted to reflect on the best moments of the 2012 year. For the purple and black loyalists, it's been a trying time. Between poor on-court play, a disastrous ownership and the emotional roller...
Here's a newsflash: The Kings aren't very good. Why? Their pieces are still mis-matched, their pieces still don't work except on paper and in the land of misfit toys, Keith Smart doesn't really seemingly get the most out of his pieces when they are going well, and well it's hard to figure out exactly what pieces are going well in all reality, and oh yeah the chemistry...
DeMarcus Cousins scored 24 points, Aaron Brooks added 23 points and the Sacramento Kings snapped a five-game losing streak by outlasting the Golden State Warriors 131-127 on Wednesday night. After blowing a 15-point lead, Brooks made a pair of 3-pointers in the final minutes to help Sacramento pull away. Both teams shot 50 percent, while the Kings had a season high in points and...
For the second day in a row I am leading in with a player from the Sacramento Kings. Yesterday it was Isaiah Thomas, today it's Tyreke Evans, he of the knee bone problem that may force him to miss "an extended period of time". Drats! Apparently the guy can't move around too well and you do need to move around a little bit to play the basketball. Sooo, where does that leave...
PHOENIX -- Losing at home to the Sacramento Kings wouldn't have been the end of the world. If certain interpretations of the Mayan calendar are on the money, the end of the world will show up on Friday. But it was only Monday night and the Phoenix Suns were busy making sure they avoided losing to the second-worst team (by record) in the NBA's Western Conference. The Suns...
SACRAMENTO -- It was a game that reminded some of the way the NBA used to look. The Sacramento Kings and Golden State Warriors had an old-fashioned shootout displaying the best of offensive basketball and a modicum of defense here and there. When it was over, the Kings were left standing with a 131-127 victory over the Golden State Warriors on Wednesday night before an announced...
NBA News

Delivered to your inbox

You'll also receive Yardbarker's daily Top 10, featuring the best sports stories from around the web. Customize your newsletter to get articles on your favorite sports and teams. And the best part? It's free!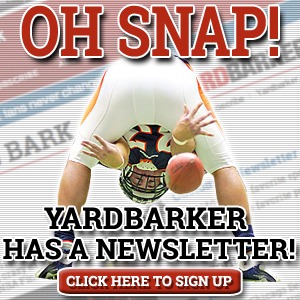 Latest Rumors
Best of Yardbarker

Today's Best Stuff

For Bloggers

Join the Yardbarker Network for more promotion, traffic, and money.

Company Info

Help

What is Yardbarker?

Yardbarker is the largest network of sports blogs and pro athlete blogs on the web. This site is the hub of the Yardbarker Network, where our editors and algorithms curate the best sports content from our network and beyond.