Found January 20, 2013 on NBA 24/7 365:
PLAYERS:
Chris Johnson
,
Mickael Gelabale
,
Lazar Hayward
,
Nikola Pekovic
,
Dante Cunningham
,
Andrei Kirilenko
,
Luke Ridnour
,
Greg Smith
,
Jeremy Lin
,
James Harden
,
Ricky Rubio
TEAMS:
Minnesota Timberwolves
,
Houston Rockets
,
Golden State Warriors
When I learned that Chris Johnson and Mickael Gelabale had been signed to 10-day contracts by the Minnesota Timberwolves on Saturday morning, I suspected that they'd likely see action that same evening against the Houston Rockets.  After all, each player was acquired purely out of necessity — with only seven healthy bodies available, the Wolves needed at least one additional player to field what the NBA considers a team.  So, using one injury exemption and another vacant roster spot recently opened up by the waiving of Lazar Hayward, the Wolves plucked Johnson out of the D-League and imported Gelabale from Spain.  Less than 24 hours later, each of them had been summoned into an NBA game… and been showered with MVP chants.  I kid you not. Prior to being signed by the Wolves, Chris Johnson, a 6'11" center out of LSU, had spent 14 games playing for the Golden State Warriors' Development League affiliate in Santa Cruz.  There, he'd been sharing time with other prospects but had still posted an impressive average of over two blocks per game.  In need of some height due to the expected absences of Nikola Pekovic and Dante Cunningham, the Wolves selected Johnson in part because he'd spent training camp with them last fall.  His most recent NBA appearance had been in April of 2012 as a member of the Hornets. As for Mickael Gelabale, he hadn't seen an NBA floor since 2008.  The 6'7" swingman was let go by the Seattle Sonics after tearing his ACL in practice, and he's been working to make it back to the league ever since.  He represented France in the Olympics over the summer and made various stops during the fall and winter, eventually winding up with the Spanish team Valencia after his Croatian team was eliminated from Euroleage competition.  Altogether, he joined the Timberwolves with 109 games of NBA experience and over a decade of professional basketball under his belt. Johnson and Gelabale made their first appearances for the Wolves early in the second quarter.  Johnson scratched quickly on an impressive alley-oop dunk from JJ Barea… …but neither of the two would score another field goal in the first half.  To their credit, they had helped Minnesota take a surprising 44-38 lead, but that had more to do with the Rockets' sluggishness and some solid play from veterans Andrei Kirilenko and Luke Ridnour.  Of all the lesser-known players who'd taken the floor, it was actually Chris Johnson's counterpart, Greg Smith, who was turning heads; Houston's backup center scored six points in the first half, all by virtue of the slam dunk. As the Rockets continued to struggle in the third quarter, the Timberwolves extended their advantage.  It was a 10-point lead when Gelabale checked in at the three-minute mark and an 11-point lead when Johnson entered the game shortly thereafter.  Houston wasn't done yet, though; they finished the period on a 10-2 run, cutting the lead to just four.  Suddenly involved in a battle against an explosive offensive contingent, the shorthanded Wolves would need someone to step up.  Lo and behold, the two guys who'd just joined the team around breakfast time took over the game.  And when I say they took over the game, I mean they legitimately took over the game. Little did we know that the offensive rebound and ensuing five-foot jump hook scored by Chris Johnson to kick off the fourth and final quarter would be a sign of such incredible things to come.  Johnson had outfought multiple Rockets to secure that rebound, and he'd continue to be quickest player to the loose balls and just generally the game's most active participant down the stretch.  Following a pair of free throws, Johnson out-sprinted everyone from baseline to baseline, hammered home a spectacular lob from Luke Ridnour… …and proceeded to grab another couple rebounds.  By the time he took his next trip to the stripe, Johnson had scored six consecutive points.  As he drilled another couple of free throws to put the Wolves up nine, Johnson was lauded with a faint but discernible chant of M-V-P!.  As used and abused as the MVP chant has been at NBA basketball games, I couldn't help but get a pretty big kick out of the fact that Chris Johnson was getting one in his first game with the Wolves, fresh out the D-League.  Even Jeremy Lin (who was ironically present) had required more than one game to achieve such overwhelming popularity at Madison Square Garden. Immediately following Johnson's first set of MVP free throws, Mickael Gelabale began to make his own presence felt.  Gelabale made his first significant contribution at the defensive end, where he pressured James Harden along the sideline.  Harden, looking to release a three-point shot, was stifled by the aggressive defense and eventually went on to commit an awkward-looking turnover.  About a minute later, Gelabale cut to the basket and finished on a pass from Ricky Rubio for his first field goal of the contest.  Working primarily off of the ball, Gelabale wisely decided to capitalize on Rubio's play-making abilities.  Much to the delight of about 17,000 Timberwolves fans, he spent the next two and a half minutes outscoring the league's fifth-leading scorer 10-2.  When Gelabale's energy landed him at the free-throw line for a third consecutive possession, the crowd showered him with his own M-V-P! chant. As Minnesota's parade to the foul line pressed on, the chants steadily gained volume.  The most boisterous of all was for Johnson — and deservedly so — when his final pair of free throws put the Wolves up 84-75 at the 4:41 mark.  He'd scored 13 points in just 13 minutes, and one final slam dunk would bring him up to an even 15 on the night.  All in all, Chris Johnson and Mickael Gelabale had scored TWENTY-THREE consecutive fourth-quarter points for the Wolves.  The Rockets only scored 20 as a team.  In addition to his 15 points, Johnson racked up six boards and blocked a shot.  Gelabale added totals of 11 and 4, and the Wolves ultimately secured a 92-79 victory to snap a five-game losing streak. The Rockets, on the other hand, have now dropped seven in a row.  Having shot just 32% from the floor whilst sending the Wolves to the free-throw line a whopping 36 times… they were absolutely dreadful.  Still, what Chris Johnson and Mickael Gelabale were able to do in their respective Wolves debuts was pretty freaking remarkable.  I can't prove this, but I'm going to confidently assert that 23 points are the most ever scored consecutively by players on 10-day contracts.  And then there's the fact that these 23 points came in the fourth quarter of what had been a four-point game.  That's the part that makes this really crazy — none of it was done during garbage time! As for the MVP chants, Johnson admitted that it was "probably just for tonight, I guess." While Chris Johnson may never win a league MVP, he just might parlay his 10-day contract into the payday of a lifetime.  Clearly, his athleticism is NBA-caliber.  He'll need to continue to impress with his energy and display a solid understanding of the game in order to stick, and I haven't seen enough of the guy to make a prediction as to whether or not he's likely to do so.  That said, he's off to a damn good start!  The same goes for Mickael Gelabale, who will look to make a lasting impression as a scrappy wing defender. Regardless of whether or not Chris Johnson and Mickael Gelabale outlast their 10-day contracts, this was awesome.
Original Story:
http://nba247365.com/?p=9780
THE BACKYARD
BEST OF MAXIM
RELATED ARTICLES
MINNEAPOLIS After several days anticipating the move, the Minnesota Timberwolves on Saturday signed small forward Mickael Gelabale to a 10-day contract. Gelabale, 29, last played in the NBA with the Seattle SuperSonics from 2006-08 and averaged 4.9 points and 2.1 rebounds in 109 games. The 6-foot-7 veteran's strength is his long-range shooting, and he will take Lazar Hayward...
MINNEAPOLIS Chris Johnson packed a bag. One bag. Just 24 hours before his career night Saturday in Minneapolis, Johnson was arriving from California, two days removed from his most recent game with the Santa Cruz Warriors. Just 48 hours before Mickael Gelabale's 11-point night at the Target Center, he was fresh off a plane from Spain, too tired even to schlep over to the arena...
Minnesota signed two players to 10-day contracts in advance of Saturday's game against Houston: French forward Mickael Gelabale and center Chris Johnson. Gelabale, 29, was last in the NBA with the Seattle SuperSonics from 2006-08, playing alongside current Timberwolves guard Luke Ridnour. Johnson, a 6-foot-11 center whose biggest drawback is his skinny frame, averaged 10.9 points...
MINNEAPOLIS The Timberwolves may have just nine players Saturday night against Houston, even after signing Mickael Gelabale and Chris Johnson to 10-day contracts. The latest casualty is Dante Cunningham, who missed shootaround with an illness and is listed as questionable for the game. Alexey Shved, who's status is day-to-day with a sprained ankle, is out, as is Nikola Pekovic...
Chris Johnson and Mickael Gelabale signed 10-day contracts with Minnesota on Saturday morning, then scored the first 23 points of the fourth quarter to lift the Timberwolves to a 92-79 victory over the slumping Houston Rockets on Saturday night. Johnson, signed from Santa Cruz of the NBA Development League, scored 13 of his 15 points in the fourth. Gelabale, a forward who arrived...
MINNEAPOLIS Bill Bayno has ice taped to his back. Shawn Respert, sweating, jogging, in his warmups, is looking more like a player than anything else. And Terry Porter, in his suit, in front of the cameras, is running the show. This is the state of the Timberwolves these days. There are too few players to practice and the coaches are too young not to jump in, even if their 40- and...
Alexey Shved came out of Monday's re-evaluation confident that he'll return to the Minnesota Timberwolves sometime this week.
MINNEAPOLIS -- Somebody's losing streak had to end Saturday night at Target Center. Turns out it was the Minnesota Timberwolves' five-gamer that ended with a 92-79 victory over a Houston Rockets team that now has lost its last seven games. Neither team had won since Jan. 8 before Saturday night, when newly signed D-League center Chris Johnson became the most unlikely...
As per usual here on That NBA Lottery Pick, we love monster slam dunks and the below one from Minnesota's Derrick Williams is a nice one.During today's Hawks/Timberwolves affair, Williams got out on the fast break and put Atlanta's John Jenkins on a poster:
Struggling through their second lengthy stretch without injured star Kevin Love, the Minnesota Timberwolves find themselves on the verge of their longest losing streak of the season. Things aren't about to get any easier with Nikola Pekovic sidelined for at least a week. The injury-plagued Timberwolves try to avoid a sixth consecutive loss Saturday night against a visiting...
The Atlanta Hawks and Minnesota Timberwolves are having trouble putting enough healthy bodies on the court. The Timberwolves ended an 11-game slide to the Hawks earlier this season, but it's anybody's guess as to what to expect in Monday's rematch in Atlanta. There were eight players out for Minnesota (17-20) as it surprisingly snapped a five-game slide with Saturday...
Gelabale will get a legitimate opportunity to be a contributor in the Timberwolves' rotation.
NBA News

Delivered to your inbox

You'll also receive Yardbarker's daily Top 10, featuring the best sports stories from around the web. Customize your newsletter to get articles on your favorite sports and teams. And the best part? It's free!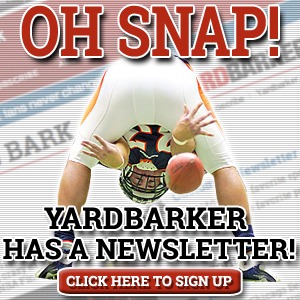 Latest Rumors
Best of Yardbarker

Today's Best Stuff

For Bloggers

Join the Yardbarker Network for more promotion, traffic, and money.

Company Info

Help

What is Yardbarker?

Yardbarker is the largest network of sports blogs and pro athlete blogs on the web. This site is the hub of the Yardbarker Network, where our editors and algorithms curate the best sports content from our network and beyond.