Found March 19, 2013 on It's Always Sunny in Detroit:
via YouTube Former FOX football mouth John Madden knew his way around the telestrator, especially whenever there was food involved.  He could circle a turkey leg like no other.  He could be mid-sentence talking about how great Brett Favre's hair looked that day and if he spotted someone eating a hot dog, it was over. Tuesday on NBA TV, Chris Webber took his turn Madden-style with a young couple at the Magic-Pacers game who were trying to enjoy some ice cream. Webber tallied a record eight circles on the teleprompter in roughly a minute in what was one of the better things C-Webb has ever done, and that's including Tyra Banks.
Original Story:
http://itsalwayssunnyindetroit.com/20...
THE BACKYARD
BEST OF MAXIM
RELATED ARTICLES
Tops the list of Sixer BUSTS Thank you Andrew Bynum for opting for season ending surgery! Mercifully us fans can now be spared the routine B.S. that surrounds your health, hair and future with the Sixers. Now we can move on and wait to see if you are healthy enough for other teams to sign you next season for that "9 figure payday". Do you deserve such a deal? That answer should...
Andrew Bynum may never suit up for the Philadelphia 76ers. The Sixers announced Monday that Bynum will undergo arthroscopic surgery on both knees Tuesday, and he'll miss the rest of the season. Doctors will clean out loose debris in Bynum's knees "in an attempt to alleviate pain and swelling." "After many months of rehabilitation and consulting with ...
Looks like the Andrew Bynum era in Philly has officially come to an end before it ever began. The Sixers have announced that Bynum will have surgery in BOTH KNEES tomorrow and is done for the season. Bynum is on the final year of a deal that paid him $16 million this season. His surgery means he will enter free agency with his last basketball action happening when the Lakers were...
Andrew Bynum has personally screwed over the 76ers franchise. STNTV's David Brickley gives you the details. SUBSCRIBE: http://sprts.is/STNTVSubscribe TALENT: David Brickley: http://twitter.com/davidjbrickley VIDEO: Troy Cruz: https://twitter.com/Troy_VE STNTV Social: Twitter: http://twitter.com/stntv Facebook: http://sprts.is/STNTVFacebook The post Andrew Bynum Screws Over...
At the beginning of the season, I warned people that it was possible that Andrew Bynum would never take the court for the Sixers. When you have Oden-Like knees, rest isn't enough. Bynum knees are very brittle and he didn't help himself by being out of shape and bowling on his off days. His timetable kept being push farther and farther back, that you knew eventually he would...
  It's obvious to me that this guy has checked out mentally and emotionally of this relationship. Following Monday night's game between the Indiana Pacers and the Orlando Magic, NBA TV's Isaiah Thomas and Chris Webber brought attention to a man they called "Ice Cream Guy," whose girlfriend tried to sample some of his cone but he wasn't having it. The scorned woman, got...
I must have been a long night for NBA TV's Chris Webber and Greg Anthony or they had nothing better to do. During the Magic-Pacers game, a fan was caught in the stands chomping an an ice cream cone and not sharing it with his girlfriend who went in for a scoop. The guy pulls it away and her reaction was that of "Oh no you didn't!" Enter C-Webb and Anthony...
Andrew Bynum has not even suited up for the Philadelphia 76ers this season.  There was some thought that he could suit up later this month, but that idea is now [...]
Andrew Bynum has received criticism from NBA analysts such as Magic Johnson and former mentors like Kareem Abdul-Jabbar.
Andrew Bynums season is officially over! He's set for season-ending arthroscopic surgery on both knees Tuesday. Philadelphia now has to decide if it will offer the former All-Star center any kind of long-term deal without him ever playing a second for the franchise. Bynum was acquired from the Los Angeles Lakers as part of a
Tuesday night Chris Webber channeled the spirit of his inner John Madden in the NBA TV studios and broke out the telestrator for detailed analysis of this couple sharing what looks to be a tasty mint chocolate chip ice cream cone.  I've been there before, you don't get between a man and his ice cream.  Webber's circling and commentary on relationships is a riot.  Why...
Earlier today, we posted a video of NBA TV's Chris Webber mocking a couple eating ice cream at Tuesday night's Indiana Pacers/Orland Magic game.Well...later that night...NBA TV's Fan Night had even more fun when they superimposed Charles Barkley's head on "ice cream guy":
76ers News

Delivered to your inbox

You'll also receive Yardbarker's daily Top 10, featuring the best sports stories from around the web. Customize your newsletter to get articles on your favorite sports and teams. And the best part? It's free!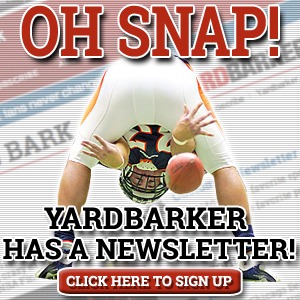 Latest Rumors
Best of Yardbarker

Today's Best Stuff

For Bloggers

Join the Yardbarker Network for more promotion, traffic, and money.

Company Info

Help

What is Yardbarker?

Yardbarker is the largest network of sports blogs and pro athlete blogs on the web. This site is the hub of the Yardbarker Network, where our editors and algorithms curate the best sports content from our network and beyond.