Found November 02, 2012 on Waiting For Next Year:
PLAYERS:
Kyrie Irving
,
Dion Waiters
,
Derrick Rose
,
Tom Thibodeau
,
Joakim Noah
,
Carlos Boozer
,
Taj Gibson
,
Luol Deng
,
Anderson Varejao
,
Richard Hamilton
,
Bradley Beal
,
Kirk Hinrich
,
Alonzo Gee
,
Tristan Thompson
,
Daniel Gibson
,
Kyle Korver
,
C.J. Watson
,
Omer Asik
,
Nate Robinson
,
Marco Belinelli
,
Jimmy Butler
,
Nazr Mohammed
TEAMS:
Cleveland Cavaliers
,
Chicago Bulls
,
Sacramento Kings
,
Atlanta Hawks
,
Brooklyn Nets
,
Houston Rockets
On opening night, the Cleveland Cavaliers gave us all a glimpse of some of the highlights, and just a few of the lowlights, that we can expect to see this season. Friday night, as the Cavaliers host the Chicago Bulls, the question will be about consistency. Against the Wizards on Tuesday, we what the Cavaliers can be. A persistent team capable of outworking their opponents in the paint with a strong backcourt duo to keep opponents honest. We saw some crisp passing, some good cuts off the ball, and just a fun style of team oriented basketball. Of course, we also saw some weaknesses be exposed. These are some issues we were concerned about before the season started, primarily in terms of lack of depth. Where is the bench scoring going to come from? After Kyrie Irving, where are the points? Dion Waiters showed us what his game can be all about, but can he be consistent at all? What kind of performance should we expect from the young rookie on a night in and night out basis? Those questions will be put to the test against the Chicago Bulls. Like the Wizards, the Bulls are also without their franchise leading PG. Derrick Rose, who infamously tore his ACL in the Bulls' opening round matchup with the 76ers last season, is still out rehabbing his knee and will miss much of the season. The Bulls went 18-9 without Rose in the regular season last year, and they earned a very solid opening night win over the Sacramento Kings. The Bulls, lead by one of the best defensive coaches in the Association in Tom Thibodeau, certainly believe they can overcome Rose's injury, play stout defense, and finish as one of the top 4 teams in the Eastern Conference. However, the Bulls made wholesale changes in the offseason that leave this team as one of the biggest question marks in the league. We think there are a lot of questions surrounding the Cavaliers, but just who are the Chicago Bulls? The Bulls still feature an extremely solid frontcourt lead by Joakim Noah and Carlos Boozer. Taj Gibson, who just signed a lucrative extension with the Bulls, is another solid young frontcourt player coming off the bench. Luol Deng remains one of the hardest working 3s in the NBA. The matchup between Noah and Anderson Varejao is going to be the prime matchup in this contest. The two floppy haired centers who love to get under opponents' skin will test their complimentary skills on one another. In recent years, Varejao and Noah have had some fascinating battles. Typically, Noah outrebounds Andy while Varejao has the edge over Noah in scoring. In their last 5 regular season matchups, Noah has outrebounded Andy by a 12.0 to 8.4 rebounds per game margin. Only once in those 5 games did Andy pull down more boards than Noah. On the flipside, Varejao holds the scoring edge at 12.0 to 10.4 points per game and Noah has only outscored Varejao once. Which center has the better game will go a long way in setting the table for his team to win this game. But it's far from the only matchup to watch. Bulls SG Richard Hamilton is one of the most active off-ball SGs in the game, and rookie Dion Waiters is going to have a much bigger test in staying with Hamilton than he did shadowing Bradley Beal in game one. Kirk Hinrich, who played his first 7 seasons in Chicago, is back with the Bulls and filling in at starting PG for Rose. His matchup with Kyrie Irving is going to be a tough one. Hinrich has made a career of playing hard nosed defense, and few players have done more in their career with limited skills than Hinrich. But Hinrich is much more effective at the 2 guard spot than he is at the point. Hinrich likes being physical defensively with opposing SGs, but he has had some issues when asked to defend PGs, as quickness off the ball is an issue for him. The Cavaliers will need Kyrie Irving to make the most of this apparent mismatch and really set the tone offensive for the Cavaliers. The Cavaliers were able to beat a wounded and depleted Wizards team at home, but the Bulls won't be so easy. The Cavaliers must get more production from the 3 in this game. Alonzo Gee will be tasked with slowing down Luol Deng, but Gee needs to find a way to bring more offensively than he did in game one. The bench battle is going to be another huge matchup in this contest. Last year, the Cavaliers had one of the best benches in the NBA when it was featuring the likes of Ramon Sessions, Tristan Thompson, Daniel Gibson, and Alonzo Gee. By the end of the year, the Cavaliers had one of the most atrocious bench units we've ever seen. The Bulls' bench was one of their biggest strengths last year. A lot has changed, though. Gone are Kyle Korver, CJ Watson, Omer Asik, and Ronnie Brewer. In addition to Taj Gibson, the Bulls bench this year consists of the likes of Nate Robinson, Marco Belinelli, Jimmy Butler, and Nazr Mohammed. In game one, the Bulls' starters all played at least 29 minutes, and the leading scorer off the bench was Nate Robinson with 7 points. If the Cavaliers can find a way to slow down Deng and Hamilton on offense and if the Cavaliers' bench can outperform the Chicago bench, the Cavaliers will have a chance to win this game. But they will also need to find some consistent scoring outside Kyrie. If Dion Waiters rides the rookie roller coaster and follows up a good game with a bad one, where will the scoring come from? But if Waiters follows up his debut with another solid game, the Cavaliers have a chance to be in good shape in this game. The Bulls aren't what you would consider a team the Cavaliers should beat. But they are a team the Cavaliers can beat, especially at home. It's just a matter of whether what we saw Tuesday night is closer to reality or one night adrenaline wave. This Bulls matchup should begin to answer some of the Cavaliers' questions. _____ Image Credit:  David Richard-US PRESSWIRE
Original Story:
http://www.waitingfornextyear.com/201...
THE BACKYARD
BEST OF MAXIM
RELATED ARTICLES
Annoying in a bad way? I would say that in a good way. Who said it? Man or woman? Did he ever play the game of basketball? I don't think so. Saying that about Andy to me is a sign of respect. His game is annoying? I think it is for guys who have to guard him, yeah. You know you're not going to get a day off. The shot goes up, he's coming, both ends of the floor. So if I'm...
Dion Waiters, to this point is still shrouded in plenty of unknown. Certainly, the Cavaliers' rookie shooting guard, selected fourth-overall in the most recent NBA Draft, came out of the gate swinging — 17 points on 6-of-14 from the floor and three steals — in the team's Opening Night win over the Wizards. But save for the 28 minutes of play, not much of Waiters' persona...
Tweet Cleveland Cavaliers point guard Kyrie Irving is a rising star in the NBA, as is Minnesota Timberwolves All-Star forward Kevin Love. The two got together for the second installment of Pepsi Max's online series that casts Irving as "Uncle Drew", an old-school baller with insane game. The video also features NBA legend Bill Russell: [...]
It might only be one game, but we can get excited, right? Now, I'm not saying the Cavaliers will make a playoff push (we won't), I'm not saying Anderson Varejao will average 23 boards a game (he won't), or that Kyrie Irving will put up 29 a game (ehh, maybe). But I do know this team will be fun to watch if they play the type of basketball they did against Washington...
This game looked like it was going to overtime. Kyrie Irving's layup tied the game with 0.7 seconds left but Brandon Jennings nailed a 28 footer as time expired. This was a back-and-forth affair. The Cavs built an early lead, then blew it. The Bucks had a lead for awhile, but the Cavs fought back. There's a few takaways from this game: 1) Kyrie Irving is REALLY good. 2) So is...
INDEPENDENCE, Ohio -- You may have been surprised when Luke Waltons number was called, and thats OK. Even Cavaliers coach Byron Scott seemed a bit taken aback -- and hes the man who did the calling. But when Walton checked in during the first quarter of the Cavs season-opening win over Washington Tuesday, he was ready. He had to be. I try to approach the game as if I know Im...
You can watch this again, it's okay. I know you want to. Truth is, Kyrie Irving may act as well as he plays basketball. That's what I thought this morning as I watched Uncle Drew's second installment for the fifth time. [youtube]MLyvkBifQ3w[/youtube]Somehwere, Robert De Niro just gave Leondardo DiCaprio a high five in response to that pocket pass. Good to see Wes still...
It appeared that Cleveland Cavaliers guard Kyrie Irving game-tying lay-up with less than one second to play was going to send their game against the Milwaukee Bucks to overtime. With less than 0.7 seconds on the clock, Bucks guard Brandon Jennings decided to end the contest with a game-winning three pointer:
VENUE: Quicken Loans Arena TIP-OFF: 7:30 p.m. TV: FOX Sports Ohio HD (Cavaliers Live pre-game, 7 p.m.) RADIO: WTAM-1100 AM (7 p.m.) PROBABLE STARTERS Cavs vs. Bulls C Anderson Varejao vs. Joakim Noah F Tristan Thompson vs. Carlos Boozer F Alonzo Gee vs. Luol Deng G Dion Waiters vs. Richard Hamilton G Kyrie Irving vs. Kirk Hinrich COACHES: Byron Scott, Cavs; Tom Thibodeau...
NBA News

Delivered to your inbox

You'll also receive Yardbarker's daily Top 10, featuring the best sports stories from around the web. Customize your newsletter to get articles on your favorite sports and teams. And the best part? It's free!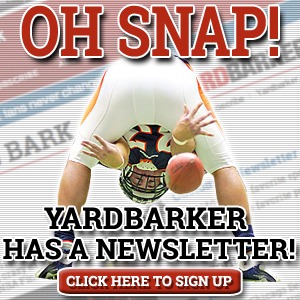 Latest Rumors
Best of Yardbarker

Today's Best Stuff

For Bloggers

Join the Yardbarker Network for more promotion, traffic, and money.

Company Info

Help

What is Yardbarker?

Yardbarker is the largest network of sports blogs and pro athlete blogs on the web. This site is the hub of the Yardbarker Network, where our editors and algorithms curate the best sports content from our network and beyond.