Found July 15, 2012 on Waiting For Next Year:
PLAYERS:
Kyrie Irving
,
Luis Scola
,
Andrew Bynum
,
Dion Waiters
,
LeBron James
,
Jerry Colangelo
,
Anderson Varejao
,
Tristan Thompson
,
Tyler Zeller
,
Dwight Howard
,
Michael Kidd-Gilchrist
TEAMS:
Cleveland Cavaliers
,
Houston Rockets
,
Los Angeles Lakers
,
Brooklyn Nets
,
Charlotte Hornets
,
Miami Heat
,
Dallas Mavericks
,
Orlando Magic
,
Oklahoma City Thunder
What a hectic week to be a fan of the Cleveland Cavaliers. It seems that almost every single day brings along a new news cycle, and this week has brought along its fair share of hectic news. From the Kris Humphries-Brooklyn Nets rumors to the possible Luis Scola waiver claim, to the more recent Andrew Bynum murmurs and recent Kyrie Irving injury, there's been plenty to talk about in Cavs town lately. Tonight, the Cavaliers begin summer league play in Las Vegas at 8:30 p.m. against the Charlotte Bobcats. With this in mind, I thought this would be a great time to round up some of the recent rumors and my thoughts on the team for this Sunday afternoon. Kyrie Irving This one hurt. The news came in slowly but surely last night, and we've learned the upcoming fate of our star point guard: out 6-8 weeks with a fractured bone in his hand. Let's start with some good news and bad news. Good: He likely won't miss training camp at all. He certainly should be perfectly ready for the preseason and regular season. The injury was a freak accident that just again shows Kyrie's fire and intensity anywhere around the court. Bad: The injury-prone label continues to hover over his head, as he's had significant ailments for three straight years now (toe, shoulder, hand). He'll miss the summer league and a crucial opportunity where he could have bonded with new backcourt mate Dion Waiters. Overall, however, we've learned throughout the summer that Kyrie Irving truly is the real deal. As if averaging 18.5 points and 5.4 assists on 46.9% shooting wasn't enough last season as a 19-year-old. He's impressed everyone from LeBron James to Jerry Colangelo and more through his participation with the USA Select Team, and is a near-guaranteed Olympian for 2016. Irving's a fierce competitor, there's no doubt about that, and he's cemented his status this summer as one of the more talked-about players in the league. He's building quite a reputation too, and this injury appears to be just a minor summer setback that won't actually matter too much in the end. Luis Scola As opposed to many other rumors over the past couple weeks, this one appears to have some legs. The Cavs along with the Dallas Mavericks are two of the top squads supposedly targeting forward Luis Scola, who the Houston Rockets amnestied earlier this week. Scola is a 32-year-old Argentine who has put up some solid consistent numbers over his five-year NBA career. He's missed just five games total during that span, and has averaged 14.5 points with 7.7 rebounds in 30.2 minutes per game, shooting 51.0% from the field. A frontcourt of Scola, Anderson Varejao, Tristan Thompson and Tyler Zeller would be one of the more pesky, underappreciated yet productive in the Eastern Conference. The foursome wouldn't necessarily dominate every night, but I really like that potential combination of offense-defense, old-young and more. Many folks on Twitter have theorized that the Cavs' interest in Scola could signal a trade of Varejao sometime soon. For folks that don't watch basketball, it possibly seems redundant to have two South American forwards on a NBA team. For folks that actually watch basketball however, you'd understand that the two have entirely different skill sets and could easily play together on the court. Scola's a pesky veteran who has a good scoring touch in the post. He's a solid rebounder, average athlete and mediocre defender. Cleveland desperately needed more low-post scoring last season, and Scola would be a great fit. For now, I'm estimating the chances based on the Twitter vibes that there's maybe a 50% chance the Cavs nab Scola in the coming days (FSO's Sam Amico said a move likely won't be finalized until Monday). This won't automatically propel the Wine & Gold to the playoffs, but, outside of his lengthy and expensive contract, this is a relatively low-risk that could pay solid dividends. Andrew Bynum It's time to forgive and forget. All anyone could talk about yesterday was the possibility that the Cavaliers might end up with LA Lakers center Andrew Bynum in a deal that would send Dwight Howard to LA. As time has passed, it appears this was just yet another Twitter rumor that doesn't have too many legs. It was reported earlier in the week that Bynum could be interested in Cleveland as a free agent in 2013, and I'd guess that's still on the table. It's been historically difficult for the Cavs to attract marquee free agents, but stars could align here for various reasons: 1) Kyrie Irving is as good a teammate Bynum could partner up with, 2) The Cavs don't have a current long-term star in the paint (sorry, Tyler Zeller), and 3) Cleveland has tons of long-term cap space. People tend to forget that Bynum is only 24 years old. Combining him with Irving potentially next season would catapult Cleveland to being one of the top six teams in the East, guaranteed. That young combination of those two plus Dion Waiters and Zeller would arguably be the best in the league, up there with the Oklahoma City Thunder. For now, however, it's probably just best to move on from all of the murmurs and just get back to preparing for the season as fans. It'd take a huge miracle for everything to align in Orlando and LA's favor for this three-way to actually work, as we learned earlier with the possible Brooklyn Nets deal. Summer League It's been two years since we had summer basketball going on with the Wine & Gold. It should be plenty of fun to see things begin tonight against the Bobcats. I know I'll be first intrigued to see how Michael Kidd-Gilchrist does against the team that was so enamored with him leading up to the draft. With Irving gone, Cavs fans will still have the trio of Waiters, Thompson and Zeller to look forward to over the next week. The big surprise of the roster was that Kevin Jones won't be around, as he's injured, but should report back to the squad in time for training camp. Fans should expect very little defense but some exciting things from the young players. Some odd names have dominated summer league over the years, and I wouldn't be shocked if all anyone can talk about is Dion Waiters when things are all said and done. It just seems like this expected pace of play could favor some big games for the rookie from Syracuse. It's been pretty cool to see so much coverage of summer play so far this summer both from Orlando and starting recently in Vegas. Basketball fans are spoiled to see continuous coverage of their teams on Twitter and more, even despite the hectic rumors, so enjoy these contests over the next few days here, folks. – (BluePlanet/YouTube screenshot)
Original Story:
http://www.waitingfornextyear.com/201...
THE BACKYARD
BEST OF MAXIM
RELATED ARTICLES
Cavaliers guard Kyrie Irving broke his right hand during a practice in Las Vegas and could be sidelined two months. The NBA's rookie of the year injured his hand slapping the padding on a wall. The Cavs said in a release Saturday night that Irving is returning to Cleveland for further examination on Sunday. The team said it expects him to be ready for the start of training camp...
BIG GAMBLE
The Rockets did the unthinkable -- they waived one of their top players from the past few seasons. Find out why they did it.
Cleveland Cavaliers' Kyrie Irving has been in the headlines for getting humiliated by Kobe Byrant in a smack-talk session but now he is in the spotlight for all the wrong reasons. While in Las Vegas for the 2012 Summer League, Irving fractured his right hand during a team practice. X-rays were performed and confirmed he did suffer a fracture which will cause him to sit out the...
HERE WE GO AGAIN
The lastest on the Dwight Howard rumor mill has the Cavaliers as the third team in the Magic-Lakers deal to send D12 to L.A.
Cleveland Cavaliers guard Kyrie Irving will have his broken right hand examined by team doctors on Monday. Irving, the NBA's rookie of the year, broke his hand Saturday after slapping it on a padded wall during summer league practice in Las Vegas. Irving said he likely will undergo surgery and the Cavs said he will miss up to two months. A team spokesman said Sunday night that...
CLEVELAND (AP) -- Cavaliers guard Kyrie Irving broke his right hand during a practice in Las Vegas and could be sidelined two months. The NBA's rookie of the year injured his hand slapping the padding on a wall. The Cavs said in a release Saturday night that Irving is returning to Cleveland for further examination on Sunday. The team said it expects him to be ready for the start...
The Phoenix Suns were awarded the rights to Luis Scola on Sunday by submitting the highest bid for the free agent forward, according to multiple reports. Scola was waived by the Rockets on Friday via the amnesty provision, and several teams, including Dallas and Cleveland, submitted bids for Scola, according to NBA.com. The Suns had to submit a bid of at least $3.3 million per...
Barely an offseason day has gone by without the Cavaliers having been in the middle of some hot rumor. Some have been true, some otherwise, and its hard to determine which is which.For the Cavs, even what we know to be true gets a little twisted.The biggest and most believable news centers around Cavs point guard Kyrie Irving, the NBAs reigning Rookie of the Year and face of the...
The Phoenix Suns have won the bidding for forward Luis Scola and used the amnesty clause to cut forward Josh Childress. A fan favorite in Houston, the 6-foot-9 Scola averaged 14.5 points and 7.7 rebounds in five seasons with the Rockets. He grabbed 2,984 rebounds to rank ninth on Houston's career list. But the Rockets used the amnesty option to waive Scola on Friday. The rugged...
Andrew Bynum is eligible for a three-year, $60 million extension.
Dwight Howard is the most dominant force in the NBA at his position. I say that with all due respect to Andrew Bynum the 24 year old up and coming beast that is the current Laker center and arguably the second best center in the league. Bynum is no Howard. This should go without saying, but the proof is in the pudding to coin the old cliche'. You say, look at those post moves...
Thanks to house-cleaning efforts associated with the Houston Rockets' inspired quest to acquire Dwight Howard, the Phoenix Suns were able to land another power forward. According to reports, the Suns have won a waiver auction that will deliver 32-year-old Luis Scola to Planet Orange. Scola, who was on the Rockets' payroll for another 21 million over the next three seasons...
NBA News

Delivered to your inbox

You'll also receive Yardbarker's daily Top 10, featuring the best sports stories from around the web. Customize your newsletter to get articles on your favorite sports and teams. And the best part? It's free!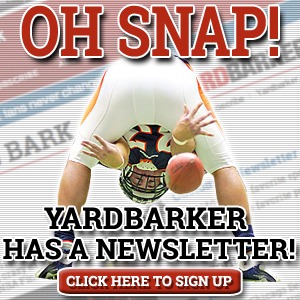 Latest Rumors
Best of Yardbarker

Today's Best Stuff

For Bloggers

Join the Yardbarker Network for more promotion, traffic, and money.

Company Info

Help

What is Yardbarker?

Yardbarker is the largest network of sports blogs and pro athlete blogs on the web. This site is the hub of the Yardbarker Network, where our editors and algorithms curate the best sports content from our network and beyond.