Posted October 23, 2012 on AP on Fox
PLAYERS:
DeAndre Jordan
,
Marc Iavaroni
,
Blake Griffin
,
Chris Paul
,
Jarrett Jack
,
David Lee
,
Andris Biedrins
,
Stephen Curry
,
Andrew Bogut
,
Jeremy Tyler
,
Caron Butler
,
Jerry West
,
Chauncey Billups
,
Grant Hill
,
Lamar Odom
,
Vinny Del Negro
TEAMS:
Los Angeles Clippers
,
Golden State Warriors
The steady improvement DeAndre Jordan has displayed at the offensive end during the Los Angeles Clippers' first six preseason games has been evident to anyone who watched him struggle around the basket last season. Jordan had another strong game Monday night with 18 points and 12 rebounds, leading the Clippers to an 88-71 victory over the Golden State Warriors. ''I worked tremendously hard with Marc Iavaroni and a number of the other coaches on my offensive game,'' Jordan said. ''They all said that I had it before, but they told me I needed to just slow down and take my time when I got down there under the basket. ''Last year I was a little too excited and was working too fast, but now I'm getting more comfortable and letting the game come to me,'' he added. ''That's what a lot of the veterans told me to do. My teammates trust me with the ball, and that builds my confidence. That confidence has definitely helped me in the preseason, and hopefully it will carry over to the regular season.'' Blake Griffin finished with 14 points, seven boards and six assists for the Clippers (3-3), and Chris Paul had 11 points, nine assists and only one turnover during a team-high 26 minutes. ''We're doing OK, but we've still got to build on the defensive end,'' Paul said. ''I think we've showed the capability of scoring at high levels every night, but one thing I kept saying at halftime was that we can't rely on that. The good teams in this league rely on defense night in and night out, and that's what we've got to do. We have to keep the pressure on. I wish effort was enough to win in this league, but it's not. We still have to play smart.'' Coach Vinny Del Negro sat all of his starters throughout the fourth quarter after Los Angeles built a 79-53 lead. The Clippers outscored Golden State 24-2 in the points-off-turnovers department over the first three quarters, committing only five turnovers while forcing 19 by the Warriors. ''I thought it was the first time in a long time that we looked like a bad team,'' Warriors coach Mark Jackson said. ''We didn't rebound the basketball, we didn't take care of the basketball, we didn't execute, and we took the path of least resistance. It's embarrassing. ''We're a much better basketball team than we played like tonight, but it's not a setback,'' Jackson added. ''We've been riding a pretty high wave and things have been going great. So tonight was a good experience for us. We'll see how it feels to see what happened when you decide to stray away from who we are and why we've been so successful.'' Jarrett Jack had 14 points and David Lee added 12 points and nine rebounds for the wounded Warriors (5-2), who were without Andris Biedrins because of tightness in his groin and Stephen Curry due to a sore right ankle. Center Andrew Bogut continues to recover from a fractured left ankle that occurred last January while he was with Milwaukee, and the Warriors have set no timetable for his return to the lineup. ''We're patient and we're listening to the doctors,'' Jackson said. ''He's working hard, he's getting rehab and we'll put him out on the floor when he's a hundred percent. But we're in no rush because we understand how important he is to this basketball team.'' Jordan paced the Clippers to a 52-39 halftime lead with 13 points and eight rebounds. The Warriors were trailing 70-45 when reserve swingman Jeremy Tyler fouled Griffin in the lane on a delayed slam-dunk attempt. Tyler made a move toward Griffin and received a technical foul. Paul, Jordan and Clippers teammate Caron Butler all went over to Tyler and calmed him down before Griffin took his free throws. Los Angeles never trailed, building a 41-25 margin with 4 minutes left in the half and getting 16 of its first 18 field goals off assists. Golden State's bench started out a collective 0 for 9 from the field and finished 9 for 37 overall as the Clippers' reserves outscored their Warriors counterparts 32-22. NOTES: Jerry West, who has a statue of himself right outside Staples Center commemorating his Hall of Fame career with the Lakers, attended the game. He currently is a member of the Warriors' executive board. ... In a poll of NBA general managers released by the league on Monday, Paul was voted the best point guard (69.0 percent) and the best team leader (27.6). Injured teammate Chauncey Billups got the nod for which player would make the best head coach someday (20.7). ... Grant Hill and Lamar Odom didn't play for the Clippers because of knee issues. When Hill plays his third game of the regular season, it will be his 1,000th in the NBA. Had it not been for a rash of debilitating injuries, the 18-year veteran would be approaching 1,500 by now. ... Jackson has more seasons of NBA playing experience (17) than any other current head coach in the league. Two of them were with the Clippers, including a trip to the playoffs in 1993.
Original Story:
http://msn.foxsports.com/nba/story/Cl...
THE BACKYARD
BEST OF MAXIM
RELATED ARTICLES
LOS ANGELES (AP) -- DeAndre Jordan had 18 points and 12 rebounds, leading the Los Angeles Clippers to an 88-71 exhibition victory over the Golden State Warriors on Monday night. Blake Griffin finished with 14 points, seven boards and six assists for the Clippers (3-3), and Chris Paul had 11 points and nine assists during a team-high 26 minutes. Coach Vinny Del Negro sat all of...
Chris Paul, Blake Griffin and the rest of the Los Angeles Clippers are embracing increased expectations this season, another sign of a deep cultural shift in an organization that hasn't experienced back-to-back playoff berths in nearly 20 years. The optimism is due in part to last season's success and the attitude of veterans Paul and Chauncey Billups, who have instilled...
The always funny Blake Griffin Tweeted out a short clip of a video featuring Chris Paul's hand messing with a sleeping DeAndre Jordan. To be fair, if one of my... Read more »Article found on: Cosby Sweaters
Chris Paul was honored by the City of Los Angeles on Sunday when "CP3 Day" was held at the LA Fire Academy. In addition to fun and games for kids and their families, the Clippers All-Star and other celebs  like The Game, Jalen Rose, Common, Pooch Hall and blogger Karen Civil participated in a celebrity [...]
The latest issue of Star alleges that Khloe and husband Lamar Odom are on the verge of an awfully expensive divorce, with drunken fights reportedly escalating to the point of the NBA baller blaming Khloe for the couple's lack of children. Despite the cover story claiming that reality TV princess Khloe Kardashian and her NBA baller husband Lamar Odom are divorcing, Khloe's girlfriend...
#4 - Los Angeles Clippers2011/12 Record: 40-26, lost Western Conference Finals2012/13 Projected Record: 57-25, playoffs   Key Additions:Jamal Crawford - Shooting GuardGrant Hill - Small ForwardLamar Odom - Power ForwardRonny Turiaf - CenterKey Departures:Mo Williams - Point GuardRandy Foye - Shooting GuardNick Young - Shooting GuardKenyon Martin - Power ForwardDepth...
Just when you thought it was safe to take a nap...Los Angeles Clippers center DeAndre Jordan got caught snoring by teammates Chris Paul and Blake Griffin:
In a recent preseason game between the Jazz and Clippers, Jeremy Evans embarrassed Ronny Turiaf twice. Turiaf shot was blocked by the Jazz's Evans and Evans than went on the first break where he dunked on Turiaf. He threw down a nice one handed slam. Check out the video below. Follow me on twitter @ScottBasketball  http://twitter.com/#!/ScottBasketballAlso like the Roundballchat...
Call whatever you want between the Lakers (0-6) and the Clippers (3-3) but don't call it a rivalry. In fact, it's ridiculously silly to even brand the Clippers a "rival" in Los Angeles when you consider numerous factors. For one, how many people would even mention Clippers when you ask them to associate sports and L.A.?But as impressive are the Lakers' starting...
  The Clippers faced off against the Golden State Warriors on Monday night and the lesson learned, never leave Blake Griffin open at the baseline.   Warriors are still waiting for Andrew Bogut to get a complete picture of what they'll have to work with this season. Problem with the West being so stacked, if [...]
Herald  For this year's Celtics, Green means go DeAndre Jordan, Clippers beat Warriors 88-71Bulls vow to get by without Derrick RoseGlobe  Leandro Barbosa still has something left to offer Celtics Celtics Green  A Few Interesting Notes from the GM Survey Revisiting the Chemistry IssueRay Trying to Convince Himself He Made the Right ChoiceCeltics Life  What if the Celtics go...
NBA News

Delivered to your inbox

You'll also receive Yardbarker's daily Top 10, featuring the best sports stories from around the web. Customize your newsletter to get articles on your favorite sports and teams. And the best part? It's free!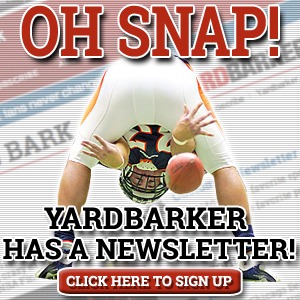 Latest Rumors
The Backyard

Today's Best Stuff

For Bloggers

Join the Yardbarker Network for more promotion, traffic, and money.

Company Info

Help

What is Yardbarker?

Yardbarker is the largest network of sports blogs and pro athlete blogs on the web. This site is the hub of the Yardbarker Network, where our editors and algorithms curate the best sports content from our network and beyond.