Found March 02, 2013 on Celtics Green ...a boston celtics blog.:
Good win for the Celtics.  They looked a bit rusty at times but did what it took to win the game.   It's refreshing to see fans admit that they are getting the benefit of the calls.  A fun game  and some fun comments.  I've highlighted my favorites in bold.   Enjoy...... Back to back 50 point nights for curry. Book it. Celtics can't hang with us...this is a win I think we will win this one, I'm not sold on the Rondo-less Celtics yet. They are putting up better numbers across the board offensively, defensively, and rebounding. I didn't think they would put up better offensive numbers, but Rondo's defense has been pretty awful this year. Bradley Really good defender…going to make it tough for Curry. I see we still aren't gonna get any fouls. To be fair Avery Bradley is a common household name Worriors sucky play being matched by Boston's sucky play Bradley's D is amazing If Bradley was only a little better scorer..... A timeout after a 14-2 run is so pointless. Either stop the run earlier or just sit there and take it. Don't pretend like you care now Jarrett. What the hell has happened to you He remembered he kinda sucks Ohh and already hate Boston commentators, have not said anything bad yet, but they will... All that yelling and cheesy catch lines... Do these guys even know who A.Bradley is? Who would you play so sloppy against him? Scouting reports!? Do we have those?! I hear other teams read them... Why don't we? I wish we had Bogut We have Bogut, I reckon you wish he was actually able to play basketball. How much can one guy get injured? It's not even the same injury, the man's body just hates him. Must be great to be NBA star, travel and run into ppl = free throws And pierce seemingly never travels We should have traded For Jordan Crawford. We desperately need another guard KG too good for ezeli... Even Wilcox is monster against Festus and Landry.. Is Steph getting superstar calls? According to Celtics announcers their team never travels, never commits fouls and never misses a shot if not being fouled Boston's announcers are so bad that I'm starting to like them out of pure comedy Don't lose to old man pierce Lol Bradley Dude is definitely not giving up 54 tonight. Every damn ball is theirs and if it's not it's a jump ball! Idiocracy! Bradley fouls curry 8 times, still complains Well at least we're not playing as bad as the Celtics The homerism of these Celtics announcers is at a comical level Bradley might have run his mouth too much before the game I ask the question are we seeing a last couple of games double standard calls because Stern is scared the Lakers empire and HUGE tv rights(playoffs) is in danger!? Warriors should win this game..for crying out loud..there are two starters sitting in WHEELCHAIR - Pierce and Garnett. Those guys are grandfather by now...our team should be making them use oxygen mask... Curry has cooled down  Bradley is an elite defender True. I wish Bradley was a Warrior, that perimeter defense is great from him. He's making the guards work very hard and he can shoot as well. You can just hear the busted blood vessel for Tommy, he's like 3 "bad" calls away. Bradley in foul trouble....YES! Pierce is still an elite one on one player. Barnes getting taken to school. If they could make FT's we'd be royally screwed. Avery Bradley might just be a better defender than Rondo, he looks pesky as hell. My theory: klay's lost allowance really cut into his weed budget And he can only hit threes stoned. Pierce just give up now before you end up on a poster Do the refs not know DLee was an All Star? Garnett's shot block taunt is shorter against white guys... Bradley is so annoying The best part of Bradley fouls Is the 5 minutes he spends complaining about each one. I admit 2 of those foul were iffy BOS TO's keeping this game close FIVE on Bradley! Curry starting to get the super star calls Curry gonna have an easy night now Old man pierce drives by Barnes so easily To be honest, we are getting the refs today. In new York, we got flamed by the refs. Make up game I guess. Hard fall Looked like he might have dislocated his shoulder... Looked painful. Quick let's send Draymond to the locker room and have him and Jeff switch jerseys Someone please tell the Celtics color guy that he has a microphone in front of him. Dudes acting like a **** fan. Not only is he whining nonstop, hes making **** whiny noises. It's not even what Heinsohn says so much as it is that annoying Boston accent... Tommy is the Celtics broadcaster...He's going to be a homer and that's his job. I have zero problem with it. It's comical. Wilcox owning us If I was Klay's dad, I'd fine him money anytime he took those shots So much for Green being banged up He Pierced us Jack stands in one spot for like 10 seconds and bricks a 3. Why is he playing again? My friend, who is a Celtics fan, said Boston can beat anyone in the east bar Miami heat. From what I'm seeing, I would think they could not make west playoffs, let alone beat anyone in the series. I guess listening to announcers like these you may develop various illusions Is Dray fat or is wearing a bulletproof vest??? Curry just airballed a wide open three. The end of the world is here. Man I wouldn't mind Crawford coming off the bench for US Too bad we didn't have Barbosa with a torn ACL to trade The groan I just heard from that Boston crowd after that Crawford 3 Reminded me of whenever J Smoove jacks up a 3. Green got good after that fall Mark after the game. We battled…GIVE THEM CREDIT… NO EXCUSES… NO NEED TO PANIC.. He needs to go and take his Jacksonisms with him! If we had a competent coach who actually makes adjustments midgame we would be in far better shape. Lol Boston is playing like utter s**t and they're up 13 Jack needs to stop the Monta act As well as Bogut getting healthy Is he a woman right now? Not a woman but not man-ing up. I guess he's a boy that fell off his bike. He may not be healthy until late April when he's watching 8 other WC teams in the playoffs. [Discuss on CG Forums!]
Original Story:
http://celticsgreen.blogspot.com/2013...
THE BACKYARD
BEST OF MAXIM
RELATED ARTICLES
As John wrote earlier today, Doc Rivers, Paul Pierce, Jet & KG were all absent from today's workout. So who kept things organized while the vets & head coach were away? As Chris Forsberg tells us, it was none other than "Zero Tolerance": Rajon Rondo is off rehabbing an ACL injury and the practice floor featured nearly as many newcomers (4) as guys who started the season...
Boston Celtics forward Paul Pierce said Thursday he will wait until the offseason to deal with near-constant neck pain from a pinched nerve. Pierce plans to play with the stinging neck pain through the rest of the season. "
Molly updates the Celtics practice on Sunday. Armond Hill led the practice, as Doc was up in Maine watching his son play. Celtics veterans Kevin Garnett, Paul Pierce, and Jason Terry were all given the day off as well. The practice was mainly to get the newest Celtics some repetitions with the Celtics system. I really liked this line from Hill: "Repetition is the mother of learning."
Thanks for sending us this mix @kidhyphenY. For more Celtics mixes, videos, and movies check out our Video Vault.
Tonight, the Celtics won again. It wasn't an amazing win, but it had quality. After the first quarter, they began to fade, but still held onto the lead. Pierce and Green each had great games, but nobody else really did. Tonight was a night that was solid, but not amazing. Tonight's USOTN goes to the bad performance by Kevin Garnett. KG scored just 7 points on 2/10 shooting...
The Boston Celtics got revenge for the last game against the Warriors, beating them 94-86 and limiting Stephen Curry to 27% shooting ESPN Boxscore Celticslife Game Recap Green Envy Player Grades: The grades are distributed on a curve! Kevin Garnett: 7 Points, 13 Rebounds KG had a game that was good on one end and bad on the other. He did a good job defensively in terms of protecting...
Our friends over at CLNS Radio were able to catch up with Terrence Williams after the news broke that he'd be sticking around Boston for the rest of the season (and likely next). T-Will was noticeably happy and relieved to be able to unpack his bags. Time to stock up at CVS.
After weeks of debate, we still have no idea what Celtics forward Kevin Garnett said to Carmelo Anthony to get him so irate during that January 7 contest. Anthony was beyond upset, and tried to confront Garnett outside the Celtics team bus. What we do know today though, is that Garnett did not says Anthony's wife tasted like Honey Nut Cheerios. Per Larry Brown Sports, La La Anthony...
Posted this contest exclusive to Celtics Life followers on Monday, but figured some of our readers might have missed it, so posting again. It's absolutely FREE to enter (Did so myself). Who doesn't like a chance to win a lot of money for free? CLICK HERE TO ENTER Here is the original post if you want some more background: If you haven't heard yet, there's a new way...
7:00: Tonight, the Celtics will head home to host the Golden State Warriors. The Warriors currently sit at 33-25 overall, but just 15-18 on the road. Today's biggest story revolving around the C's is the re-signing of Terrence Williams. Williams hasn't been amazing recently, but definitely deserved to keep his job. Anyway, tip-off for this one is at 7:30. Enjoy it.
We once again go buzzer to buzzer with the ONLY fully interactive halftime Celtics show anywhere.  You can submit questions or comments via the chat… you can log onto Twitter and add #RedsArmy to any tweet to get on the show… or you can fire up your webcam and ask a question or make a comment on the air. We go live once the halftime buzzer sounds…and we send it back to the...
  When we reported a week ago that Mike Krzyzewski would not return as head coach of Team USA, speculation began to spread as to who exactly would be the best candidates to replace coach K. Now, according to Jason Lloyd of the Akron Beacon Journal, we have an idea of some potential candidates. Boston Celtics head coach Doc Rivers, and San Antonio Spurs head coach Gregg Popovich...
Celtics News

Delivered to your inbox

You'll also receive Yardbarker's daily Top 10, featuring the best sports stories from around the web. Customize your newsletter to get articles on your favorite sports and teams. And the best part? It's free!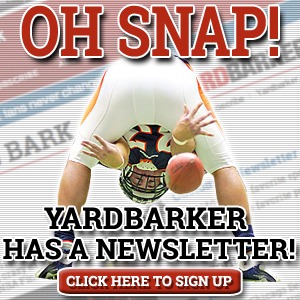 Latest Rumors
The Backyard

Today's Best Stuff

For Bloggers

Join the Yardbarker Network for more promotion, traffic, and money.

Company Info

Help

What is Yardbarker?

Yardbarker is the largest network of sports blogs and pro athlete blogs on the web. This site is the hub of the Yardbarker Network, where our editors and algorithms curate the best sports content from our network and beyond.