Found December 03, 2012 on Project Spurs:
PLAYERS:
Mark Cuban
,
David Stern
,
Gregg Popovich
,
Tim Duncan
,
Manu Ginobili
,
Doc Rivers
,
Dirk Nowitzki
,
Don Nelson
TEAMS:
Dallas Mavericks
,
Miami Heat
,
San Antonio Spurs
,
Boston Celtics
,
Phoenix Suns
Mark Cuban, San Antonio's honorary punching bag since owning the Dallas Mavericks, decided to give his opinion on the controversial ruling by NBA commissioner David Stern against the San Antonio Spurs for sending their stars home before a nationally televised game against the Miami Heat. Here's what Cuban said to the Star-Telegram: "Everybody who planned to watch San Antonio vs. Miami on TNT, we've got disappointed customers all over the place," Cuban said before Saturday's Mavericks home game against Detroit. "When I say our biggest customer, TV is our biggest customer. So I'm not saying San Antonio did the wrong thing. I'm just saying I understand exactly why the league did what they did." He's absolutely right! Unlike David Stern's position that the fans in attendance got the short end of the stick, Cuban is talking about the (most likely reason) Stern was angry about the situation: the NBA is discussing TV deals and the marquee match up for the night was in danger of losing ratings.Cuban is a very smart man and is a great businessman, you don't get to be a billionaire unless you are. The problem with his statements isn't necessarily on the business side but on the basketball side. Spurs head coach Gregg Popovich's decision wasn't to insult TNT or the NBA, but to rest his star.They were coming off a long road trip and were on the last game of two consecutive back to back sets of games. His aging core of Tim Duncan (36) and Manu Ginobili (35) were on weary legs during the trip, so it made sense resting his stars. The question's been asked, "Why didn't Pop just rest one each game during the road trip?" That's a fair question, but with the schedule giving San Antonio sub par teams (Toronto, Washington, and Orlando) it only made sense to win the games they were supposed to win while sitting his stars during a game that was a toss up with the defending champion Miami Heat. If the Spurs would've sat the Big 3 during the first three of four games and went 0-3 while beating Miami, wouldn't the San Antonio Spurs fans be at a "disservice" by their team? We have to remember the most important factor in all this: a given team is responsible to their fan base, not anyone else's. By a team doing that, that team is also doing their owners justice because the money is going to them and the organization. This was strictly a basketball move and it shouldn't surprise anyone that just about every coach that has commented on it didn't like the fine or was disappointed by it, like Gregg Popovich and Boston Celtics head coach Doc Rivers. This was a move made by the NBA, an organization that says it cares about its fan base (except fans that go to games at the end of the season because Popovich did this exact thing when the Spurs played the Phoenix Suns last year). If all things are taken into account, Cuban should be ranting about David Stern's bad decision instead of applauding it. From a business standpoint, shouldn't have Stern wanted a fresh San Antonio team playing a fresh Miami Heat team during the main game of the night? Why not schedule the two back to back sets at another time to watch a competitive game or move some of the games to the end of the season while having the Spurs play Miami during a lighter schedule? If you were to ask Cuban these questions, he might give you a different answer. His team has rarely sat stars during the regular season,which has resulted in an often injured Dallas Mavericks superstar Dirk Nowitzki If you go way back in time to the 2003 playoffs, the Mavs star had a knee injury during the playoffs and his coach sat him even though he was seen as being able to play. That decision was seen as a brilliant one by then head coach Don Nelson because it prolonged Dirk's career and kept him playing at a high level. The playoffs are nationally televised, so why wasn't Cuban fined? Weren't the Mavs fans given a "disservice" when they probably could've won an NBA championship?
Original Story:
http://www.projectspurs.com/2012-arti...
THE BACKYARD
BEST OF MAXIM
RELATED ARTICLES
We all know that Dallas Mavericks owner Mark Cuban is always willing to speak his mind and this time, he created a video against  Power Balance energy bracelets.Cuban is shown in the video calling the energy bracelets "a scam" (to note, he did see a variation of these bands while appearing as an investor on ABC's Shark Tank) and rips the NBA for signing a deal with...
Yeah, weird huh? You know it ain't big news until Mavs Owner, Mark Cuban, weighs in on the topic. Luckily, he has some perspective on this issue and offers a logical breakdown of both sides. On Pop: "If he would have done the same thing the next night, it'd be a completely different conversation. Common sense. Recognize who pays your check. Look, I respect the Spurs. Pop is...
While the Dallas Mavericks might be going through a bit of a revamping on the court, their arena production department is still hitting on all cylinders. From the team that brought you dancing grandmas and fat male cheerleaders, they now have a Gangnam Style parody video that stands up to the best on the Internet. Retitled "Whoop 'Em Mavericks Style," the video features...
Eddy Curry's NBA career may or may not be over.  Curry has been unemployed since being waived by the Dallas Mavericks in order to make room for Troy Murphy, who was signed on November 2nd and has since been cut loose to make room for Derek Fisher.  According to HoopsWorld's Alex Kennedy, there are a few NBA teams with some level of interest in Curry, but that was reported a...
Mark Cuban has never been one to see eye-to-eye with NBA commissioner David Stern. But when it comes to the biggest rival the Dallas Mavericks, it's safe to assume Cuban follows the old saying of "the enemy of my enemy is my friend." Before Saturday's game against the Detroit Piston, Cuban let it be known that he agrees with the 250,000 fine Stern leveled the...
The Dallas Mavericks announced the signing of veteran point guard Derek Fisher Thursday. To make room for Fisher on the roster, the Mavericks have waived forward Troy Murphy. Mavs head coach Rick Carlisle said on Friday he expects Fisher to start at point guard, moving Darren Collison to the bench. Collison has experienced consistency problems [...]The post Carlisle: Derek Fisher...
The Dallas Mavericks swooped in and signed free agent Derek Fisher recently. Will the move pay off down the line, and what kind of impact will the veteran have?
Not only will the Dallas Mavericks be bringing some former Los Angeles Clippers into this matchup, they'll see some familiar faces as well. The Clippers can stretch their win streak to four Wednesday night and hand the Mavericks a third straight road loss. Dallas (8-9) features a pair of former Clippers big men in Elton Brand and Chris Kaman. While Brand has faced Los Angeles...
This video of Zack Morris selling friendship bracelets on Shark Tank is probably the best video to hit the internet in a long time, maybe ever.  How can you go wrong combining the best show on television right now with one of the best shows ever in one YouTube video??  That's right, you can't.  Check out the video below of Zack locking down a deal with Mark Cuban. ...
NBA News

Delivered to your inbox

You'll also receive Yardbarker's daily Top 10, featuring the best sports stories from around the web. Customize your newsletter to get articles on your favorite sports and teams. And the best part? It's free!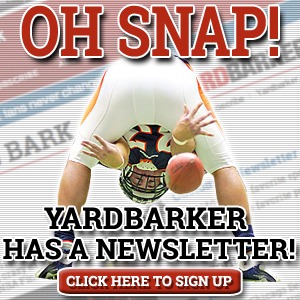 Latest Rumors
Best of Yardbarker

Today's Best Stuff

For Bloggers

Join the Yardbarker Network for more promotion, traffic, and money.

Company Info

Help

What is Yardbarker?

Yardbarker is the largest network of sports blogs and pro athlete blogs on the web. This site is the hub of the Yardbarker Network, where our editors and algorithms curate the best sports content from our network and beyond.