Found March 15, 2013 on BlackSportsOnline:
Dahntay Jones and Kobe Bryant have a history of getting in each others way. In a playoff game a few years ago between Jones' Denver Nuggets and Bryant's Los Angeles Lakers, Jones admittedly tripped Bryant on purpose after growing frustrated with alleged elbows and cheap shots. Four years later and Jones refuses to accept responsibility this time for an incident he claims was inadvertent. The Atlanta Hawks player has come under fire for a play that took place at the end of a game against the Lakers on Wednesday that resulted in Bryant severely spraining his ankle. Pro Basketball Talk has the details of an interview the Jones had with SiriusXM's Mad Dog radio channel 86, where he explained his side. "After the game I felt bad and heard the responses and things of that nature, that he sprained his ankle. After I turned around on the play I saw that he was hurt and I thought that I did hurt him. We went in the locker room and looked at it and when we looked at it from three different angles it looked as if he came down on the floor but my foot was behind where he came down on. And I didn't feel him come down on my ankle so I never thought he came down on my foot. And usually when shooters come down on your foot they come down on the top of your foot and that's how they roll [their] ankle. So I felt bad. That's why I kept looking at the play to make sure I didn't do anything wrong. And I wasn't trying to walk up under him. I was trying to contest the jump shot and my job as a defender is to make people uncomfortable and to challenge shots. I had an iso with eight seconds. I was trying to get him to go where I wanted him to. He pulls up and does a fadeaway and his leg kick I ran into and it made him come down awkwardly. That's how the play went. But I wasn't trying to walk up under him. It's very hard to time somebody's foot, to walk under someone's foot and do things of that nature when the game is on the line…. "I just wanted to do my job and just try to contest the shot. It was a fadeaway. When guys shoot fadeaways you're not just supposed to let them go, you're supposed to keep playing and try and get as close as possible to be able to challenge the shot. I didn't want to give up on the play. I wanted to make sure I was there so he would at least see me and feel me. I didn't have a chance to worry about his landing. I didn't want to hurt him and get in the middle of his landing but I was just trying to contest the shot." For what it's worth I don't think Jones intentional tried to hurt Kobe, although the Lakers star sees it differently. I don't think he should be branded as the new Bruce Bowen who did stuff like that repeatedly. I think the loss the loss hurt Kobe more than his ankle does.
Original Story:
http://blacksportsonline.com/home/201...
THE BACKYARD
BEST OF MAXIM
RELATED ARTICLES
The Los Angeles Lakers suffered a difficult defeat last night the Hawks, but more concerning is the loss of Kobe Bryant to injury. Bryant rolled his ankle and suffered a severe sprain on the final play of the game, as he came down awkwardly on his game-winning shot attempt. It appeared as if Dahntay Jones undercut him when he challenged the shot, causing Kobe to hurt himself. This...
Kobe makes a very valid point by being upset with Dahntay Jones, as undercutting jump shooters has been a huge problem in the NBA for years. Kobe mentioned in his postgame presser that he felt he Dahntay "Jalen Rose'd me," and it is very true. Check out this article from the LA Times in which Jalen Rose admitted (ten years later) on a Grantland podcast that he intentionally...
Kobe Bryant severely sprained his ankle during the final minutes of Lakers vs. Hawks. Bryant was injured attempting a game-tying jumper on the baseline. He was fading away from the basket as he shot the ball, and landed on the leg of Hawks guard Dahntay Jones.Following the game, not only did Kobe say the sprain was the worst he's experienced since the 2000 Finals when Jalen Rose...
Kobe Bryant was silently fuming after the Los Angeles Lakers lost to the Atlanta Hawks.  With just under 10 seconds to go in the game, Kobe Bryant attempted a fadeaway [...]
Kobe Bryant decided to give it a try Friday night when the Lakers took on the Indiana Pacers in spite of the sever sprain that he suffered earlier this week. He didn't last long. After about a period of play that was lackluster at best and saw Kobe go scoreless--only the 15th time in 17 seasons, he called it a night. As it turns out that was okay. Dwight Howard turned...
The Lakers' push for the playoffs might be without Kobe Bryant for a while. The Los Angeles star severely sprained his left ankle Wednesday night after missing a game-tying shot in the closing seconds of a loss to the Atlanta Hawks. Lakers spokesman John Black said Bryant is out indefinitely, just as a team that underachieved much of the season is playing its best basketball...
The rays of optimism that rained down on the Los Angeles Lakers dried up pretty quickly. Pau Gasol's impending return has been placed hold for a moment after suffering a setback on Saturday during workouts at the team's facility. Please click here to read this story. The post Pau Gasol suffers setback.Kobe Bryant doubtful against Kings appeared first on Players View.
Cavs' Daniel Gibson weighed in on the Jones/Bryant controversy Friday, telling reporters that not only does he think Dahntay Jones is a dirty player who committed a dirty play, but also someone who he believes taught former Pacers teammate, Paul George, "a few tricks." According to the Akron Beacon Journal: "I think that was a dirty play," Gibson said. "He's been known...
After a miserable start to the season, the Los Angeles Lakers had finally started to build some momentum, winning 6 of its last 7 games and pulling into 8th place in the Western Conference standings. However, in the 4th quarter of the Lakers' 96t-92 loss to the Atlanta Hawks on Wednesday night, Kobe Bryant suffered a severe ankle sprain, and according to Yahoo's Ball Don...
Los Angeles Lakers superstar Kobe Bryant is one of the most durable players in the league today. He's managed to thrive under pain and injury and will do so again Friday night. After going down with a sprained left ankle which was labelled "severe", many believed Bryant would miss game time, at least a couple of games. The Black Mamba and the Lakers have other plans...
Kobe Bryant's availability for Friday night's game will be a game-time decision. The Lakers' star has spent the past two days treating what he calls the worst sprained ankle of his career. He was injured after landing on the foot of Atlanta's Dahntay Jones in the closing seconds Wednesday night. NBA officials said Thursday a foul should have been called on the play...
                No one can question Kobe Bryant's dedication to winning or at the very least showing up. Further hammering that in, earlier today, less than 48 hours removed from severely spraining his left ankle in a game against the Atlanta Hawks, the Lakers changed his status from "out indefinitely" to "game-time decision" — meaning Kobe could possibly play...
NBA News

Delivered to your inbox

You'll also receive Yardbarker's daily Top 10, featuring the best sports stories from around the web. Customize your newsletter to get articles on your favorite sports and teams. And the best part? It's free!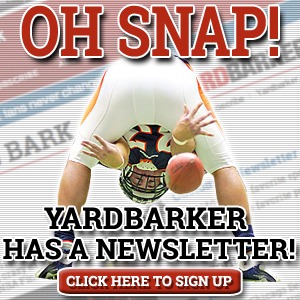 Latest Rumors
Best of Yardbarker

Today's Best Stuff

For Bloggers

Join the Yardbarker Network for more promotion, traffic, and money.

Company Info

Help

What is Yardbarker?

Yardbarker is the largest network of sports blogs and pro athlete blogs on the web. This site is the hub of the Yardbarker Network, where our editors and algorithms curate the best sports content from our network and beyond.