Found December 09, 2011 on The Victory Formation:
PLAYERS:
Dan Gilbert
,
LeBron James
,
David Stern
,
Chris Paul
,
Dwight Howard
,
Pau Gasol
,
Marc Gasol
TEAMS:
Cleveland Cavaliers
,
Miami Heat
,
New Orleans Pelicans
,
Orlando Magic
,
Los Angeles Lakers
,
Memphis Grizzlies
When LeBron James spurned the city of Cleveland and the Cavaliers organization and their fans for the warm embrace of South Beach, Cavs owner, Dan Gilbert, sent out an email to the loyal Cavs followers that they would overcome his disloyalty. The words in the email didn't really receive so much ridicule as the font did. This years email to commissioner David Stern and other individuals within the league should receive a much more scathing review. Plus, is their a whinier individual than Gilbert?
The full text after the jump:
It would be a travesty to allow the Lakers to acquire Chris Paul in the apparent trade being discussed.

This trade should go to a vote of the 29 owners of the Hornets.

Over the next three seasons this deal would save the Lakers approximately $20 million in salaries and approximately $21 million in luxury taxes. That $21 million goes to non-taxpaying teams and to fund revenue sharing.

I cannot remember ever seeing a trade where a team got by far the best player in the trade and saved over $40 million in the process. And it doesn't appear that they would give up any draft picks, which might allow to later make a trade for Dwight Howard (They would also get a large trade exception that would help them improve their team and/or eventually trade for Howard.) When the Lakers got Pau Gasol (at the time considered an extremely lopsided trade) they took on tens of millions in additional salary and luxury tax and they gave up a number of prospects (one in Marc Gasol who may become a max-salary player).

I just don't see how we can allow this trade to happen.

I know the vast majority of owners feel the same way that I do.

When will we just change the name of 25 of the 30 teams to the Washington Generals?

Please advise….
Dan G.
I am not quite sure what the issue is here? If Gilbert could do it over, wouldn't he have wanted to receive players in return for LeBron James, knowing that he wasn't resigning? Or is he just being a stubborn elf? There was nothing wrong with the deal that was made, and should have been allowed. David Stern has now put a dangerous precedent in place. This one decision is a bigger black mark than the ugly lockout that just ended.
Cleveland Cavaliers owner Dan Gilbert calls proposed Paul trade "travesty" in email (The Plain Dealer)
Original Story:
http://www.thevictoryformation.com/20...
THE BACKYARD
BEST OF MAXIM
RELATED ARTICLES
The Washington Generals have written a letter to Cavaliers owner Dan Gilbert, inviting him to coach or play in an exhibition game on December 27th against the Harlem Globetrotters. The invitation was a response to an email Gilbert sent to NBA commissioner David Stern, who stopped a Chris Paul to the Lakers trade citing "basketball [...]
Forum: Cavs Talk Posted By: I-77 NORTH Post Time: 12-09-2011 at 01:46 AM
Dan Gilbert was living the good life in Cleveland. He owned an NBA team with the games best young player on it. Then the following mishaps happened: 1) The team turns down acquiring Amar'e Stoudemire, because they don't want to part with J.J. Hickson. 2) They choke in the playoffs and LeBron might not stay in Cleveland. 3) Gilbert finds out by watching ESPN that's he...
Although it was from an email less than a week ago, the line is now famous among sports fans: "when will we just change the name of 25 of the 30 teams to the Washington Generals?" It comes from an email from Cleveland Cavaliers owner Dan Gilbert to NBA Commissioner David Stern. The now infamous email is partly responsible for the unprecedented blocking of Chris Paul's...
Dan Gilbert is back on his internet machine and firing off angry emails, only this one involved far less Comic Sans font than the last one. The Cavs owner sent an email to commissioner David Stern Thursday to protest the Chris Paul to the Lakers trade. Here's what he wrote, according to an email obtained [...]
This spiteful man is still hurting from LeBron ditching Cleveland. If this isn't evidence that the league has issues.....
I'm starting to understand why LeBron feltthe need to blindside his boss - heretofore known as The Mayor of Crazytown.Dear Commissioner,I've been sitting in my mansion for past year watching old DVR'd Cleveland Cavalier games, and you know what I learned? I learned that my team was WAY F***ING BETTER with LeBron James on it. So I write you today with an empassioned plea...
Again, proving the theory that Lebron is still a big kid at heart:(Courtesy of Sportress of Blogitude)
12) Has been playing in whiny fantasy leagues on the side, and thught this trade happened in one of those11) The trade displeased Dan Gilbert, and Dan Gilbert is the master of all time and space10) Knows that Lamar Odom would never accept the Gulf of Mexico as a substitute for the Pacific Ocean9) Needs to keep that much Gasol away from one time zone8) Mark Cuban called in a favor...
I do not mean to sensationalize. I am just stating fact. Stephen A. Smith was "Heated Up" last week on ESPN's First Take. He went on a diatribe, which is normal for Stephen A. He was talking about how LeBron should man up and be more like Kobe, and he should embrace being the bad [...]
NBA News

Delivered to your inbox

You'll also receive Yardbarker's daily Top 10, featuring the best sports stories from around the web. Customize your newsletter to get articles on your favorite sports and teams. And the best part? It's free!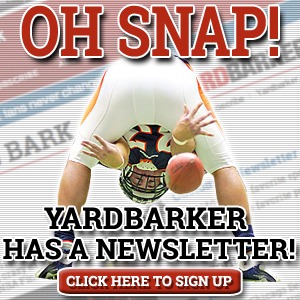 Latest Rumors
The Backyard

Today's Best Stuff

For Bloggers

Join the Yardbarker Network for more promotion, traffic, and money.

Company Info

Help

What is Yardbarker?

Yardbarker is the largest network of sports blogs and pro athlete blogs on the web. This site is the hub of the Yardbarker Network, where our editors and algorithms curate the best sports content from our network and beyond.