Found July 19, 2012 on Larry Brown Sports:
An interview that started off friendly became heated after Rockets GM Daryl Morey asked a radio host for tougher questions, leading to him admitting the team probably won't win the NBA championship next year. Morey had finished introducing Jeremy Lin as the newest member of the Rockets when he joined "The J&R Show" with Josh Innes and Rich Lord on Sports Radio 610 in Houston Thursday. The GM fielded a fair amount of questions about the team before telling Innes to ask tougher questions. Innes obliged and began peppering Morey about the Rockets' status as a near-.500 team the past three seasons, and Morey's job security. That's when things got tense and Morey admitted the reality of the team's status. "29 out of 30 teams every year are disappointed so you can move yourself to any freaking city and make that same comment," he said in response to Innes, who pointed out that the team doesn't appear to be close to winning a title. "So you're brilliant," Morey continued. "We're pr
Original Story:
http://larrybrownsports.com/basketbal...
THE BACKYARD
BEST OF MAXIM
RELATED ARTICLES
Jeremy Lin's days in New York are over, but the newest Houston Rocket is well aware of where his amazing run to stardom began. Lin, who sparked a fad dubbed "Linsanity" with an improbable 26-game run last season, tweeted his thanks to New York fans and even expressed his gratitude the Knicks, who declined to match his offer sheet from the Rockets on Tuesday night. ...
When Jeremy Lin left the Big Apple for the Lone Star state, it changed the entire dynamic of the New York Knicks as they now prepare without the budding NBA star. But the MSG stock might take some time to recover. A lot of time. According to reporter Darren Rovell, in the last four days, the MSG stock has lost $93 million in value. On Wednesday, the stock lost one percent alone...
SO LONG, FAREWELL
Here is another parody of Gotye's hit song "Somebody I used to know." This time the parody is for Jeremy Lin leaving the New York Knicks to join the Houston Rockets.The video is below as well as the lyrics to the parody. Now and then I think of when we played togetherLike when you shot a jumper right in Kobe's eyeBought a ticket back to MSGActivated...
As you may figure, some New York Knicks fans aren't exactly happy with the team who letting Jeremy Lin sign an offer sheet with the Houston Rockets.The fine folks over at Network of Champions put together another one of their classic song parodies in honor of Lin's departure.Check out, "Jeremy Lin That I Used To Know" parodying the Goyte hit: (Courtesy of The Nosebleeds)
As quickly as "Linsanity" took over all of New York City, it seems as though it's come to an end just as fast.Just twenty-five starts in, and Jeremy Lin's Knicks tenure officially (somewhat shockingly) came to a close as the team opted not to match the guard's $25.1 million offer sheet from the Houston Rockets.Though the Knicks had publicly made Lin a top priority...
Presented without comment: A) Lin has his first big game B) Lin dominates vs Kobe and the Lakers C) Rockets offer Jeremy Lin a backloaded contract.
<a href="http://www.mogreet.com/moshare/it/" class="moshare-button-hor" data-channel="wordpress-1.2.8" data-message="The great and very talented folks at the NOC, who are responsible numerous videos including the Steve Nash Batman and Bourne parodies, have now launched the Jeremy Lin Song Parody: "Jeremy I Used to Know." As always,...
The New York Knicks have decided to part ways with point guard Jeremy Lin. The Houston Rockets offered Lin a 3-year $25.1 million contract. The Knicks had the opportunity to match the offer sheet, as he was a restricted free agent, but have elected not to. The kicker in whether or not the Knicks would [...]
It's over. After almost two and a half months of being a phenomenon in Madison Square Garden is over. Linsanity is over quicker than it began. Howard Beck of the New York Times has reported that the New York Knicks organization will not match an offer from the Houston Rockets to retain restricted free agent Jeremy Lin. Needless to say, I didn't think that James Dolan, owner...
New York Knicks officials and the casual fan may have had trouble gauging Jeremy Lin's value to the Knicks, but the stock market makes it pretty clear Lin was quite an asset. Since the Knicks declined to match the Rockets offer sheet, letting Lin go to Houston, Madison Square Garden stock has dropped $93 million, according to CNBC sports business reporter Darren Rovell. ...
As the Knicks decline to match the Rockets' offer for Jeremy Lin, we can only wonder if "Linsanity" will continue or will it fade faster than the Triple XL T-Shirt phase. When Lin decides to take his talents to Houston, the Lin memes will continue, but will it be as big? Up until his midseason explosion in February this year, he was virtually unknown. Since then, he's been...
With the recent news that the New York Knicks weren't going to match the Houston Rockets offer to Jeremy Lin of 3-years, $25 million, Knicks fans and children are irate. One of those people is this 7-year old, who by the way, has a pretty good assessment of the Knicks' President and CEO, James Dolan. Although he mixes up the position of Dolan in the Knicks organization, hats...
NBA News

Delivered to your inbox

You'll also receive Yardbarker's daily Top 10, featuring the best sports stories from around the web. Customize your newsletter to get articles on your favorite sports and teams. And the best part? It's free!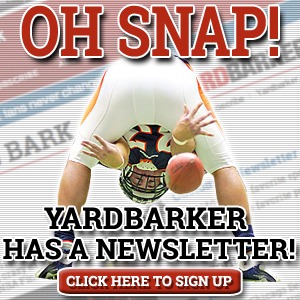 Latest Rumors
Best of Yardbarker

Today's Best Stuff

For Bloggers

Join the Yardbarker Network for more promotion, traffic, and money.

Company Info

Help

What is Yardbarker?

Yardbarker is the largest network of sports blogs and pro athlete blogs on the web. This site is the hub of the Yardbarker Network, where our editors and algorithms curate the best sports content from our network and beyond.