Found March 13, 2013 on Sportress of Blogitude:
On Sunday, Los Angeles Clippers center DeAndre Jordan delivered a ferocious slam dunk that victimized and posterized Detroit Pistons guard Brandon Knight on a brilliantly executed alley-oop play. The interwebs nearly suffered a full-scale meltdown as a result of Jordan's vicious throwdown, and now Under Armour is attempting to capitalize on the hysteria via making a clever t-shirt paying tribute to the phenomenal play available on its website. Fancy. Its description: Clippers' DeAndre Jordan doesn't just get noticed because he threw down what is being called "the best oop ever"…it's because he goes all in, every game. And you, yes, you, can have your very own DeAndre Jordan "Show Me Your Dunk Face" t-shirt for the low, low price of…$27.99? How about "Show Me Your 'I'm Getting Overcharged' Face"? Sheesh. In case you have been living under a rock or suffer from an acute case of YouTubeDunkophobia, the dunk being celebrated: Perhaps not quite as enthralling but entertaining nonet
Original Story:
http://www.sportressofblogitude.com/2...
THE BACKYARD
BEST OF MAXIM
RELATED ARTICLES
OOH OH MY!
Video: This is how it should've sounded!
If you were in bed before 11pm last night, you may have missed the dunk of the year-or at least one of the top 3. I don't usually post things on other teams, but this is worth a look. Deandre Jordan of the Clippers absolutely baptized poor Brandon Knight of Detroit. Twitter exploded with some pretty great tweets. Enjoy the dunk, some of the tweets, and a few pics…. We lost another...
PLAYA VISTA, Calif. By the time Clippers center DeAndre Jordan got home Sunday night, he had already picked up a few thousand Twitter followers who had seen the thunderous dunk he threw down over Detroit Pistons guard Brandon Knight. Then he watched it and saw the reactions of his teammates and fans. I thought they were going to invite me to the White House, Jordan said Monday...
Very nicely done, UA More on marketing this week. This time, kudos go to @underarmour. If you're in this communications biz, you're probably already sick of the rhetoric. But it's true. Responsiveness and speed is crucial if you want to use social media to capitalize on stuff going on in the world to the benefit of your brand. See: Oreo Super Bowl (good). See: Poland Spring...
Under Armour is going to set Clippers high-flier DeAndre Jordan up with some ballin' new kicks for St. Patrick's Day.
LeBron James has called DeAndre Jordan's amazing monster jam over Brandon Knight the "Dunk of the year" and the game-stopping moment has taken on a life of its own.  The Staples Center slam, after an alley-oop pass from Clippers teammate Chris Paul, has been debated and shown ad nauseam on ESPN and already immortalized in The New Yorker. Now you too can get posterized...
DeAndre Jordan's dunk on Pistons guard Brandon Knight not only was an exclamation mark on the Clippers' 129-97 annihilation of the Pistons Sunday, it may very well be the dunk of the year. The dunk itself happened when Jordan went down the middle of the lane catching the ball midair dunking the ball hard with [...]
Brandon Knight was the victim of one of the dunks of the year on Sunday, when he was in the unfortunate position of trying to break up an alley-oop dunk by DeAndre Jordan. The result was about what you would expect when a 6-foot-3 point guard tries to get in the way of a 6-foot-11, freaky athletic center with a reputation as one of the top dunkers in the NBA. It was not pretty. Knight...
Last week it was Nike Basketball athlete Jamal Crawford to Jordan Brand athlete Blake Griffin on the alley-oop for the Los Angeles Clippers. This week, it was Jordan Brand athlete Chris Paul to Under Armour Basketball athlete DeAndre Jordan on the alley-oop for the Clippers. Follow us on Twitter @mobettershoes. You can follow Ian on Twitter @soxanddawgs...
It was the dunk heard around the world when Clippers' DeAndre Jordan absolutely, positively crushed Pistons' Brandon Knight. It might end up the dunk of the year and when it happened, many thought why on Earth would Knight even think about challenging Jordan at the rim. For Jordan and Knight it up them on the map for this 2012-13 NBA season but for different reasons....
PLAYA VISTA, Calif. Theres nothing subtle about the Memphis Grizzlies. They are big, physical and unafraid to use their muscle under the basket a fact the Clippers know too well. With those guys, you know what kind of game its going to be, Clippers center DeAndre Jordan said. Its going to be a grind -- not a dirty grind, but its going to be physical down there. Well be ready for...
Yahoo! – For this, he's a punch line now. He's a joke. For everyone celebrating (DeAndre) Jordan's fantastic lob dunk  over a guard some 8 inches shorter and 80 pounds lighter, they've made Knight an object of ridicule. A widely followed parody account of comedian Kevin Hart tweeted that Jordan had been brought up on "charges of rape & aggravated assault against...
NBA News

Delivered to your inbox

You'll also receive Yardbarker's daily Top 10, featuring the best sports stories from around the web. Customize your newsletter to get articles on your favorite sports and teams. And the best part? It's free!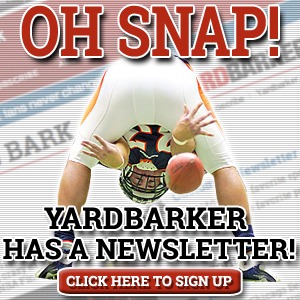 Latest Rumors
Best of Yardbarker

Today's Best Stuff

For Bloggers

Join the Yardbarker Network for more promotion, traffic, and money.

Company Info

Help

What is Yardbarker?

Yardbarker is the largest network of sports blogs and pro athlete blogs on the web. This site is the hub of the Yardbarker Network, where our editors and algorithms curate the best sports content from our network and beyond.