Found January 20, 2013 on Pass The Pill:
PLAYERS:
DeMar DeRozan
,
Rafael Araujo
,
Andrew Bynum
,
Terrence Ross
,
Ed Davis
,
Jonas Valanciunas
,
Rudy Gay
,
Rajon Rondo
,
Avery Bradley
,
Jeff Green
TEAMS:
Toronto Raptors
,
Oakland Raiders
,
Philadelphia 76ers
,
Memphis Grizzlies
,
Boston Celtics
Can DeMar DeRozan be the guy for the Raptors?credit: bleacherreport.com The Toronto Raptors bother me, and they should bother you too. It is bothering me even more that as I type this critical piece about them they are beating the Lakers, which used to mean something. For the past eight years, the Raptors have had high draft picks. Every offseason they throw monopoly money at unproven role players (Amir, Fields) in hopes that they magically become impactful game changers. Every offseason they have a chance at drafting a player that turns around the franchise and makes them playoff contenders. And every offseason, they fail to draft that player. They are the Oakland Raiders of the NBA. Rafael Araujo (who?) over Andre Iquodala in '04, Villanueva over Andrew Bynum in '05, Bargnani over Aldridge in '06, and just this year they took Terrence Ross one pick ahead of Andre Drummond. They drafted Roy Hibbert in 2008 then proceeded to trade him for basically nothing. It looks like they were heading in the right direction by taking Ed Davis in 2010 and Jonas Valanciunas in 2011, but the Ross selection appears to be a waste at this point. Some people would say that they didn't pick Drummond because they already had Valanciunas but at the time Drummond was by far the best player available and a much bigger need for a team that lacked rebounding and shot blocking. The pick I want to discuss is their 2009 selection and leading scorer DeMar Derozan A.K.A "Double-D". DeMar DeRozan is a young, explosive wing player for the Toronto Raptors who went one and done at USC then was drafted ninth overall in 2009. He can bring the house down with silly dunks and has A+ athleticism. He probably holds the NBA record for most capital letters in his first and last name (just a guess). He is an average scorer, rebounder and defender, but his "potential" keeps him on the court for 37 minutes a game. By the way, when your leading scorer is an inefficient offensive player, you're in a world of trouble. He was controversially rewarded with a four year, $40 million dollar deal in the offseason. In all honesty, his career so far closely resembles Rudy Gay. That is who he is, a poor man's Rudy Gay. He doesn't shoot, rebound, pass or defend as well as Gay but is close in every category. I'm being too nice when I say he doesn't shoot well. On the season, he is shooting the only .007% points better than cringe inducing jumpshooter Rajon Rondo from behind the arc. His inability to hit at least 30% of his attempts behind the arc is the reason I see him as more of a small forward, rather than a shooting guard. The only way you should start at "SHOOTING" guard and be a bad SHOOTER is if you are an elite defender, think Tony Allen or Avery Bradley. The most obvious shared trait is the aforementioned freak athleticism. Their 40 inch verticals resulting in thunderous dunks help us all forget about their 3-16 shooting nights. What the dunks don't excuse is the crater left in the teams' salary caps being filled by DeRozan's and Gay's massive contracts. There's a reason Rudy Gay, despite being arguably one the NBA's top 5 SF and a key member on a legitimate contender, is being actively shopped and not as actively pursued. The market will be larger for DeRozan in a couple years because his contract isn't as terrifying as Gay's and teams won't have to give up as much but they won't be getting the star Toronto hoped Double-D would become. Before this happens, teams must learn from the mistake Boston made three years ago when they traded for Jeff Green. At the time, Green was a guy in OKC who would get you 15 points on 13 shots and averaged more turnovers than assists. I enjoyed watching Green, he seemed to be a player who'd remain a key in the building process in OKC. He was another guy, like Gay and DeRozan, who was (1) Young, (2) Athletic, and had loads of (3) Potential. Obviously Boston couldn't account for the aortic aneurysm Green would suffer prior to the 2011-12 season, but that doesn't justify the $36 million over four seasons he just received last offseason. I still see Green throw down a big dunk but on the very next possession he'll spot up from three-point territory, and he only makes 32% of those! Stop shooting those Jeff! It is fair to say his growth was stunted by going from 37 minute starter to 23 minute backup, but his per 36 numbers remain almost identical to his early years in OKC. Every time I watch a Celtics game, the broadcasters say this needs to be the game that Green steps up and becomes that dominant bench scorer. It never happens. I'm losing faith it ever will. All that being said, I think Green's current role is the appropriate role. He is an above average backup SF but he is who he is. While DeRozan's numbers may more resemble Gay's than Green's, he is much more likely to have a Green-like output for a team he is traded to whereas I can see Rudy Gay continuing to be a productive and impactful player for any team he is dealt to. So enough with the "potential" talk and enough with the "high ceiling" talk. DeMar has averaged 36 minutes over the past two seasons, the improvement, if any, has been minimal. How much better can he get and how much longer is he allowed to try? If he doesn't show improvement in his game soon, his days as a starter should end. If he hits the bench you better believe the Raptors will opt to give Terrence Ross 36 minutes a night and hope he ends up better than Double-D. Unfortunately, Ross has shown no signs of being anything more than DeRozan 2.0. by Cole Krueger  Twitter CoJoK22 The post DeMar DeRozan and What Ails the Toronto Raptors appeared first on Pass The Pill.
Original Story:
http://sports-kings.com/passthepill/d...
THE BACKYARD
BEST OF MAXIM
RELATED ARTICLES
Andrea Bargnani still doesn't have a timetable for his return from an elbow injury. But Raptors beat writer Josh Lewenberg shared some good news for the Toronto Raptors and Bargnani owners: The Magician has been cleared for on-court work without contact. Bargnani has been out of action since December 10. Even when he returns, he may not come back to a starting role. Dwane...
Currently on a four-game losing streak, the Toronto Raptors have suffered their share of painful defeats this season.  With overtime losses to the Bulls and Sixers on Wednesday and Friday, the Raptors have fallen to just 1-4 in overtime and 2-5 in non-overtime games decided by five points or less.  A poor record in close games — it's a classic indicator of a bad team, and at...
Ed Davis is still woefully underowned in fantasy leagues (37 percent of Yahoo leagues), despite playing well as a starter. The former North Carolina Tar Heels good play continued with 18 points (9-13 FG) and eight rebounds in Sunday's win over the Lakers. Landry Fields finally broke out of his slump with a double-double: 18 points (8-11 FG, 2-4 FT) and 10 points with four...
Yesterday the Toronto Raptors beat the LA Lakers at the ACC. Normally this would be big news but in terms of the Raptors pulling off an upset. This win was nice and all, but honestly the story that came out of this game is more about how bad the Lakers are than the Raptors making progress. Is this the ultimate karma kick in the head for LA? They load up on Dwight Howard and Steve...
If every sports star got to play for the team he idolized growing up, the Cowboys, Bulls or Yankees would be stacked. The Toronto Raptors wouldn't be too bad off, either. While the Raptors are usually not the first pick of young basketball fans looking to make their name in the sport, the north-of-the-border NBA club was apparently the favorite of a youthful Kevin Durant. He liked...
By: John Fortney – Staff Writer The Return of Mr. Anderson! The Toronto Raptors are slowly becoming a fantasy basketball plethora. If you are not sure about the meaning of the word, I don't blame you. You can either google it, or you could watch "The Three Amigos" and then just thank me later. Jose Calderon (13/1/4), Ed Davis (18/10/6/1/2), Amir Johnson (9/5/5/2stl), Terrence...
TORONTO -- The Toronto Raptors shook off some disturbing trends with their 108-103 victory Sunday over the Los Angeles Lakers before a sellout crowd of 19,800 at Air Canada Centre. They ended a four-game losing streak for starters. They also snapped a 0-20 run in games in which they had allowed 100 or more points in regulation time. And it was their first win over the Lakers...
TORONTO -- Jose Calderon scored 22 points and added nine assists as the Toronto Raptors ended a four-game losing streak by defeating the Los Angeles Lakers 108-103 Sunday before a crowd of 19,800 at Air Canada Centre. Landry Fields added his second double-double of the season scoring a season-best 18 points and adding 10 rebounds. Ed Davis also scored 18 for Toronto and had 10...
NBA News

Delivered to your inbox

You'll also receive Yardbarker's daily Top 10, featuring the best sports stories from around the web. Customize your newsletter to get articles on your favorite sports and teams. And the best part? It's free!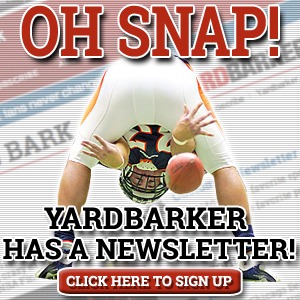 Latest Rumors
Best of Yardbarker

Today's Best Stuff

For Bloggers

Join the Yardbarker Network for more promotion, traffic, and money.

Company Info

Help

What is Yardbarker?

Yardbarker is the largest network of sports blogs and pro athlete blogs on the web. This site is the hub of the Yardbarker Network, where our editors and algorithms curate the best sports content from our network and beyond.