Found February 05, 2013 on NESN.com:
As hard as this is to admit, there is something comforting in the post-ejection stonewall. When Kevin Garnett addresses reporters and refuses to discuss what got him tossed from a game, it may be frustrating from the standpoint of trying to gather details and facts. But in refusing to offer specifics, at least Garnett demonstrates that he knows making some things public only makes it worse. DeMarcus Cousins, clearly, does not possess Garnett's media savvy. After he was ejected at halftime of the Kings' loss in Utah on Monday, Cousins opened up, as he often does, and illuminated reporters on precisely what he did to get sent to the showers. "[The referee] was saying, 'Don't talk to me,'" Cousins told reporters. "So my response was, 'You don't act like an effing female.' I shouldn't have said that. That's about it." Well, yeah. Thanks for removing any and all doubt as to whether that ejection was warranted, DMC. Cousins made several other comments about his two technical fouls, which
Original Story:
http://nesn.com/2013/02/demarcus-cous...
THE BACKYARD
BEST OF MAXIM
RELATED ARTICLES
DeMarcus Cousins was ejected at halftime of the Sacramento Kings' 98-91 overtime loss to the Utah Jazz on Monday for reportedly cursing at a referee. The ejection did not come while the actual game was in play, but at halftime. Halftime. You can't make this stuff up. Cousins was called for a technical foul with 2:23 left in the half. He tried approaching a referee as soon as...
It's safe to say that Sacramento Kings big man DeMarcus Cousins doesn't have a very rosey relationship with many NBA referees. Cousins constantly argues with them and they constantly T him up. As was the case during last night when Cousins approached a referee at halftime to argue and ended up being tossed from the game for saying that the referee was "acting like a f-ing female...
Kevin Garnett a Denver Nugget?! I wouldn't bet on it. The rumor wheel began swirling again earlier today when a report came out from the Denver Post saying that the Nuggets were asking about the availability of Kevin Garnett. Mark Kizla of the post seemed to insinuate that it was almost a done deal that Garnett would be shipped out of Boston. Not so fast. That same report also...
Kevin Garnett discusses trade rumors. He says he's aware that it's a business and that Danny Ainge will do what's best for the Celtics. Worth a watch. Video courtesy of Mike Petraglia. You may also like this t-shirt:
As a friendly reminder, Kevin Garnett still has a no-trade clause. This is not a complicated situation, really, which makes it rare in the world of NBA transactions — or in this case, non-transactions. As several reports noted last summer, Garnett secured his no-trade clause while taking a sizable pay cut, keeping him among a small minority of respected stars who cannot be dealt...
Despite Sporting News' report Sunday that the Los Angeles Clippers were making a push for 17-year veteran Kevin Garnett, follow up reports suggest that nothing is imminent. Like we've said before, Garnett is one of four players (Kobe, Duncan, Nowitzki) with a no-trade clause, meaning he has to approve any trade including him, making a move to the Clippers even more unlikely....
With the Clippers in Boston this weekend, Danny Ainge likely had a chance to talk face-to-face with Clippers brass. And the Clippers likely had the chance to inquire whether the Celtics might be interested in breaking up their core and improve their team firsthand. The rumor began filtering out shortly after Sunday's game between Los Angeles and Boston that the Clippers were...
Add the Denver Nuggets to the list of teams allegedly interested in the services of Kevin Garnett. But according to Mark Kiszla of the Denver Post – Garnett has no love for Denver: Kevin Garnett is everything the Nuggets need. Heck, his scowl alone is more intimidating in the post than all 21 feet of center on Denver's roster. So what's the problem with pushing the idea of...
Celtics 99, Raptors 95 Earlier this week Kevin Garnett responded to rumors that the Celtics core players may be traded with a simple, defiant phrase. He told reporters, "I bleed green" and in Boston's fifth consecutive win at Toronto on Wednesday night, he proved it. Garnett posted a vintage line with 27 points and 10 rebounds in 32 minutes, while shooting an efficient 11-18...
Awesome round of quotes today from Celtics coach Doc Rivers, captain Paul Pierce, and center Kevin Garnett on the ongoing trade rumors that seem to pop up by the day. The most recent round of rumors have Kevin Garnett heading to Los Angeles for Clippers guard Eric Bledsoe and forward Caron Butler. What do the Celtics think of these rumors? Let's start with Doc. All from (the...
8 a.m. ET: The Raptors got a whole lot more interesting last week when the perennial Atlantic Division also-rans picked up Rudy Gay in a three-team trade with the Grizzlies and Pistons. They still sit comfortably outside the playoff picture — at 17-31, they are 7 1/2 games behind the Celtics in the race for the No. 8 seed in the Eastern Conference — but they did begin Gay's...
Tip: 8PM     Court: TD Garden     Watch it: TNT    Hear it: WEEI Referees:  Monty McCutchen, Nick Buchert and Ed Malloy Spread: Even Boston Celtics Tickets The Matchup Record: 25-23 Record: 23-26 At home: 17-9 On road: 8-16 Streak: Won 5 Streak: Won 3 Leaders Leaders Buckets: Pierce (18.5 ppg) Buckets: Kobe Bryant (27.6 ppg) Boards: Garnett (7.4 rpg) Boards...
NBA News

Delivered to your inbox

You'll also receive Yardbarker's daily Top 10, featuring the best sports stories from around the web. Customize your newsletter to get articles on your favorite sports and teams. And the best part? It's free!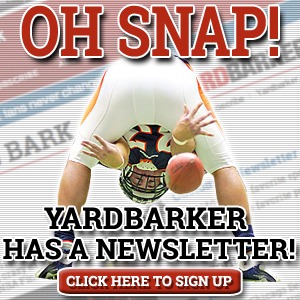 Latest Rumors
Best of Yardbarker

Today's Best Stuff

For Bloggers

Join the Yardbarker Network for more promotion, traffic, and money.

Company Info

Help

What is Yardbarker?

Yardbarker is the largest network of sports blogs and pro athlete blogs on the web. This site is the hub of the Yardbarker Network, where our editors and algorithms curate the best sports content from our network and beyond.