Found March 24, 2012 on Pass The Pill:
One of the big mid season acquisitions this season is the Oklahoma City Thunder adding veteran point guard Derek Fisher. Fisher, who was dealt to the Rockets hours before the trade deadline expired, had his contract bought out by the Rockets just days after they traded for him. After the buyout, he could go play for any team but the Los Angeles Lakers. Naturally, lots of teams were intrigued by Fisher's availability, but eventually the Heat and Thunder became the front runners to land him. Eventually, after talking with the Thunder, Fisher chose the Thunder. Fisher feels like going to the Thunder gives him an opportunity to get a 6th championship ring.  Fisher is clearly still bothered by the way the Lakers let him go, especially because age was considered to be a huge factor for why he was let go. To spite them, he has chosen to wear the number 37, the same number as his age. Fisher is clearly eager to assist his new team in any way that he can, and also proving to his former team that he can still contribute to a championship team. But how much will Derek Fisher help the Thunder? Could this be the move that pushes them over the top? Well, if we go back to the 2006-2007 season, we saw that Derek Fisher was a nice addition to the Utah Jazz, who made the Western Conference Finals that season. He provided an additional boost in the back court to aid the young budding point guard Deron Williams. But in 2007, Fisher was averaging 10 points a game. This season, Fisher is averaging a little bit under 6 points per game. That's a drop off of 40% in his scoring production. He clearly isn't the same player he was in '07, but does that mean he has nothing to offer? I honestly think Fisher still has the capability to be a difference maker for this Thunder team. First off, the Thunder are really hard pressed for scoring once you go beyond James Harden off the bench. If Fisher can up his scoring average by another couple of points and help take  some pressure off Harden, then that would be huge for them. Plus, the Thunder are still a very young team. They have more playoff experience now then they did 3 years ago, but they still could use another veteran in the locker room along with Kendrick Perkins. Perkins and Fisher will be the voices of reason and provide veteran leadership. That's no small thing to overlook. But perhaps the biggest reason Fisher could be of assistance is in the event that they face the Lakers in a playoff series. Fisher knows the ins and outs of that team and what the players weaknesses are. He will provide valuable inside information to the Thunder come playoff time.  He knows what bothers Kobe, Gasol, Bynum, etc. The Lakers have made a huge mistake by allowing two key parts of their team depart to a couple of Western Conference foes. The other would namely be Lamar Odom to the Mavericks. Letting Fisher go could come back to haunt the Lakers should they meet in the playoffs. I certainly think a lot of NBA fans would love to see Derek Fisher face his former team come playoff time. In closing, how much will Derek Fisher help his new team in  the playoffs? That remains yet to be determined, but I do think that it doesn't hurt them at all. Especially with their weak bench. The Thunder need all the help they can get off the bench, and adding a guy who can shoot  like Fisher could really make a difference for them. In addition to that, having his wisdom, experience, and calm demeanor on the sidelines in a playoff series could really be as helpful to them as his raw basketball skills. Do I see him as the missing piece in OKC? I honestly don't see him as that, but I do see him as an additional club in their bag that they can benefit from. I definitely do think the Thunder are better with him than they were before they got him. It'll be fun to see how things shake out in Oklahoma City as a result of this acquisition.
Original Story:
http://sports-kings.com/passthepill/?...
THE BACKYARD
BEST OF MAXIM
RELATED ARTICLES
Derek Fisher was traded by the Lakers to the Rockets last week and was bought out by Houston. Oklahoma City signed him after he cleared waivers and he made his Thunder debut Wednesday. Fisher scored five points in 19 minutes in a win over the Clippers. He explained his decision to change jersey numbers from two to 37. "Especially this season, it seemed to be a negative thing...
Oklahoma City thought they had their backup point guard problem solved when they signed Derek Fisher Wednesday. However, Friday night's double-overtime game against the Minnesota Timberwolves proved that it's going to take some time for Fisher to get used to his new role. Fisher stepped on the court Wednesday night and the Oklahoma City crowd gave him a 45-second standing ovation...
The Oklahoma City Thunder have assigned rookie point guard Reggie Jackson to their NBA Development League affiliate in Tulsa. General manager Sam Presti announced that Jackson would join the 66ers in time for their game against the Iowa Energy on Saturday night. Jackson spent the past two months as Oklahoma City's backup point guard after Eric Maynor sustained a season-ending...
On Wednesday, it became official that the Oklahoma City Thunder signed 37-year-old guard Derek Fisher. The five-time NBA champion point guard had last played for the Lakers before being traded to Houston just before the leagues trade deadline. The Rockets bought out the rest of his contract before he even played and now hes the backup point guard for OKC. At least on the surface...
When Kevin Love hit a game-tying three-pointer with a second left in regulation, Kevin Durant smiled. Of all the things to do after your team has blown a lead, with the chances of winning before overtime as slim as any, to smile would seem like the least obvious choice. But Durant is a competitor, and this was a challenge. It was as if he knew what was to come, that he and his team...
I didn't consider this until after the fact, but a Thunder/T-Wolves match up really does present a unique degree of potential for epic statistical feats.  Kevin Durant and Russell Westbrook have already proven to be one of the most explosive tandems in the history of the game, and Kevin Love has a tendency to put together crazy numerical combinations from time to time.  Neither...
OKLAHOMA CITY (AP) -- Russell Westbrook scored 45 points, Kevin Durant added 40 points and a season-high 17 rebounds and the Oklahoma City Thunder overcame a career-high 51 points from Minnesota All-Star Kevin Love to beat the Timberwolves 149-140 in double overtime Friday night. Westbrook set the tone in the second overtime, stealing the ball on Minnesota's opening possession...
Stat line of the night goes to Kevin Love's 51 pts, 14 rebs, narrowly edging out Kevin Durant's 40 pts, 17 rebs and Russell Westbrook's 45. The Minnesota Timberwolves lost to the Oklahoma City Thunder 149-140 in 2 OT. We're going to see Kevin Love and Kevin Durant putting up MONSTER numbers like these for years. The two young bigs are going to dominate Western Conference...
Anthony Davis has been studying the shot-blocking skills of Serge Ibaka.
Russell Westbrook scored nine of his career-high 45 points in the second overtime as host Oklahoma City withstood Kevin Love's 51 points to beat Minnesota 149-140 for the 11th consecutive time Friday.Kevin Durant added 40 points and a season-high 17 rebounds as the Thunder won back-to-back games for the first time since March 7.Love set a franchise record and a career...
A lot of trade action, but what does it all mean?
NBA News

Delivered to your inbox

You'll also receive Yardbarker's daily Top 10, featuring the best sports stories from around the web. Customize your newsletter to get articles on your favorite sports and teams. And the best part? It's free!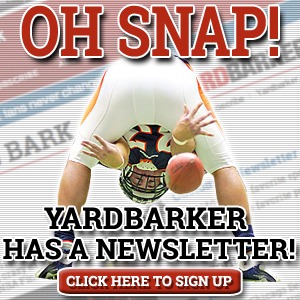 Latest Rumors
Best of Yardbarker

Today's Best Stuff

For Bloggers

Join the Yardbarker Network for more promotion, traffic, and money.

Company Info

Help

What is Yardbarker?

Yardbarker is the largest network of sports blogs and pro athlete blogs on the web. This site is the hub of the Yardbarker Network, where our editors and algorithms curate the best sports content from our network and beyond.