Found November 12, 2012 on NorthWest Sports Beat:
PLAYERS:
Nicolas Batum
,
Brandon Roy
,
LaMarcus Aldridge
,
J.J. Hickson
,
Damian Lillard
,
Meyers Leonard
,
Tony Parker
,
Dirk Nowitzki
TEAMS:
Portland Trail Blazers
,
Minnesota Timberwolves
,
San Antonio Spurs
,
Dallas Mavericks
Batum takes huge step in Portland loss The Headline: Nicolas Batum asks for the ball in the fourth and delivers, but not even that saves Portland from falling just short. San Antonio Spurs vs. Portland Trail Blazers When: 10:00 ET, Saturday, November 10, 2012 Where: Rose Garden (Portland) Officials: Derek Richardson, Ron Garretson, Nick Buchert Attendance: 20,447 Love 'em 1. Batum comes alive Early in the fourth quarter, and this game looked out of reach for Portland after a 16-0 run by San Antonio. Then Nicolas Batum asked Terry Stots for the ball. The result was a 5-8 explosion in the fourth by Batum. The biggest highlight was a game tying three for 40 seconds left, giving Mike Rice cause to blast over the airwaves: "Who needs Brandon Roy when you have Nicolas Batum?!" Making an All-Star paycheck, Batum finally put together and All-Star appearance. He finished the night with a career high 33 points on 11-18 shooting with 7 rebounds, 4 assists, 2 steals and a block. Despite a career night, Nic Batum and the Blazers fall to the Spurs. (Photo Credit: Don Ryan/AP) Batum was also 5-7 from the three-point line. 2. L.A. has solid, quiet, night While Batum stole the headlines, LaMarcus Aldridge had just as big a night. L.A. had a big 29 points. He wasn't huge on the boards (4 rebounds), but produced in plenty of other ways (7 assists). He was a dominating force on defense, putting together 4 blocks and 2 steals. 3. Hickson continues to produce The further we get into the season, the better the center position looks. Portland faced a big decision in the preseason, but inevitably decided to start J.J. Hickson at center. Hickson's responded by averaging a double-double on the season. The big man had another big game Saturday, putting up 13 points, 14 rebounds (5 offensive) and a steal. Hate 'em 1. Lillard goes quiet late At first glance, Damian Lillard had a big game. He finished this one with 20 points, 6 assists and 2 steals. But the real story is that Lillard was a non-factor outside of the first half. He didn't make a single shot in the third quarter, and made just two in the fourth quarter. He had a combined 5 points in the second half. In a three-point game, those missed points could have really helped. 2. Troubles playing small San Antonio played small for the majority of this game. Unless the starters were on the court, Portland was defenseless against the Spurs' three guard assault. Meyers Leonard was one of the worst contributors, resulting in -17 points when he was on the court. As a result of Portland's lame defense, the Spurs shot 57.1 percent as a team with 63 points off the bench. 3. Portland falls to another fractured team The Trail Blazers have put up some big fights against some big teams. Despite their best efforts, they still only have one win on the season. The big kicker is that these teams they're playing aren't complete teams. Yes, Portland played a very close one against a great Spurs team. However, the Spurs were also without star point guard Tony Parker. The same can be said of Portland's loss to Dallas, in which the Mavs were playing without Dirk Nowitzki. The Blazers are playing the best basketball they can, and if not for some missed opportunities they could have won some of these games. But how bad do things get when the opposition gets healthy? CLICK HERE CHECK OUT OUR TRAIL BLAZERS BLOG AT THE NWSB!
Original Story:
http://www.nwsportsbeat.com/trailblaz...
THE BACKYARD
BEST OF MAXIM
RELATED ARTICLES
Time to get back on track The Portland Trail Blazers have been tested by legitimate contenders early this season, but the schedule is about to turn in their favor, as the rest of the month features teams who are either fighting for late seeds in the postseason or heading back to the lottery in 2013. Matchup: Portland (2-4) vs. Atlanta Hawks (2-3) Venue: Rose Garden Arena Time: 7...
After 6 games, the Portland Trail Blazers, 2-4, are off to a predictable start for this season of low expectations.  What is also unsurprising is the ever present hum of the NBA rumor mill, or in this day in age, the tweets coming from Twitter.  Thursday evening scout and featured writer for Crossover Chronicles, Wendell Maxey,  @w_maxey, tweeted out Leonard is a young rookie...
Credit to Jordan Frankel (@jordanfrankel) for the find. Montel Williams Host of The Montel Williams Show Spokesperson for Partnership for Prescription Assistance Monty Williams  Played college at Notre Dame (1st round pick in '94 draft) Played in NBA from 1994-2003 Assistant Coach for Portland Trailblazers (2005-10) Current Head Coach of the New Orleans Hornets
Frustrations beginning to boil It's been less than two weeks since the Portland Trail Blazers opened their season with an impressive victory over the Los Angeles Lakers, yet it seems like a lifetime ago that this young roster in Rip City has had anything to celebrate. Matchup: Portland (2-5) @ Sacramento Kings (2-5) Venue: Sleep Train Arena Time: 7:00 PM PT Date: Tuesday, Nov....
The Blazers are coming off one of their most disappointing seasons as a franchise; they changed coaches and went into rebuild on the fly mode. With their first round pick they selected point guard Damian Lillard to help lead their team back to their winning ways. From all accounts Lillard [...]
Jamal Crawford was a polarizing player here in Portland last year. The vet came in to help fill the void that his good friend Brandon Roy left with his sudden medical retirement. Most of his career, Crawford has come off the bench as the 6th man, even winning the NBA Sixth Man of the Year Award with the Atlanta Hawks in 2010. Many people around Portland loved seeing Crawford shoot...
PORTLAND, Ore. -- The San Antonio Spurs ended a seven-game losing streak at the Rose Garden, beating the Portland Trail Blazers 112-109 on Saturday night. After going into the fourth quarter down 79-73, the Spurs opened the final period with a 14-0 run. The Spurs held onto the lead until 40 seconds remained in the game, when Blazers forward Nicolas Batum sank a 3-pointer to make...
PORTLAND, Ore. -- The first non-sellout Rose Garden crowd in nearly five years home unhappy Monday night. The Atlanta Hawks withstood a fourth-quarter Portland rally to beat the Trail Blazers 95-87. Josh Smith collected 19 points and 11 rebounds to lead Atlanta (3-3), which lost 89-76 to the Los Angeles Clippers on Sunday at Staples Center. J.J. Hickson recorded season highs...
Top Blazers Last 7 Days After posting an impressive 2-1 record during the first week of the NBA season, the Portland Trail Blazers came back down to earth a bit in their second week. Squaring off against more top-tier Western Conference talent, the Blazers failed to record a win (0-3), and it's becoming more apparent that the bench is a serious issue with this team. In the three...
PORTLAND, Ore. -- The San Antonio Spurs ended a seven-game losing streak at the Rose Garden against the Portland Trail Blazers on Saturday night. The Spurs trailed the Blazers through the first three quarters then pulled ahead in the fourth quarter only to see the Blazers come back. San Antonio finally pulled out the 112-109 win, before an announced sellout crowd of 20,447. ...
NBA News

Delivered to your inbox

You'll also receive Yardbarker's daily Top 10, featuring the best sports stories from around the web. Customize your newsletter to get articles on your favorite sports and teams. And the best part? It's free!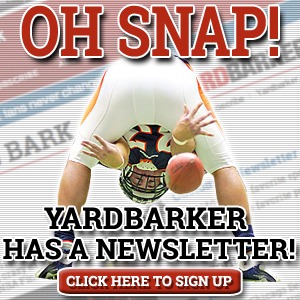 Latest Rumors
Best of Yardbarker

Today's Best Stuff

For Bloggers

Join the Yardbarker Network for more promotion, traffic, and money.

Company Info

Help

What is Yardbarker?

Yardbarker is the largest network of sports blogs and pro athlete blogs on the web. This site is the hub of the Yardbarker Network, where our editors and algorithms curate the best sports content from our network and beyond.