Found June 15, 2013 on Project Spurs:
PLAYERS:
Boris Diaw
,
Dwyane Wade
,
Chris Bosh
,
Tim Duncan
,
Norris Cole
,
Tony Parker
,
Ray Allen
,
Kawhi Leonard
,
Danny Green
,
Gregg Popovich
TEAMS:
San Antonio Spurs
,
Miami Heat
Boris Diaw didn't play a single minute in the San Antonio Spurs' 113-77 victory in Game 3. He was the only Spur that didn't leave the bench.   His first action in Game 4 came with 3:15 remaining in the second quarter. Miami held a 45-38 lead. The Heat retained possession on a jump ball and Diaw drew Dwyane Wade on the perimeter. Wade skirted by Diaw on a quasi pick-and-roll with Chris Bosh, who barely made contact on the screen, and found him for an easy lay up.   On the ensuing possession, Tim Duncan lofted a contested 19-footer and Diaw tussled for offensive rebounding possession, forcing Wade to throw an errant elbow. The referees called the foul and Diaw made both free throws on a broken possession.   Following a botched reverse lay up from Norris Cole, Diaw ran the length of the floor and situated himself in the left corner. Tony Parker received a screen from Duncan on the left wing, Bosh and Ray Allen planted themselves in the paint to deter the penetration, and Parker fired a pass to Diaw in the corner. Instead of forgoing the open 3-pointer, his usual shooting protocol, Diaw launched a 3-pointer that landed in the net gracefully. It was a rare occurrence; Diaw has only made 11 corner 3-pointers all season, per NBA.com.   He wasn't done. With about 1:35 remaining, and the Heat having successfully blocked off the Spurs' first and second options, Diaw set a bruising screen on the unsuspecting Cole, freeing Parker for an acrobatic right-handed lay-up finish.   Wait, there's more.   Cole drove into the teeth of the Spurs defense, this time with around 17 seconds left in the first half. Kawhi Leonard got his huge hands on the shot, and the ball caromed right to Diaw. Diaw quickly initiated a two-on-one fastbreak with Danny Green, and two passes later the Spurs had another easy bucket.   In just three minutes and 15 seconds, the Spurs erased a nine-point lead to enter the half knotted at 49 points a piece. Diaw finished with nine points (3 of 6 shooting) and three boards in 11 minutes. San Antonio lost but Duncan admired Diaw's aggression.    "Boris played well," Duncan said. "He moved the ball well. He's kind of a pass-first guy. But he did a great job of attacking once he caught the ball in the pick-and-rolls, getting into the middle, made some good passes, made a couple of shots for us. The time he was in there he made a difference. So we'll see the adjustments we make. We'll watch film and make some adjustments for the next game and come out and see what happens."   Being a Spurs rotation player isn't always the most desirable position. Gregg Popovich can eradicate you from the rotation completely one night and trust you with high-leverage minutes the following game. It's a precarious position to be in for some players, and it's difficult to be positive in those instances. Diaw didn't complain, and he capitalized on his opportunity. That's all you can do.
Original Story:
http://www.projectspurs.com/2013-arti...
THE BACKYARD
BEST OF MAXIM
RELATED ARTICLES
Apparently, Big Lou's Pizza in San Antonio has the biggest pizza oven in Texas. (I'm basing this on a comment on Reddit, so take it with a grain of salt, or Parmesan cheese.) At any rate, Big Lou's has an enormous oven and is the home of the 42-inch pizza. To get ready for Thursday night's NBA Finals Game 4 between the hometown Spurs and the Miami Heat. the pizzeria created...
Manu Ginobili's impersonation of Gregg Popovich was pretty spot on, not to mention hilarious. But it's even more funny in slow motion, we've decided.
ESPN basketball analyst Stephen A. Smith took a moment to pose for a photo with the San Antonio Spurs dance team, the Silver Dancers, before Thursday night's Game 4 of the NBA Finals. Photo via @SDancer_Coach / Twitter. Ah, the perks of being an NBA insider. H/T TNLP. Visit us at holdoutsports.com and follow us on Twitter @HoldoutSports.
Spurs, your turn. If only it was so easy for San Antonio. The elementary analysis of the 2013 NBA Finals says the Spurs are due for a victory in Sunday night's Game 5. Through the first four games they've gone back and forth with Miami, winning then losing to give us a 2-2 deadlock. But the Game 4 setback opens up a whole new round of issues, with the least troublesome...
Tonight, the NBA Finals makes its final turn for home in a critical Game Five faceoff in San Antonio between the Spurs and the Heat. The winner moves one win away from an NBA championship. I have been contributing throughout the Finals for our friends over at Project Spurs, learning that Manu Ginobili is quite the divisive issue for the Spurs fan base. My latest is contributing...
Mount Rushmore was built with the intention of honoring history. At first it was going to be history of the West, but its creators decided it should have more of a national focus instead. Hence the faces of Washington, Jefferson, Roosevelt and Lincoln—pivotal people in American history—memorialized in the face of a mountain in South Dakota. But what if it was something...
SAN ANTONIO (AP) -- Manu Ginobili had seven points and four assists in a surprise start to spark the San Antonio Spurs to a 32-19 lead over the Miami Heat after one quarter in Game 5 of the NBA Finals on Sunday night. Tim Duncan added seven points and five rebounds for the Spurs, who entered their last home game of the series tied with the Heat at two games apiece. Dwyane Wade...
There is no better food to accompany a playoff game than pizza. Maybe wings, but you really can't go wrong with a few slices of pizza while you root for your team to bring home a championship. A San Antonio Spurs fan who works at a pizza restaurant took that to another level on Thursday. [...]
If the San Antonio Spurs win the NBA Finals, then forward Danny Green should be your NBA Finals MVP. Green has been a hero for the Spurs this NBA Finals, and with it he's becoming America's Sweetheart. Danny Green was 6-for-10 from the 3-point line — setting an NBA Finals record for most 3-pointers in a series (25) — and he scored 24 points to put the Spurs a win away from...
Danny Green scored 24 points to help the San Antonio Spurs topple the Miami Heat on Sunday. 18 of Green's points game of the 3-point sharpshooting that has become his trademark. Green and key performances from Ginobili (24 points, 10 assists) and Tony Parker ( 26 points) largely kept the Heat at bay on their way to the 114-104 victory. The Spurs now hold a 3-2 series lead over...
The enemy of my enemy is my friend. The San Antonio Spurs are not the most interesting or exciting NBA team around (and Spurs Coach Gregg Popovich likes it that way).  They're not polarizing like the Miami Heat. People tune in to see them fall. And one of the keys to making the Heat fall is Spurs forward Danny Green. Danny Green has been a hero for the Spurs this NBA Finals, and...
AT&T CENTER--In the two days off following one of the worst playoff performances of his career, all Manu Ginobili could hear were a series of dire questions. What was wrong with his game? Did he have anything left in the tank? Was it time to retire? Ginobili admitted some lackluster performances this season allowed some doubts to creep in him mind. In his last appearance of the...
NBA News

Delivered to your inbox

You'll also receive Yardbarker's daily Top 10, featuring the best sports stories from around the web. Customize your newsletter to get articles on your favorite sports and teams. And the best part? It's free!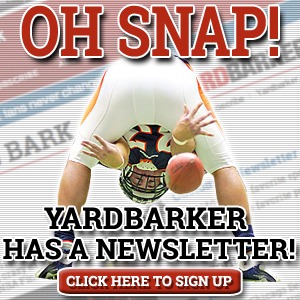 Latest Rumors
Best of Yardbarker

Today's Best Stuff

For Bloggers

Join the Yardbarker Network for more promotion, traffic, and money.

Company Info

Help

What is Yardbarker?

Yardbarker is the largest network of sports blogs and pro athlete blogs on the web. This site is the hub of the Yardbarker Network, where our editors and algorithms curate the best sports content from our network and beyond.