Found April 09, 2013 on BlackSportsOnline:
  This isn't the first time Dirk Nowitzki has aired his grievances about his surrounding cast in Dallas, and if the organization fails to improve in the off-season it won't be the last. Nowitzki, is about to complete his 15th season in the NBA, and realizes that he won't be able to maintain his All-Star level production forever, so its important to him that the team is in a position to contend going forward. In recent seasons the Mavericks have taken a conservative approach in how they fill their roster in order to counteract the new collective bargaining agreement with the intention of striking when the opportunity arises. The Mavericks forward plans to re-sign with the team but concedes that he doesn't want to go through another season like this one. "Now that I already reached my goal (of winning it all), I really want to finish my career in Dallas," Nowitzki told USA TODAY Sports recently. "But saying all that, I don't want another year next year with the same as this year, (with) the frustration and playing for the eight or nine seed. I think we all know that this is a very big summer for us. (Mavericks general manager) Donnie (Nelson) knows. Cuban knows. We want to get back to the championship level." "I tried to make the best out of it the last two years, and then I had some injury problems," said Nowitzki, the former MVP who missed the first 27 games because of right knee surgery but has looked like himself again of late. "But looking back, I think it was sad. I miss some of those guys we went to war with every night, but I think it's going to be a big summer for us." Nowitzki will be paying close attention to what the team does in free agency this season after they failed to sign point guard Deron Williams last summer. They signed a few players on one-year deals to position themselves to make big acquisitions but it didn't work out as they planned. "You can't really judge yet if it was a good move or the wrong move until you see what we get this summer," he said. "If we end up with nothing again and sign eight or nine (players on) one-year deals, then maybe it wasn't a good move to let everybody go. But if we can make this team younger and more explosive again and add a superstar, then maybe it wasn't all bad. I guess the judgment is still kind of out." Even though, the front office failed to sign a big-name free agent, the 11-time All-Star still feels that Dallas is an attractive destination for NBA players. "Dallas has to be on the list of the top spots where (players) want to be," he said. "It's a great owner who supports you on and off the floor. It's a great city to live in … it's nice weather. The fans have always been there. "I think it's the place to be, so hopefully some of the free agents are looking at us and want to join and obviously bring us back to where we want to be." Nowitzki, like every great player whose career has reached its latter stages, wants an opportunity to compete for a championship. Mark Cuban is one of the most ambitious owners in sports let alone basketball, and for the most part has surrounded Nowitzki with talent for the better part of his career, so I don't think he has anything to worry about.
Original Story:
http://blacksportsonline.com/home/201...
THE BACKYARD
BEST OF MAXIM
RELATED ARTICLES
"I have to go to the army." — Dirk Nowitzki, age 18 Its the gift and the curse of living in the day and age where Youtube, camera phones and TMZ exist. Its a gift because we get to see so much, so fast by just stroking a few keys on the keyboard or just [...]The post The Day An 18-Year Old Dirk Nowitzki Gave Scottie Pippen 52 Points, As Told By Charles Barkley appeared first...
Dirk Nowitzki will be a free agent after next season, bringing his future with the Mavericks into question.
With the Dallas Mavericks season hanging in the balance, they only have 6 games left to try and make it to the playoffs for a 13 consecutive year, but without winning the majority of their games left and getting some help from the Lakers and Jazz ahead of them in the standings, their chances are very slim in getting over that hump, but don't completely count them out yet. Over...
DALLAS (AP) -- Dirk Nowitzki was a baby-faced kid barely old enough to drink the last time the Dallas Mavericks missed the playoffs. Now he's a bearded veteran who can't shave because he and others vowed not to until the team got back to .500. Dallas still has a shot at a break-even record, but will be watching the playoffs for the first time since 2000. An unexpected...
Coach Rick Carlisle playfully seemed prepared to cite HIPAA laws in refusing to detail an injury sustained by Dirk Nowitzki in Sunday's 96-91 win at Portland. 'There are laws against me talking about it to you bleepers,' Rick told the media. But Dirk himself revealed he's got an ankle injury but pledged to 'be fine' for the Mavs' next game. The Dallas...
Will the Dallas Mavericks Finally Get to Shave? It's been a long time coming, and highly unlikely that anyone thought for a moment that when the 'No Shaving' pledge was made that it would take the team this long to actually get back to .500 again. However, with the season winding down and just a few games left it looks like the Dallas Mavericks will be able...
With the New York Knicks securing the Atlantic Division for the first time since 1994, plenty of speculation has surfaced regarding their capability of winning a NBA Championship. Carmelo Anthony has once again placed himself in the Most Valuable Player discussion in the midst of the Knicks impressive 13-game winning streak. Carmelo actually missed the Knicks first win against the...
Mark Cuban told reporters that the Dallas Mavericks would consider drafting Brittney Griner with a second round pick in the upcoming draft. Many people have spoke out against this idea including, Geno Auriema and several analysts among the basketball hierarchy. Now as a fan I'd love if my team had a forward thinking owner like Cuban, plus you have to respect his passion for his...
"Whew!"; I'll bet that's what a lot of the Dallas Mavericks organization is saying today. A quote by Branden Wright in reference to the fact that Portland had lost 7 of it last games and would be throwing everything at Dallas including the kitchen sink and they did and Dallas barely escaped with a victory. No matter what the Blazers have done against any other team, they...
Could Brittney Griner play in the NBA? That has been a debated topic since Dallas Mavericks owner Mark Cuban said last week that he would consider taking the former Baylor star in the NBA draft, or at least giving her a shot to try out for the roster. Lisa Leslie is one of the best women's basketball players of all time. Even though playing in the NBA was never a goal for her,...
DALLAS (AP) -- P.J. Tucker scored 17 points, including two key baskets in the closing minutes, and the Phoenix Suns pushed the Dallas Mavericks to the brink of playoff elimination for the first time since 2000 with a 102-91 victory Wednesday night. The Suns blew a 14-point lead in the second quarter and almost did it again in the fourth before hanging on to snap a 10-game losing...
PORTLAND, Ore. (AP) — Chris Kaman scored a season-high 26 points and the Dallas Mavericks boosted their faint playoff hopes with a 96-91 victory over the slumping Portland Trail Blazers on Sunday night., http://juicedsportsblog.com/sports-news/news/mavericks-hold-on-for-9691-win-over-portland-yahoo-sports
Mavericks News

Delivered to your inbox

You'll also receive Yardbarker's daily Top 10, featuring the best sports stories from around the web. Customize your newsletter to get articles on your favorite sports and teams. And the best part? It's free!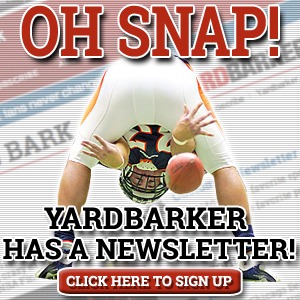 Latest Rumors
Best of Yardbarker

Today's Best Stuff

For Bloggers

Join the Yardbarker Network for more promotion, traffic, and money.

Company Info

Help

What is Yardbarker?

Yardbarker is the largest network of sports blogs and pro athlete blogs on the web. This site is the hub of the Yardbarker Network, where our editors and algorithms curate the best sports content from our network and beyond.