Found June 29, 2012 on Boston's Bettah:
PLAYERS:
Josh Smith
,
Kevin Garnett
,
Rajon Rondo
,
Mickael Pietrus
,
Keyon Dooling
,
Greg Stiemsma
,
Ryan Hollins
,
Nicolas Batum
,
Danny Ferry
,
Joe Johnson
,
Dwight Howard
,
Sean Williams
,
Brandon Bass
,
Larry Bird
,
Avery Bradley
,
Paul Pierce
,
Shawn Marion
,
Doc Rivers
TEAMS:
Atlanta Hawks
,
Boston Celtics
,
Portland Trail Blazers
,
Orlando Magic
,
Dallas Mavericks
There is a chance that Josh Smith and Kevin Garnett could be Celtics teammates come next season
What made the Boston Celtics great in 2012 is that when they entered the post-season they knew exactly what they were as a basketball team. They were a primarily jump-shooting team that played their asses off on the defensive side of the court and were at their best when Rajon Rondo was dominating the basketball game and Kevin Garnett was looking to create shots in the low-post. They occasionally got great performances from guys like Mickael Pietrus and Keyon Dooling and the back-up big man came down to whether Greg Stiemsma or Ryan Hollins was playing better.
There was a huge hole in the Boston Celtics and it was exposed in Game 7 of the Eastern Conference Finals. The Celtics simply lacked the athletes to compete for the NBA Championship. The unfortunate thing for the Boston Celtics is that there isn't a ton of options in free-agency to fix this hole if the Boston Celtics are preparing for their third "one last run" at the NBA title. The best athlete with basketball skills available through free-agency is probably Portland's Nicolas Batum, except he is a restricted free-agent and the Trail Blazers have the right to refusal with him.
Fear not Celtics fans. Free-agency is not the only way to acquire assets after the draft. The Celtics could also trade for someone and there is talk that someone who would fit the Celtics quite perfectly could be available for the right price.
New Atlanta Hawks general manager Danny Ferry is currently settling into his new position and evaluating his options. His two biggest assets are shooting-guard Joe Johnson and forward Josh Smith. Smith is an interesting character. He has asked for his trade before from the Atlanta Hawks, he is an expiring contract in the summer of 2013 and he could be a huge piece for a team hoping to entice Dwight Howard to sign with them next off-season.
Now, Ferry has told other teams to back off Smith for the time being, but Ferry also wants to make his mark on the team now. They have yet to get past the Eastern Conference Semi-Finals and they have thrown the same team out there year after year and there is real fear they may have peaked and may have to shake things up to make the next step.
It's almost without question that Josh Smith is the most trade worthy Hawks asset and he also is an elite athlete. The Boston Celtics need an elite athlete in their rotation to almost certainly make a serious run at the NBA Finals.
So what's preventing the Boston Celtics and the Atlanta Hawks from hooking up and making an exchange?
Sadly, for the Boston Celtics, the amount of assets they have may be lacking in an attempt to make a trade for Josh Smith. They currently employ a grand total of one expiring contract in 2013, and it isn't a salary cap slaughtering piece of paper as it's Sean Williams veteran's minimum contract. Things would look bleak for the Boston Celtics.
There is something the Celtics could do. They could create a sign and trade with Brandon Bass and a chunk of draft picks in an attempt to lure Josh Smith. It has supposedly been discussed:
#CelticsTalk: #NBA source says any deal involving #Hawks Josh Smith would most likely include sign-and-trade w/Brandon Bass.

— A. Sherrod Blakely (@SherrodbCSN) June 28, 2012
The Celtics did not pick up Brandon Bass' option for the 2012 season after this season, this despite the fact that Brandon Bass was a major piece of the Boston Celtics run to the Eastern Conference Finals. The thought was that the Celtics would use Bass' Larry Bird rights to sign Bass to a multi-year deal and not worry about the Salary Cap ramifications.
Shaking up the Hawks with Brandon Bass could be a good move for them. He would give them a phenomenal jump-shooting big man who also plays great defense and allows them to mix up their offense a little bit more and make them less predictable. They would also get a couple of draft picks that the Atlanta Hawks could use in future drafts allowing Ferry to start crafting "his" Atlanta Hawks.
The Boston Celtics, even without an agreement that Smith would be around past this next season, would still likely end up winners in a deal like this. It would make the Boston Celtics much more dynamic on the offensive end of the floor with their starting line-up possessing two guys who know how to get to the rim (Rajon Rondo and Josh Smith) two superior back-door cut scoring threats (Avery Bradley and Josh Smith) two post option (Kevin Garnett and Josh Smith) and one main scorer who can create his shot in pretty much every way (Paul Pierce). In addition,  his athleticism allows him to be a better defender than Brandon Bass could be and his physical skills allow him to cover guys from the 3 all the way to the smaller 5′s in the league.
My favorite comparison to him is Shawn Marion 2.0. He may not be a great jump-shooting guy, but he is ultra athletic with a nose of getting to the rim and creating his own shot in the post. The Celtics biggest fear is that Smith is sometimes immature offensively and likes to play too much hero ball, but as with most guys this Boston Celtics organization has brought in to play in the green in recent years, it's nothing that Doc Rivers, Paul Pierce, and Kevin Garnett can't fix. After this season if he doesn't return, it's a nice amount of salary removed from the Celtics budget and if he does come back he is a nice complement to Rajon Rondo to move forward with.
Ultimately, if the Boston Celtics are going to attempt another run at the Larry O' Brien trophy, they are going to need a high end athlete and a consistent bench scorer. That second piece exists out there on the current free-agent market. It's going to take a little bit of creative management to get the other piece for one more Celtics run.
I think Josh Smith is possible.
Original Story:
http://www.bostonsbettah.com/?p=4586
THE BACKYARD
BEST OF MAXIM
RELATED ARTICLES
Josh Smith could find himself back in Boston sooner than he thought. Smith, who was rumored in talks with the Celtics near the 2012 NBA Trade Deadline, is once again seen as an option for the C's this offseason, according to A. Sherrod Blakely of CSNNE.com. Rumors were flying around Celtics camp before Thursday night's draft, and one such rumor had the C's in active talks...
NOT DONE YET
Kevin Garnett is not planning to retire and will reportedly return to Boston next season on a three-year, $34 million deal.
According to multiple sources, Kevin Garnett has agreed to a THREE year contract with the Boston Celtics. Sherrod Blakely (CSNNE) published the early details of the deal that will be signed by Garnett. An unrestricted free agent this summer, a league source confirmed that the two sides are near completion on a three-year deal worth [...]
Every morning, we compile the links of the day and dump them here… highlighting the big storyline. Because there's nothing quite as satisfying as a good morning dump.  Kevin Garnett is staying with the Celtics. The Herald has learned this morning that Garnett has informed the club he will be back. The 36-year-old considered retirement, but ultimately decided to return for an...
WALTHAM, Mass. -- Kevin Garnett typically looms large at the Celtics' practice facility. A 6-foot-11 future Hall of Famer cannot help but dominate the room, but on Wednesday, Garnett managed to take over the proceedings even though he was nowhere to be found. Garnett, an unrestricted free agent, has yet to make his intentions publicly known as the opening of the free agency period...
The news that Kevin Garnett is returning to Boston has Celtics fans immediately thinking that it may be title time again. Garnett is reportedly signing a two-year deal with the Celtics, with a third year a possibility. Garnett showed over the second half of last season that he can still bring it and carry the C's deep into the playoffs. Now, with the Celtics adding young talent...
Per a report from NBA insider Marc J. Spears the Boston Celtics have agreed to re-signed all-star forward Kevin Garnett to a three-year, $34 million contract once free agency officially begins July 1: Celtics to re-sign forward Kevin Garnett to a three-year, $34 million deal, sources tell Yahoo! Sports. — Marc J. Spears (@SpearsNBAYahoo) June [...]
Kevin Garnett and the Celtics have agreed upon a three-year, $34 million deal.
The day before free agency officially begins, we got great news in Kevin Garnett returning to the Celtics. It also looks like Jeff Green will likely play in Boston again next year. The Boston Herald spoke to Green's agent David Falk at length, who had some great things to say about Green's health and his relationship with the Celtics. According to Falk, Green has been...
Herald   Kevin Garnett decides to return C's appear to have best of both worlds Ainge's call: Ray Allen is a priority Report says Dwight Howard asks new Magic GM for a trade to the Nets Report says Dwight Howard asks new Magic GM for a trade to the Nets Joe Johnson included in Hawks trade talk Ainge talks to Allen, calls him "our No. 1 priority" Globe   What'...
Herald   Danny Ainge mulls making a move Our mock NBA draft has Celts picking Royce White and Fab Melo Celtics on hold until Kevin Garnett decides future Rivers reunion fun but unlikely North Carolina quartet will try to beat 2005 UNC draft class There's no middle ground with UConn's Andre Drummond Without a move, Lakers' draft day will be pretty quiet Globe   A lot...
NBA News

Delivered to your inbox

You'll also receive Yardbarker's daily Top 10, featuring the best sports stories from around the web. Customize your newsletter to get articles on your favorite sports and teams. And the best part? It's free!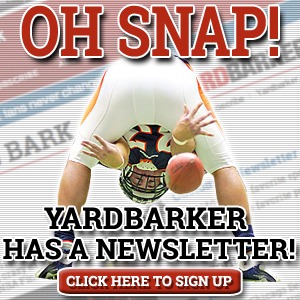 Latest Rumors
Best of Yardbarker

Today's Best Stuff

For Bloggers

Join the Yardbarker Network for more promotion, traffic, and money.

Company Info

Help

What is Yardbarker?

Yardbarker is the largest network of sports blogs and pro athlete blogs on the web. This site is the hub of the Yardbarker Network, where our editors and algorithms curate the best sports content from our network and beyond.