Found May 31, 2012 on Waiting For Next Year:
PLAYERS:
Kyrie Irving
,
Josh Cribbs
,
Bernie Kosar
,
Eric Gordon
,
Jarrett Jack
,
Gustavo Ayon
,
Jason Smith
,
Carl Landry
,
Chris Kaman
,
Marco Belinelli
,
Kwame Brown
,
Kevin Seraphin
,
Andray Blatche
,
Trevor Booker
,
Jan Vesely
,
Chris Singleton
,
John Wall
,
Jordan Crawford
TEAMS:
Cleveland Cavaliers
,
Cleveland Browns
,
New Orleans Pelicans
,
Charlotte Hornets
,
Milwaukee Bucks
,
Washington Wizards
Nick Gilbert Reacts to the lottery disappointment Holding onto optimism as a Cleveland sports fan is a dangerous proposition. After winning the lottery last season, seeing the Cavaliers pick Kyrie Irving, and watching him blossom into the runaway Rookie of the Year, cementing his status as a franchise PG worth building around, things were feeling good in wine and gold country. So heading into last night's lottery, a certain quiet, reserved confidence set in. Nick Gilbert was representing us with pride again while Joe Haden, Josh Cribbs, Bernie Kosar, and Kyrie Irving were all coming back to try to replicate both the luck and results of last year's lottery. And I believed. Not that the Cavaliers were going to win the lottery 1 . But I believed the Cavaliers were going to get the #2 pick, or #3 at worst. I really believed and dreamed that Michael Kidd-Gilchrist was going to be a Cavalier. As the envelopes were sequentially revealed last night, one by one we saw nothing but chalk. Spots 14 through 5 incredibly all went according to plan. There was a certain relief that 4th was now the worst the Cavaliers could do, but still, hope grew. "This is happening," I told myself. The Cavaliers are getting a top 2 pick. Then the 4th envelope opened, and rather than seeing the Hornets logo, we saw the Cavaliers logo. The Cavaliers fell out of the coveted top 3 and now need help to get MKG or Beal. Oh, Cleveland sports….how quickly you give and how quickly you take away. It's not that the 4th pick is all that bad. Getting 5th or 6th would have been much, much worse. Now, even if Anthony Davis, MKG, and Beal go 1 through 3, the Cavaliers will have their pick of the leftovers. That's better than being forced to settle on leftovers. No, the reason this is so crazy is the irony that by winning a coin toss, the Cavaliers lost the lottery. Oh, Cleveland sports, you cruel, cruel temptress. When the Cavaliers and Hornets finished the season with the same record, a coin toss was used to decide the order. The Cavaliers sent Nick Gilbert to get it done, and he did. The Cavaliers won the coin toss, giving the Cavaliers the inside track to one of those top 3 picks. In reality, winning that coin toss cost the Cavaliers a shot at Anthony Davis and chance to give this team two franchise players who would so complement each other's skill sets. It was oh so close to happening. But in reality, the Cavaliers now find themselves on the outside looking in. So where, exactly, does that leave the Cavaliers? Well, we know the Hornets are taking Davis. They will not trade that pick. Not with a new owner coming in and looking to build a fresh, exciting new identity. Putting Davis out there with Eric Gordon, Jarrett Jack, Gustavo Ayon, Jason Smith, and perhaps any combination of Carl Landry, Chris Kaman, and Marco Belinelli 2 gives the Hornets a nucleus to work with. The Hornets were one of the hottest teams in the NBA at the end of the season, they have an incredibly smart young coach, and it's now easier to sell this team to the local fans there. The Bobcats at #2 are a wildcard. Make no mistake, they need a SF in the worst way, and MKG is the no-brainer pick there. But Michael Jordan marches to the beat of his own drum, and he might do something incredibly stupid. Michael Jordan once drafted Kwame Brown on the basis of potential and theoretical upside. Might he do the same now for Andre Drummond? Or will continue his affinity to Carolina guys and reach for Harrison Barnes? It's possible. But I think it's ultimately unlikely. At some point, in the face of constant harsh criticism, Jordan has to take the safe pick and go with MKG. Doesn't he? The Wizards at #3 are also a little tricky to read. They have some size with Nene, Kevin Seraphin, Andray Blatche, and Trevor Booker, but that size didn't help them on the boards at all. The Wizards could really use someone to provide some interior defense and rebounding as well some consistent post scoring. If MKG slides to #3, I believe the Wizards would take him in a heartbeat despite having Jan Vesely and Chris Singleton there already. Pairing MKG with John Wall is too enticing to pass up. If MKG goes #2, though, I'm not so sure Beal is the pick there at #3. Jordan Crawford showed some signs of life last year at the 2, and you could argue PF is a bigger need, particularly with Blatche's stunning regression. Having Robinson grabbing defensive boards and kicking out to Wall to start the break the other way is an intriguing prospect. For the Cavaliers at #4, what they do will so heavily depend on what Charlotte and Washington do. I see no scenario where MKG falls to #4. As much as I like Thomas Robinson, I don't see the Cavaliers picking him. This means at #4, it's either Beal or else you take a gamble on someone like Barnes, Drummond, or Jeremy Lamb. This is why the #4 pick is so unfortunate. The Cavaliers do not control their own destiny to get Beal. If the top 3 go chalk Davis, MKG, and Beal, the Cavaliers must decide which project to gamble on. The most likely candidate will be Harrison Barnes, due to a combination of factors such as positional need, raw talent, and upside. But Harrison Barnes is no sure thing. And missing on this #4 pick would be a disaster. There will be plenty of time to discuss scenarios between now and draft night, but I'll leave you guys with this thought. In my opinion, the best way to get MKG is to work out a draft night trade with Charlotte. The Cavaliers have to hope the Bobcats decide they prefer Beal or Barnes or maybe even Drummond over MKG. The Bobcats can then draft MKG at #2, the Wizards take either Beal or Robinson, and then the Cavaliers select whichever player the Bobcats want at #4. From there, the Cavaliers work out a trade with Charlotte. Offering up the extra 1st round pick and one of the 2nd round picks might be enough to entice a team with such a lack of talent. That's the hope, anyway. So here we are again, stuck with nothing but hope. Nobody ever said being a Cleveland fan was easy. _____ Image Source: (AP Photo/Jason DeCrow /SPECIAL TO THE PLAIN DEALER) ___________________________________
although that would have certainly been nice
all 3 are unrestricted free agents, and it would be tough to image New Orleans resigning all 3
Original Story:
http://www.waitingfornextyear.com/201...
THE BACKYARD
BEST OF MAXIM
RELATED ARTICLES
Before you think this is too silly, just keep in mind that last year, the genius basketball minds behind The Basketball Jones successfully predicted the Cavaliers would win the lottery. They're at it again this year, and this time around, they decided to use delicious breakfast pastries as their means of infallible prediction. In fact, using the word prediction might be an insult...
Dan Gilbert brought his son Nick to the NBA Draft Lottery for the second year in a row, and the two showed up all swagged out. The Gilberts wore matching suits and bow ties, as you can see in the picture above. Really the outfit was just Dan dressing up the way his son did last year. Unfortunately for the Cavs, Nick wasn't able to bring the same kind of good luck to the lottery...
The Cleveland Cavaliers will select fourth in the 2012 NBA Draft, per the outcome of Wednesday night's NBA Draft Lottery held in New York, New York. Finishing the 2011-12 season with a record of 21-45, the Cavs — represented by Nick Gilbert, son of team owner Dan Gilbert, as well as a variety of Cleveland sports celebrities — had a 13.8 percent chance of landing the top overall...
Trying to find something positive about Cleveland sports today hasn't been easy. Let's hope that turns around. The NBA draft lottery is this evening, and Cleveland will be well represented. Following through on his promise to try and take the same group as last year, Dan Gilbert waited until practice was over for Joe Haden and Josh Cribbs. The pair of Browns joined Dan, Nick...
In my latest blog for Cleveland.com, I laid out why there's reason to believe Michael Kidd-Gilchrist could still fall to Cleveland at pick number four. Below is an excerpt from that, where I also recapped our Cavs Draft Lottery Show from Wednesday at Cadillac Ranch: Anthony Davis at first overall in this year'€™s Draft is a pick that not even MJ could mess up. Davis is...
With the Rookie of the year in Kyrie Irving and 4 picks in the 2012 Draft. The Cleveland Cavaliers seem to headed in the right direction. The only problem is they have the potentially catastrophic #4 pick in the 2012 NBA draft, also known as, Harrison Barnes. If the Cavaliers draft Barnes, there is a 97.7% chance that the pick will be wasted. Only thing that keeps me from going the...
A billionaire who made his fortune employing high-pressure tactics to sell the loans that drove the US economy off a cliff is bad enough. Even worse if he also presided over the leadership vacuum that blew the greatest homegrown hometown superstar athlete in world history out of Cleveland, then reacted to that failure by engaging in an astonishingly reductive demonization campaign...
NBA News

Delivered to your inbox

You'll also receive Yardbarker's daily Top 10, featuring the best sports stories from around the web. Customize your newsletter to get articles on your favorite sports and teams. And the best part? It's free!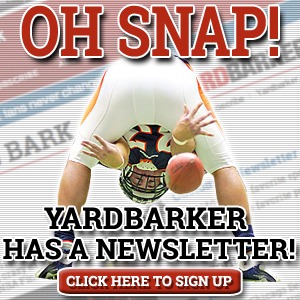 Latest Rumors
Best of Yardbarker

Today's Best Stuff

For Bloggers

Join the Yardbarker Network for more promotion, traffic, and money.

Company Info

Help

What is Yardbarker?

Yardbarker is the largest network of sports blogs and pro athlete blogs on the web. This site is the hub of the Yardbarker Network, where our editors and algorithms curate the best sports content from our network and beyond.