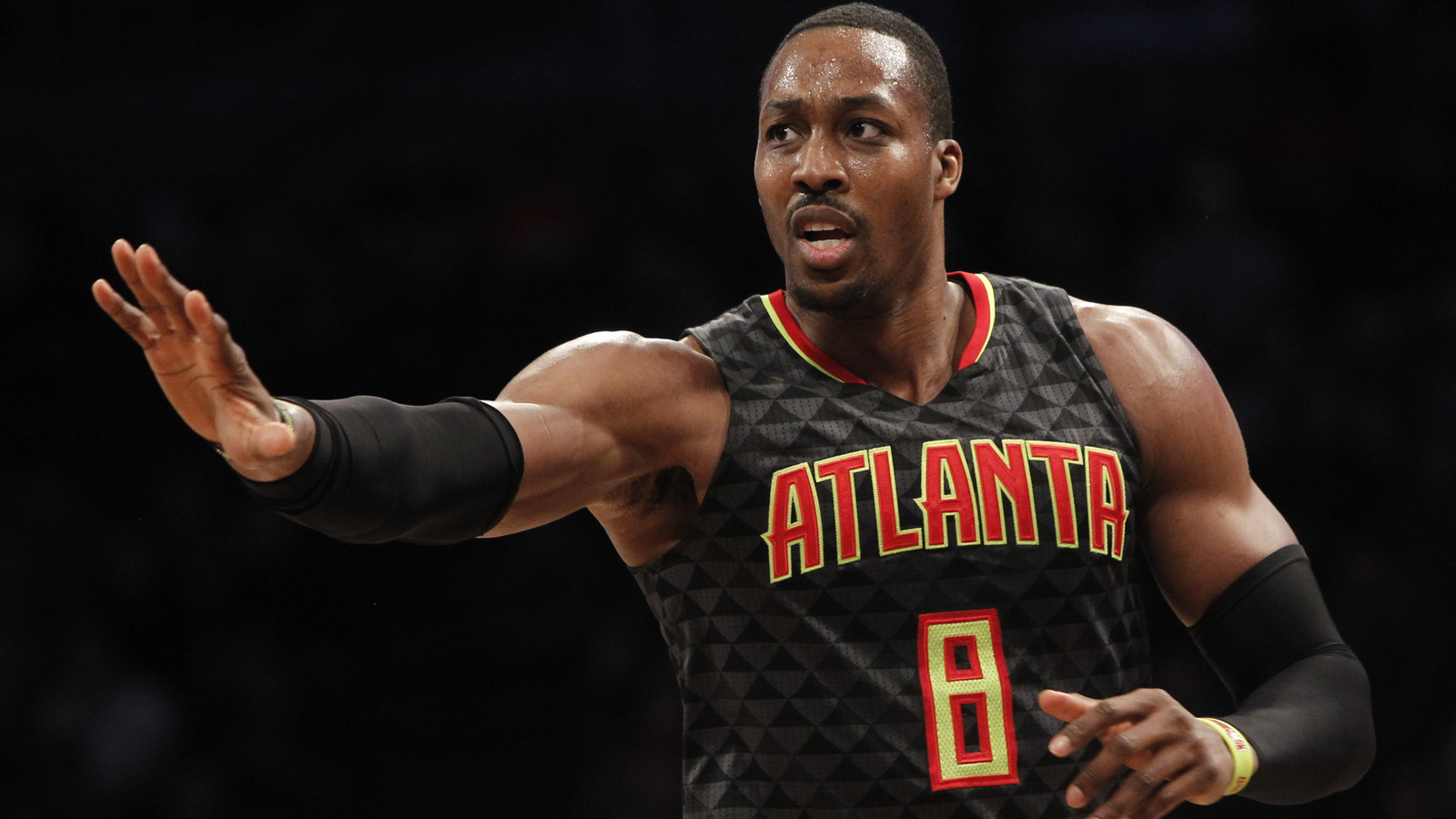 Apr 2, 2017; Brooklyn, NY, USA; Atlanta Hawks center Dwight Howard (8) reacts in the second quarter against Brooklyn Nets at Barclays Center. Nets win 91-82. 
Nicole Sweet-USA TODAY Sports
Dwight Howard isn't too happy about being bad-mouthed by Kareem Abdul-Jabbar, and has defended himself.
On Thursday, Lakers Nation's Ryan Ward posted a quote on Instagram that came from an interview he did with Kareem. The quote showed Abdul-Jabbar being critical of Howard's work ethic.
Here's the full quote.
"Well, Dwight Howard didn't want to do any work," Kareem told Lakers Nation. "Andrew Bynum did not want to do a lot of work, but Andrew was kind of getting the hang of it. I don't think Andrew was that interested in playing basketball.
"Dwight Howard, I'm not going to say anything about him because I really don't understand what his thing was."
Howard apparently has an explanation for why he didn't work with Kareem. He responded to Ward on Instagram and implied that the Lakers didn't want him working with the Hall of Famer.
Here's text of the response, via Sports Grid:
DWIGHTHOWARD@RYANWARDLA I KNOW IT'S HIS WORDS. BUT YOU COULD HAVE CHECKED BOTH SOURCES BEFORE REPORTING IT. I UNDERSTAND YOUR DOING YOUR JOB. DUDE DON'T HAVE TO LIE THO. AS SOON AS I WAS TRADED TO LAKERS. FIRST PERSON I SAT WITH WAS DUDE. WANTING TO WORK OUT. GO LOOK BACK AT MY POST. I POSTED A PIC WITH HIM AND MYSELF AT A HOTEL. BUT IF A TEAM SAYS STAY AWAY. I DID WHAT U WAS ASKED.
Howard's explanation seems to make some sense. Here's the Twitter photo he referenced of the two together in 2012:
Maybe Howard was giving Abdul-Jabbar wishy-washy answers as to why he couldn't workout with the all-time great center, which could have led Kareem to say he wasn't sure what Dwight's deal was. Either way, Kareem isn't the first person to have some issues with Dwight, as Howard recently struggled to get along with James Harden in Houston.
MORE FROM YARDBARKER
Hawks News

Delivered to your inbox

You'll also receive Yardbarker's daily Top 10, featuring the best sports stories from around the web. Customize your newsletter to get articles on your favorite sports and teams. And the best part? It's free!