Found January 15, 2013 on BlackSportsOnline:
Maybe the Jazz fan  heard about how D Wade was paying $4k a night for Orgies and that made Wade mad? Either way, whatever the Jazz Fan said got under Wade's skin to the point he had security escort the man out.  The rules of fans trash talking are simple. As long as they aren't talking about your family or threatening bodily harm to you it is fair game, but since we aren't sure what the fan said you have to make the call if Wade was just being a baby or if his actions were justified.
Original Story:
http://feedproxy.google.com/~r/blacks...
THE BACKYARD
BEST OF MAXIM
RELATED ARTICLES
YOU'RE OUTTA HERE
Video: Peace out playa!
  Happy Birthday Dwyane Wade! DWade turns 31 today (January 17th) and his stylist, Calyann Barnett gave us a sneak peek at his "birthday suit" – what he's wearing not his body, silly – on Instagram. DWade is known for his flamboyant fashion sense, you already know that it's going to be left of center. The suit is A. Sauvage,  shoes: Louboutin, signature frames, Goliath...
It was rough night in Utah for the Miami Heat. And even a rougher night for Dwyane Wade. The Jazz easily handled the Heat 104-97 and was up by 20 points at one point in the 3rd quarter. As for Wade, he could only muster scoring 11 points and had to deal with a court-side heckler throughout the game. But late in the 3rd quarter, Wade decided that he was done dealing with the heckler...
Ballertainment Fan escorted from arena for taunting Dwyane Wade Dwyane Wade will not have his buttons pushed and demonstrated such, Monday, when a Utah Jazz fan was escorted from his floor seats at EnergySolutions Arena by security after too much taunting of the Miami Heat guard. First off, allow me to make this public service announcement… Your expensive purchase of floor seats...
Apparently Dwyane Wade wasn't too happy about his Miami Heat being down by 20 points in the third quarter to the Utah Jazz on Monday night. Wade pointed out the heckling Jazz fan and the security guard quickly escorted him from the building.Here's LeBron James' take on the Jazz fans via the Desert News. "It's a great environment. It's a great atmosphere," Heat star...
These "Groupie Tales" are always funny to me, because they could be 100% accurate (athletes just like anybody else, do some crazy things behind closed doors) or could just be someone looking for their 15 minutes of fame. That is the gift and the curse of being a celebrity, someone is always trying to get the scoop on you.  For instance Full Court Pumps relays a message from...
The Miami Heat already were having a rough road trip. Now they may have a feud between their stars and their coach. Dwyane Wade sat out the entire fourth quarter Monday and Chris Bosh played just 40 seconds of it as the Heat stumbled to their third loss in four games, 104-97 to the Jazz. Wade, who finished with 11 points on 5-of-11 shooting, had no explanation for why he did not...
Dwyane Wade and LeBron James did what they do best on Wednesday. The Miami Heat stars connected for yet another slick alley oop.However, this one came at the expense of the host Golden State Warriors. The play came about midway through the first quarter.Watch as Wade heaves a perfect pass from midcourt in the direction of James, who in turn slams it home for the basket.Yeah, these...
Good Bye Friends of the Program Cam Newton is back at Auburn to finish his degree – Throw The Flag Lance Armstrong: This Bob Ley Interview From 2006 Reveals Far More Than Oprah Will – The Big Lead More Than Half of All 2012-2013 Bowls Show Increase in Attendance – Southern Gameday Utah Jazz fan gets ejected for heckling Dwyane Wade – Die Hard Sport That's all, come back...
Auburn's defensive coordinator, Ellis Johnson, cell phone was stolen while recruiting – Throw The Flag Kentucky getting serious about football? Renovations coming! – Southern Gameday The Big East: Depressing Death Throes Continue Unabated – The Big Lead The Legend of AJ McCarron – Southern Pigskin Has Saban already out-Beared Bryant? – Saturday Down South Andre Dawson...
This weekend once again featured a ton of great plays, and below are just a few of them. First what else is new we have an alley oop featuring Dwyane Wade and LeBron James. Rudy Gay dunks on Manu Ginobili. James Harden schools Jrue Holiday. Follow me on twitter @ScottBasketball  http://twitter.com/#!/ScottBasketballAlso like the Roundballchat site on facebook. http://www.facebook...
Heat News

Delivered to your inbox

You'll also receive Yardbarker's daily Top 10, featuring the best sports stories from around the web. Customize your newsletter to get articles on your favorite sports and teams. And the best part? It's free!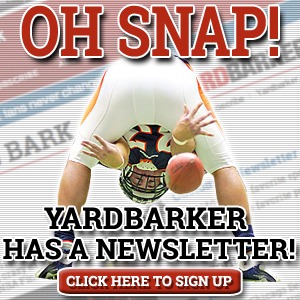 Latest Rumors
Best of Yardbarker

Today's Best Stuff

For Bloggers

Join the Yardbarker Network for more promotion, traffic, and money.

Company Info

Help

What is Yardbarker?

Yardbarker is the largest network of sports blogs and pro athlete blogs on the web. This site is the hub of the Yardbarker Network, where our editors and algorithms curate the best sports content from our network and beyond.