Found December 03, 2012 on NBA 24/7 365:
Eddy Curry's NBA career may or may not be over.  Curry has been unemployed since being waived by the Dallas Mavericks in order to make room for Troy Murphy, who was signed on November 2nd and has since been cut loose to make room for Derek Fisher.  According to HoopsWorld's Alex Kennedy, there are a few NBA teams with some level of interest in Curry, but that was reported a few weeks ago and none of the teams have elected to pull the trigger.  There have been "lucrative" offers from overseas, but Curry prefers something closer to home.  For now, he's content to stand pat and focus on his clothing line. That's right, Eddy Curry has a clothing line.  It's called ZooHigh, and it was founded by Curry and his wife, Patrice.  According to ZooHigh's official website, the brand is "a vision turned reality… built on the premise that zoo animals are almost just as dope as humans."  Hoping to gain a little more insight in regards to this vague vision and unusual premise, I conducted a little online research.  Fortunately, I stumbled upon the following article published by FNFLive.com, which goes into a little more detail about how Curry's clothing line came to be.  Turns out E-City is not only a hardcore art enthusiast, but he's also quite the doodler.  As a matter of fact, ZooHigh is essentially the product of a sketch he completed a few years ago.  From the aforementioned article… ZooHigh, established in 2011, can be seen on t-shirts and hooded sweatshirts compiled of some of your favorite characters from the animal kingdom. The apparel is worn by athletes, artists and models in the entertainment world but can also be seen on children. Curry knows how important fashion is to the culture of our generation, and how a "sense of style" can impact a child's character. "At any school you go into – as early as the third grade- the kids want to dress nicely," he added. "Whether or not my parents had the means to provide it, I still wanted to look nice and we always looked at who had what. Everyone wants to have a nice outfit or a nice shirt. I think it's huge." It started as simple drawings but Curry, an avid art lover, began to explore his interest for fashion and created the brand. "I have been doodling this character for a couple of years," he mentioned. "I drew this bear and his friends. I had an idea of zoo characters being in high school and I called it ZooHigh." After seeing its potential, Curry decided to take his creation to the next level and make t-shirts his canvas. "First I started out with something just for my kids because my kids loved it, then grown-ups started wearing it," he said. "Everyone liked it and so I just turned it into a clothing line. It's pretty successful in Chicago. We have six stores in Chicago. A couple places in New York carry it. It's getting pretty big. Now we have a whole creative team behind it." Might want to add some of that interesting info to your "about" page, Ed!  And as for you, reader, I'd highly recommend clicking here and checking out some ZooHigh product.  Someone on your Christmas list is sure to be looking for some clothing, and only ZooHigh offers six pages of stuff made with Eddy Curry's involvement.  From t-shirts with Curry's drawings on them, to $500 varsity jackets, to stocking hats with pom poms, ZooHigh's got something for all those who believe strongly in the premise that zoo animals are in fact almost just as dope as human beings. In all seriousness, it looks like Eddy Curry can draw pretty well.  And I'd absolutely wear that jacket if he gave it to me for free.  Hey, maybe we can strike some sort of promotional deal!  Whaddaya say, Eddy?
Original Story:
http://nba247365.com/?p=8719
THE BACKYARD
BEST OF MAXIM
RELATED ARTICLES
While the Dallas Mavericks might be going through a bit of a revamping on the court, their arena production department is still hitting on all cylinders. From the team that brought you dancing grandmas and fat male cheerleaders, they now have a Gangnam Style parody video that stands up to the best on the Internet. Retitled "Whoop 'Em Mavericks Style," the video features...
We all know that Dallas Mavericks owner Mark Cuban is always willing to speak his mind and this time, he created a video against  Power Balance energy bracelets.Cuban is shown in the video calling the energy bracelets "a scam" (to note, he did see a variation of these bands while appearing as an investor on ABC's Shark Tank) and rips the NBA for signing a deal with...
Yeah, weird huh? You know it ain't big news until Mavs Owner, Mark Cuban, weighs in on the topic. Luckily, he has some perspective on this issue and offers a logical breakdown of both sides. On Pop: "If he would have done the same thing the next night, it'd be a completely different conversation. Common sense. Recognize who pays your check. Look, I respect the Spurs. Pop is...
The Dallas Mavericks swooped in and signed free agent Derek Fisher recently. Will the move pay off down the line, and what kind of impact will the veteran have?
  Miami, San Antonio nor Dallas wanted Eddy Curry anymore. But bet your bottom dollar that the Zhejiang Golden Bulls wanted his talents. The Golden Bulls signed Curry for the entire season. The numbers are unclear but a job is better than no job.
Mark Cuban, San Antonio's honorary punching bag since owning the Dallas Mavericks, decided to give his opinion on the controversial ruling by NBA commissioner David Stern against the San Antonio Spurs for sending their stars home before a nationally televised game against the Miami Heat. Here's what Cuban said to the Star-Telegram: "Everybody who planned to watch...
Not only will the Dallas Mavericks be bringing some former Los Angeles Clippers into this matchup, they'll see some familiar faces as well. The Clippers can stretch their win streak to four Wednesday night and hand the Mavericks a third straight road loss. Dallas (8-9) features a pair of former Clippers big men in Elton Brand and Chris Kaman. While Brand has faced Los Angeles...
Mavericks News

Delivered to your inbox

You'll also receive Yardbarker's daily Top 10, featuring the best sports stories from around the web. Customize your newsletter to get articles on your favorite sports and teams. And the best part? It's free!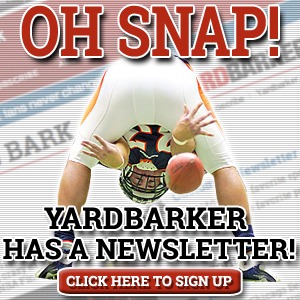 Latest Rumors
Best of Yardbarker

Today's Best Stuff

For Bloggers

Join the Yardbarker Network for more promotion, traffic, and money.

Company Info

Help

What is Yardbarker?

Yardbarker is the largest network of sports blogs and pro athlete blogs on the web. This site is the hub of the Yardbarker Network, where our editors and algorithms curate the best sports content from our network and beyond.