Found December 27, 2012 on Waiting For Next Year:
As if getting the cover of the latest ESPN The Magazine was not enough, the four-letter network out of Bristol, Connecticut continues to rain praise on Cleveland Cavaliers point guard Kyrie Irving. Within an Insider feature penned by Amin Elhassan, the NBA front office personnel director, we find the opinon that the Cavaliers' star will be the preeminent point guard in all of the NBA come the year 2015. "I sat down for my first look at Kyrie Irving as a collegiate basketball player. About 10 minutes later, I shut my notebook. "This kid is clearly wasting his time playing another minute of college ball," I said to myself. A few games later, he'd get injured and miss most of the remainder of the season. However, in those few appearances, he was one of the most NBA-ready freshmen I had ever seen, particularly at the point guard position. Two years into his pro career, Irving seems destined for greatness. How great? By 2015, he will be the best point guard in the NBA. Elhassan applauds Irving's patience, praises he recognition skills, and lauds his willingness to lead teammates who are far more experienced than he. Scouting breakdowns of Irving's ability to dribble (or "handles" as the kids say) put them right up there with future Hall of Fame point guard Chris Paul. Among the items that could hinder Irving are a weak supporting cast that force him to be a score-first point guard instead of a play-making passer; he is forced to conserve energy on the defensive end, leading to low efficiency totals and an unhappy head coach. "The longer Irving has to play savior on offense, the longer it will be acceptable for him to give sub par effort on the defensive end, which slows his overall development toward being the best PG in the league," writes Elhassan. He later adds that Irving marries the skills of a savvy veteran with the fresh legs of a young player. "Coaches want to coach him and marketers want to pay him — it's only a matter of time before he becomes the example after which other players will pattern themselves." [Related: Win in Washington shows young Cavaliers what it takes]
Original Story:
http://www.waitingfornextyear.com/201...
THE BACKYARD
BEST OF MAXIM
RELATED ARTICLES
SCANDALOUS
Cavs point guard Kyrie Irving was in a sketchy situation on Twitter when a photo of him and some girls was posted to his account.
Cleveland's Kyrie Irving is a super fast guard on the court and apparently is quite fast on his spin-control for a photo of him with a couple of women draped all over him (h/t Larry Brown Sports). Normally, who can't blame for a young, professional basketball player for enjoying his bachelor days and just living it up. I know I would if i was banking like Irving and...
2012 was one crazy year in the wild wacky world of Cleveland Sports. Some would tell you 2012 was as bad as it has ever been here. As the year comes to a close, like we have done the last four years, WFNY will take a look at what we view to be the 10 biggest sports stories affecting our local sports scene. Each day through the rest of the year, we will be counting down from ten to...
Check out Cleveland Cavaliers Kyrie Irving as he drives the floor and throws up a nasty shot to beat the halftime buzzer against the Atlanta Hawks.
WASHINGTON (AP) -- Tristan Thompson's three-point play with 24.4 seconds remaining gave the Cleveland Cavaliers their first two-game winning streak of the season as the Cavaliers beat the Washington Wizards 87-84 on Wednesday night. Kyrie Irving, who had 26 points to lead Cleveland, made one of two free throws with 9.5 seconds left after Jordan Crawford and Garrett Temple missed...
WASHINGTON -- Kyrie Irving scored 20 of his 26 points in the first half and Tristan Thompson scored the go-ahead 3-point play with 24.4 seconds remaining as the Cleveland Cavaliers defeated the Washington Wizards 87-84 on Wednesday night at Verizon Center. Thompson had 15 points and 12 rebounds for the Cavaliers, who have won two games in a row -- both without center Anderson Varejao...
      AT                Wednesday, December 26th, 20127:00 PM ETTV: Comcast SportsNet HDSteve Buckhantz and Phil Chenier  Radio: 106.7 FM/1500 AMDave Johnson and Glenn Consor Kyrie IrvingJordan Crawford Cavaliers Projected Starting Lineup Wizards Projected Starting Lineup Paying HomageMark Price Proud Moment in Cavaliers HistorySelecting...
In more than any other sport, NBA teams are able to draft true franchise changers. Winning the NBA draft lottery is so important, as young players continue to have a huge impact on the game. Also, if the US Olympic committee does decide that Team USA has to be under a certain age, this would certainly be a starting lineup to consider. This article will look at players under the age...
WASHINGTON -- Someone had to win the matchup between the two losingest teams in the NBA's Eastern Conference. The combined performance lived up to the lowered expectations, leaving even the triumphant coach displeased, though smiling. For these teams, any win is ultimately a good one. Kyrie Irving scored 20 of his 26 points in the first half and Tristan Thompson scored the...
We've seen this episode before: three and a half great quarters and a stinker in the final few minutes. The Cavaliers went cold, quit running their offensive sets, and were unable to stop Jeff Teague as the Hawks came from nine down in the third quarter to get their revenge against the Cavaliers 102-94 in Quicken Loans Arena. The collapse spoiled a good offensive display from Kyrie...
The mistakes made in Wednesday night's Cavaliers game are often the kind that force head coach Byron Scott to take to the podium with a heavy sigh and a similar message as the game before. Missed free throws, silly fouls and lackadaisical defense were only the beginning. But it would be this Cavaliers team, typically left holding the bag when the final buzzer blows, who would have...
Had a great time on All Bets Are Off last night on Sports Time Ohio. Gene and Ashley made things very easy for me and I appreciate ABAO extending the invite. My only hope is that I didn't hurt ratings too bad in the process. If you happened to miss the episode don't worry. My Dad DVR'd it and said it's cool if you want to swing by and check it out at...
NBA News

Delivered to your inbox

You'll also receive Yardbarker's daily Top 10, featuring the best sports stories from around the web. Customize your newsletter to get articles on your favorite sports and teams. And the best part? It's free!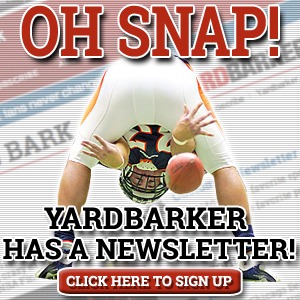 Latest Rumors
Best of Yardbarker

Today's Best Stuff

For Bloggers

Join the Yardbarker Network for more promotion, traffic, and money.

Company Info

Help

What is Yardbarker?

Yardbarker is the largest network of sports blogs and pro athlete blogs on the web. This site is the hub of the Yardbarker Network, where our editors and algorithms curate the best sports content from our network and beyond.