Found September 24, 2012 on Project Spurs:
PLAYERS:
Bruce Bowen
,
Tim Duncan
,
Manu Ginobili
,
Tony Parker
,
Danny Green
,
Kawhi Leonard
,
Gary Neal
,
Kevin Durant
,
Russell Westbrook
,
James Harden
,
Pau Gasol
,
Dwight Howard
,
Charles Barkley
,
Karl Malone
,
Gregg Popovich
TEAMS:
San Antonio Spurs
,
Oklahoma City Thunder
,
Los Angeles Lakers
It's safe to say that gone are the great defensive days of the San Antonio Spurs.
During their dynasty, the Spurs would defy teams from scoring the ball and leading that charge was Bruce Bowen. The defensive stalwart helped the Spurs win three NBA titles before retiring and having his jersey No. 12 retired last season.
Now an ESPN basketball analyst, Bowen feels the Spurs' decision to remain in largely tact and still rely on the "Big Three" of Tim Duncan, Manu Ginobili and Tony Parker is a sound decision.
I think when you have those players that have been together that long, what they do is they enhance other people's game. You look at Danny Green; he had a great season, the best season of his career, but a lot of it was because of the Big Three  – Manu, Tim and Tony – being able to understand the game and set guys up to be successful. You look at Kawhi Leonard, who had a fantastic rookie season... You know, when you're able to blend in guys with a core like that, it's not about the egos, it's more about helping the other guys become better. You know, Tim Duncan is no longer the Tim Duncan of five years ago. His role has changed a bit. So if you're able to sustain groups longer, then you have guys that are willing to no longer be the man and do whatever they can in order to help the team.
Bowen is right, however, it was mainly a team implosion versus the Thunder last season adding to the crushing series loss. Green fizzled out, Parker's strengths were nullified by OKC's defense, Gary Neal couldn't find his shot and much more. Yet the experience will help the young players of the Spurs which should prove to help in a deep playoff run next season.
As for the Spurs' chances at title number five next season, Bowen feels San Antonio still has a shot despite other teams in the Western Conference improving.
I think they will always have the chance to be in the Top 3 of the West. I think it was a telltale situation last year as far as experience winning out over everything else. As Robinson said, the supporting cast of the Spurs didn't have that kind of playoff experience. They weren't really tested in the previous rounds. With the Thunder they needed to do some necessary adjustments. Green and Leonard, they had never been in that position before... It was a little different. In this game you can't just say 'Oh well, next year we'll get it'. You have to take advantage of your opportunities when you have them. And that was a huge opportunity for the Spurs. They just got beat by a younger version of them in Kevin Durant, Russell Westbrook and James Harden. They are a Big Three, defensive minded, young athletic team. You can't teach youth in the NBA. In essence, the pupil surpassed the teacher.
I am sure many Spurs fans hope Bowen is right but with the lack of size heading into next season, it might be the team's un-doing should they draw a Lakers team with Pau Gasol and Dwight Howard or the Thunder once again.
And speaking of championships, Bowen chimed in on which of his championships he won was his favorite.
I've got two. The first one is always the best because so many have played this game and never got one: Charles Barkley, Karl Malone... These guys are legends of the game and they don't have a championship. And I really like the 2005 title playing against Larry Brown's Pistons. He was like a grandfather for me, he invited me and my family to his house for Thanksgiving dinner. No coach ever did anything like that for me, so that left an impression on me. He was the head coach in San Antonio when Pop [Gregg Popovich] was the GM there. So many circles that are so close together that the '05 championship was the most fulfilling of the three because of Larry Brown.
And because of his all-out hustle and willingness to defend the opposing team's best player, Bowen's jersey will never be worn again. Something he is still honored to have.
It's funny because so many times I remember Tony Parker used to talk about it. He was always saying "They have to! We've accomplished so much, they gotta retire our jerseys". I tried to stay in the moment. It was one of the greatest honors that I've ever had in basketball and I'm very much appreciative to the organization and the city of San Antonio for that. I know it was a little different as far as what I did. I think I brought a whole new meaning to the word defense and how necessary it is in order to win championships. So to be recognized for my contribution among my teammates, that was fantastic.
What do you have to say Spurs fans? Do you agree with Bruce about the team's chances at title number five next season or is the championship window closed?
Original Story:
http://www.projectspurs.com/2012-arti...
THE BACKYARD
BEST OF MAXIM
RELATED ARTICLES
BALLER LIFE
NBA player Stephen Jackson gave a hilarious interview where he dishes on NBA rappers and much more. He even says he doesn't work out in the offseason.
Stephen Jackson has been in the NBA for a very long time, and he hasn't exactly come across as a highly-motivated player during his 12-year career. Jackson is incredibly passionate about rapping, and it seems like he spends more of his offseason time writing rhymes than he does in the gym. That's probably because he does. In fact, Jackson spends no time in the gym at all during...
It's hard to imagine Manu Ginobili in any uniform other than the San Antonio Spurs', but after this season he'll be an unrestricted free agent and have the choice to go wherever he wants. Ginobili made Sports Illustrated's list of the top ten 2013 free agents, coming in at number six. He's going to be a highly coveted player, because he's shown that he can...
San Antonio Spurs forward Stephen Jackson went on a popular New York City radio show on Power 105.1 called The Breakfast Club to talk about never playing basketball in the summer, how most current and former NBA players are wack rappers, how he cut ties with Ron Artest and what happened in the strip club. I bet Greg Popovich was hoping Jackson played some ball in the offseason...
This one is for the female San Antonio Spurs fans. Spurs guard Patty Mills may be looking at getting more minutes on the court next season but before he hits the court and prove he can take on a larger role with the team, it would appear he might be gearing up for his job after basketball - male model. Mills did a photo shoot with Australian photographer Rush, and decided...
He may be the target of jokes when it comes to overweight NBA players but San Antonio Spurs' Boris Diaw might be the one with the last laugh. During Diaw's summer charity game (the same one where Tony Parker nailed a half-court shot), the all-female dance group called "Latin Girls" performed at the event and of course as organizer of the event comes the spoils...
San Antonio Spurs' Stephen Jackson's offseason seems to be filled mainly with promoting his upcoming rap album, "Jack of all Trades." And that promotional tour rages on as Jackson was a guest on Power 105.1 to talk about his album but when asked about his offseason training, Stephen says he usually takes it slow and never works out. Something he admits the...
It's a tradition in the NBA for any rookie entering their first season in the league - hazing. Whether it be practical jokes, carrying a teammates' bags or worse, any rookie should expect to get the rookie treatment even if you have been a pro overseas like San Antonio Spurs' Nando De Colo. And as Nando enters his rookie season, what better player to get the rookie...
San Antonio Spurs' Tim Duncan was once known as the best power forward in the game and will be known for the foreseeable future as the greatest power forward ever.  But there's no denying Duncan's game has slipped some in recent years, mostly due a bulkier knee and an advanced age.  On top of that, the power forward position hasn't been this strong since Duncan...
It really seems like it hasn't been that long since the end of last season, but it's almost time to kick off the NBA again. The big talk of the offseason was the Lakers, and rightly so, but they haven't won anything yet. The San Antonio Spurs are flying under the radar again, which is the status quo even though they exceed the majority of expectations every year. Tony...
NBA.com's John Schumann penned an article yesterday discussing the moves that have been made in the offseason in the Southwest Division. Or the lack of moves, in the San Antonio Spurs' situation. While we've seen many new faces in new places, the Spurs made minimal changes to a team that had a NBA Finals appearance in sight last season. The coaching staff and...
Former San Antonio Spurs player Ime Udoka will be back in the silver and black this coming season, though he won't be dawning the typical Spurs jersey fans are accustomed to seeing him wear. Instead he'll most likely be wearing a Spurs polo or some sort of business suit. In an entertaining piece by Ken Rodriguez for Spurs.com, Rodriguez explains how Udoka made the decision...
NBA News

Delivered to your inbox

You'll also receive Yardbarker's daily Top 10, featuring the best sports stories from around the web. Customize your newsletter to get articles on your favorite sports and teams. And the best part? It's free!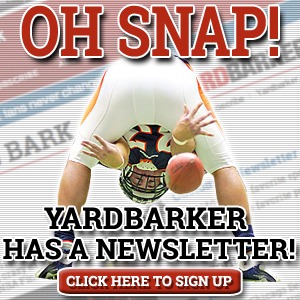 Latest Rumors
Best of Yardbarker

Today's Best Stuff

For Bloggers

Join the Yardbarker Network for more promotion, traffic, and money.

Company Info

Help

What is Yardbarker?

Yardbarker is the largest network of sports blogs and pro athlete blogs on the web. This site is the hub of the Yardbarker Network, where our editors and algorithms curate the best sports content from our network and beyond.