Found June 08, 2013 on Celtics Green ...a boston celtics blog.:
PLAYERS:
Jason Collins
,
Dwight Howard
,
Jared Sullinger
,
Marcin Gortat
,
Tony Parker
,
Doc Rivers
,
Jason Terry
,
Bill Walton
,
Mark Cuban
,
LeBron James
TEAMS:
Washington Wizards
,
Los Angeles Lakers
,
Boston Celtics
,
Phoenix Suns
,
San Antonio Spurs
,
Dallas Mavericks
,
Miami Heat
Herald  Gay pride parade march for NBA's Jason Collins Why Dwight Howard and his drama are worth it to the Lakers At 37, Duncan appreciating success more than ever Celtics Green Roster Decisions on the ReservesJared Sullinger - On the Road to Recovery What About Marcin Gortat?Lex Nihil Novi   Hondo and Wicks Lead Celtics to Third Straight WC's Make 22 out of 23 behind Bird's Triple DoubleRussell v. Chamberlain: 1960 Eastern Conference Finals Game 3 Red's Army  Tony Parker's miracle shot, and why it was so perfectly "Spurs"|Your Morning Dump… Where Shav Randolph is the leader of the non-guaranteed contract pack Celtics Life  Spurs team filled with woulda coulda shoulda been CelticsWhat the Hell Happened to...Jim Barnett? CSNNE  Spurs' Joseph 'learned a lot' from C's Bradley|Bosh shrugs off Game 1 criticismFelger and Mazz discuss the future of Doc RiversCeltics Town  Jared Sullinger talks about his back injury and recovery in new mini-documentary Celtics Insider  Ainge Thinking Big? Mass Live  Jared Sullinger thinks Doc Rivers dislikes rookies, but explains why that's good | masslive.comMetro  2013 NBA Draft: If the Celtics stay at No. 16, who could be available? Bleacher Report  NBA Rumors and News: Latest Draft Buzz Around the League 5 2013 NBA Draft Prospects Who Would Be Perfect Fits for Boston CelticsYahoo  Jason Terry Had Knee Surgery; Will Boston Celtics Keep Him Around?How Boston Celtics Fans Prove the Existence of Time TravelInvestors  Bill Walton Overcame Injuries And Stuttering To Win Multiple TitlesESPN  Barbosa Brazilian draft intrigue Grab 'bag: Spurring hope? CBS Sports  Mark Cuban teams with SMU biomechanics to research flopping Kings interviewing Morway, unlikely to land Bird Deadspin   Tim Donaghy On Game 1: The Make-Up Call That Sealed A Spurs WinForbes  Boston Celtics Owner Launches Sports Media FundChicago Now  LeBron James is right, he's reverted to his Cleveland days [Discuss on CG Forums!]
Original Story:
http://celticsgreen.blogspot.com/2013...
THE BACKYARD
BEST OF MAXIM
RELATED ARTICLES
Los Angeles Lakers center Dwight Howard's poor free throw shooting was mocked on a recent episode of the game show 'Jeopardy' as part of the category "Science in Sports". The $1600 answer: "Geometric arch that's the natural path of a projectile; a narrower one helps free throws, Dwight Howard." Ooooh, burn. In case you were wondering...
Jared Sullinger has been busy rehabbing his back after season ending surgery. This is an interesting chronicle of "Sully's" recovery process. Courtesy of CELTICS.COM.  
New behind the scenes video uploaded by the Boston Celtics chronicling Jared Sullinger's injury and rehab.
Much was made of Dwight Howard including the Golden State Warriors on his list of five teams that are on his wishlist to sign with in free agency. It's a major step forward for the Warriors just to be considered by Howard, one of the league's best centers. A surprisingly successful season and a trip to the second-round of the NBA Playoffs has changed the landscape a bit and turned...
Just using common sense, it is highly unlikely that Howard will get another max deal after this one, let alone two. Doesn't matter if he takes a four or five-year deal, this will be his last monster contract. He has already peaked as a player, so the percentages say that he is only going to get worse as the years go on. For a long time he never got hurt, but lately his body has...
It's been almost 2 months since Jason Collins came out. Last night at Fenway Park he had a coming out party in the form of tossing the first pitch. [Hall of Very Good] Your browser does not... Full story at Bob's Blitz ~ http://www.bobsblitz.com
 Jason Collins makes good on essay promise, marches proudly ----- It was only less than two months ago that Jason Collins made history, coming out as the first active gay athlete in a major American sport. The revelation was met with almost universal acceptance and a bit of a shoulder shrug. That is not necessarily a bad thing. It shows how much the movement to accept all...
NBA veteran Jason Collins has marched in Boston's gay pride parade with Massachusetts Congressman Joe Kennedy III, his onetime roommate at Stanford University.
The Houston Rockets plan on pursuing Dwight Howard, but they will simultaneously go after Chris Paul as well. "They are targets No. 1 and 1A," said a source. Both Howard and Paul are free agents, but the former has expressed more interest in signing with the Rockets. The Rockets need to complete a few moves to offer a max contract, something they feel is likely. Houston...
  According to a report from Brian Kotloff of Sports Illustrated via Jonathan Feigen of the Houston Chronicles, the Rockets are going all in when the free agent period gets underway, as they have targeted not only Dwight Howard as a possible acquisition, but also Chris Paul. "They are targets No. 1 and 1A," a source told Feigen. While Howard has expressed interest in playing...
BOSTON — Shortly after former Celtics big man Jason Collins revealed that he's gay, the Red Sox invited him to throw out the first pitch at Fenway Park. On Thursday, Collins took them up on the offer. threw out the first pitch at Fenway before Thursday's Red Sox-Rangers game.John Farrell caught Collins' ceremonial first pitch, and the Red Sox skipper said while speaking...
Dallas Mavericks star forward Dirk Nowitzki is not used to not being in the playoffs, and now he's putting his money where his mouth is, in order to help his organization get back to championship contention. According to the Dallas Morning News, Nowitzki told a local radio in Dallas this week that part of his pitch to free agents Chris Paul and Dwight Howard is that "he'd...
NBA News

Delivered to your inbox

You'll also receive Yardbarker's daily Top 10, featuring the best sports stories from around the web. Customize your newsletter to get articles on your favorite sports and teams. And the best part? It's free!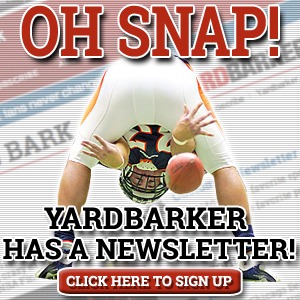 Latest Rumors
Best of Yardbarker

Today's Best Stuff

For Bloggers

Join the Yardbarker Network for more promotion, traffic, and money.

Company Info

Help

What is Yardbarker?

Yardbarker is the largest network of sports blogs and pro athlete blogs on the web. This site is the hub of the Yardbarker Network, where our editors and algorithms curate the best sports content from our network and beyond.