Found March 10, 2013 on Project Spurs:
Every off season, NBA free agents (or all athletes playing professional sports) are faced with the ability to shop their services to the highest bidder. Eventually the decision boils down to one key question: either sign with the team that gives the best monetary offer or the one that gives the best chance to win a title. For every James Harden and Dwight Howard, that chooses to bolt because his current team is not willing to pay what he is asking for, there is a Manu Ginobili, Tony Parker, LeBron James, Chris Bosh, and Scottie Pippen, players who are willing to leave money on the table in order to secure a greater chance of embracing that Larry O'Brien trophy. In the case of Bosh and James, fans are quick to remark about how today's athletes are playing the game simply for a paycheck but turn around say that these guys sold their old teams down the river and took the easy way out.  They could have held their respective previous team hostage and demanded a lion's share of the team's cap space go towards their salary.  They were forth coming in stating their desire to test the open market and be standing on that podium at the end of the NBA Finals. Their desire of being champions won out and they went to a situation that would be more conducive to them achieving their goals, even if it meant taking less money than what they were entitled to as franchise players.  Ginobili and Parker made similar decisions to choose championships over the money.  But they chose to stay with their current team.  They knew that grass is not always on the other side of the fence. Some players feel that their current team's system may be hindering their own progression of going from their current role to their rightful spot as the focal point of the offense.  They view that taking that next step will lead them to their rightful place and allow them to get the glory of being the savior who comes in to town and leads his team to that coveted title. Howard and Harden chose the other path by chasing the almighty dollar versus staying put in a situation where they could potentially lead them to a title.  Every person is entitled to do what they feel is in their best interest. Don't get me wrong, ensuring that your family taken care of is something everyone should strive for.  But on a NBA player's salary, how many millions of dollars is necessary to achieve that? Is a second house in the Bahamas worth more than being able to state that you were a key contributor to a team that hoisted a NBA Championship banner to the rafters?  Every person makes the decision that is in their own best interest, but as someone once told me, it is the choices people make of their own free will are the ones that reveal what they value the most.
Original Story:
http://www.projectspurs.com/2012-arti...
THE BACKYARD
BEST OF MAXIM
RELATED ARTICLES
Following their New Year's 2012 engagement LeBron James and his baby momma Savannah Brinson have taken the next step. Sending out the save-the-date wedding for September 13-15 in San Diego, [...]
Is there another dynamic duo that is playing as lights out as LeBron James and Dwayne Wade right now? Maybe Kevin Durant and Russell Westbrook? Kobe Bryant and >insert name No. The two stars from the Miami Heat are playing some incredible basketball this season. As evidence I offer this clip from the end of the first half of Sunday's game with the Indiana Pacers: ...
All season long the MVP has appeared to be LeBron James's to lose with Kevin Durant destined to come in second yet again. However, if the Los Angeles Lakers make the post season the award needs to go to Kobe Bryant. But FatMan, the MVP is a team award so why should the Lakers playoff future matter? Have you watched these guys play lately? If they make the post season it...
Sports-Kings Pass the Pill managing editor Andy Flint joins Phil to discuss the allegations surrounding LeBron James and steroid use (PEDS), recent injuries and how they effect Fantasy Basketball rosters and the NBA's Western Conference playoff picture plus much much more on Wednesdays Phil Naessens Show. Head on over to Itunes and subscribe to the Phil Naessens show! To listen...
MIAMI LeBron James doesn't win Eastern Conference Player of the Week every time. Honest. The Miami Heat star might already have won five during his epic season. But on Monday teammate Dwyane Wade picked up one. Wade got the nod in the East for averaging 25.3 points, 5.0 assists, 4.3 rebounds and 3.5 steals while shooting 60.6 percent during a 4-0 week. Wade had 23 points and...
LeBron James once carried a team to 66 wins. Ray Allen played for a club that won 19 consecutive games. Dwyane Wade led a team that finished with the Eastern Conference's best record. For each, it's a footnote in a season where no championship was won. There's no arguing that the Miami Heat are playing better than any other team in the NBA right now. They've won...
With yet another win in the books, the Miami Heat turned their attention to the streak. And, no, not that 17-game winning one. LeBron James scored 25 points and grabbed 10 rebounds, Dwyane Wade added 22 points and the Heat pulled away late to beat Philadelphia 102-93 on Friday night - their 12th straight regular-season win over Philadelphia, their 13th in a row at home and most...
MIAMI (AP) — LeBron James once carried a team to 66 wins. Ray Allen played for a club that won 19 consecutive games. Dwyane Wade led a team that finished with the Eastern Conference's best record., http://juicedsportsblog.com/sports-news/news/winners-of-18-straight-heat-try-to-stay-focused-yahoo-sports
Some Knicks fans may be a little frustrated with Amar'e Stoudemire's injury issues, and New York Daily News Knicks' beat writer Frank Isola sprayed a little fuel on their fire with this tweet during Golden State's 92-63 blowout win over New York last night (via RealGM.com): For what it's worth, Mike D'Antoni wanted Knicks to re-sign David Lee & not pursue Amar'e...
Outside of Miami's LeBron James, Oklahoma City Thunder star Kevin Durant might be the best player in all of the NBA. During Sunday's game against the Boston Celtics, KD soared to the rack in the third quarter of play and  got an and-one opportunity for his flight:
DeAndre Jordan's unbelievable monster slam over Brandon Knight was his entry as the NBA's dunk of the year but — when it gets a nod from LeBron James — you know it is the the front runner. King James made his nomination of the Los Angeles Clippers center's flooring of the Detroit Pistons defender public on his Twitter account and said, "DeAndre Jordan!!!!...
LeBron James has called DeAndre Jordan's amazing monster jam over Brandon Knight the "Dunk of the year" and the game-stopping moment has taken on a life of its own.  The Staples Center slam, after an alley-oop pass from Clippers teammate Chris Paul, has been debated and shown ad nauseam on ESPN and already immortalized in The New Yorker. Now you too can get posterized...
NBA News

Delivered to your inbox

You'll also receive Yardbarker's daily Top 10, featuring the best sports stories from around the web. Customize your newsletter to get articles on your favorite sports and teams. And the best part? It's free!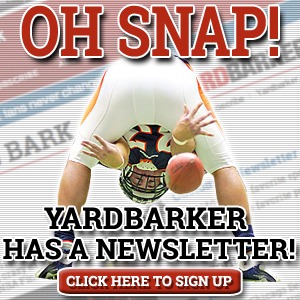 Latest Rumors
Best of Yardbarker

Today's Best Stuff

For Bloggers

Join the Yardbarker Network for more promotion, traffic, and money.

Company Info

Help

What is Yardbarker?

Yardbarker is the largest network of sports blogs and pro athlete blogs on the web. This site is the hub of the Yardbarker Network, where our editors and algorithms curate the best sports content from our network and beyond.