Found June 08, 2012 on Project Spurs:
The San Antonio Spurs' season wasn't even finished for 24 hours and already there are rumors left and right about what could be a busy offseason.  First came reports that the Spurs have taken interest in former Syracuse guard Antonio "Scoop" Jardine (great name).  Now comes something juicier.  According to a tweet from Yahoo!'s Marc Spears, the Spurs are taking a look at former UConn Center Andre Drummond. "When asked what teams off the Top 5 radar want to meet with him, former UConn center Andre Drummond said the Celtics and Spurs." This isn't the first time the Spurs have done something like this.  Two years ago, they interviewed Derrick Favors.  Ultimately nothing materialized.  Teams talk with all sorts of different players all the time.  It's part of the process.  In case you're unfamiliar with Drummond, he's a 6'11" physical freak who was briefly in the discussion for the first pick in the draft this season, but an underwhelming Freshman year ended that talk pretty quickly.  Having said that, he could still be the second pick in the draft and most likely won't drop past the sixth pick in the draft.  Drummond has every physical tool you look for in a franchise big man.  He's incredibly fast and agile, a great leaper, already a very good defender, especially in the pick and roll.  But make no mistake about it, Drummond is a project even more than Derrick Favors was when the Spurs interviewed him.  So you might be asking yourself why would the Spurs be interested in a guy like that?  Despite all his warts, the offensive rawness, the lack of aggression on offense, this guy has the potential to be Dwight Howard 2.0 (or the rawest version of David Robinson).  That's his 10 foot high ceiling.  Draft Express list his best case comparison as Serge Ibaka and his worst as DeAndre Jordan.  That's not bad. Still we're talking about a guy who is likely a top five pick, which means if the Spurs want to get a hold of him they're probably trading Tony Parker, Manu Ginobili or Kawhi Leonard and those are three guys most Spurs fans (and I'd assume the front office) deem as untouchable guys unless they're trading for the number one pick in the draft.  It also seem counter-intuitive that the Spurs would take on such a raw project when they were close to the Finals.  Trading up to draft polished guys like Thomas Robinson or Jared Sullinger would be one thing, but a guy like Drummond is probably two to three years away from starting to reach his potential.
Original Story:
http://www.projectspurs.com/2012-arti...
THE BACKYARD
BEST OF MAXIM
RELATED ARTICLES
The 2012 Olympic games are fast approaching and for San Antonio Spurs fans, it will give them a chance to see some of their favorite Spurs players (and possible future players) in action before the new season kicks off. One possible player is Ryan Richards, who was drafted by the Spurs in 2010, who was set to play for the host country Great Britain, but has shocked the British national...
Crime doesn't pay whatsoever and for the owner of a San Antonio Spurs inspired motorcycle, it cost him one pricey, yet extremely cool, chopper. A San Antonio man was arrested for charges of intent to deliver drugs and the price was one very detailed motorcycle, a 2009 Suzuki Hayabusa, depicting Spurs' Tony Parker and Manu Ginobili. How detailed are we talking about? Check...
And so another round of questions will begin in San Antonio. Are the Spurs too old? Has the Tim Duncan, Manu Ginobili and Tony Parker trio run its course? Is it time to rebuild? Hard to believe a franchise that has fashioned the best record in the Western Conference the last two years needs to broken up, but consecutive playoff disappointments leave many people asking tough questions...
It seemed for awhile that the San Antonio Spurs were going to force a game 7 last night, but a huge second half by the Oklahoma City Thunder eliminated all hope, and Tim Duncan thinks the opposing team got more than a little help from the officials in their 107-99 over the Spurs . "Down [...]
The Spurs/Thunder series concluded on an impressive note Wednesday night. Game 6 of the Spurs/Thunder NBA Western Conference Finals drew a 7.1 overnight rating on TNT Wednesday night, up 22% from Lakers/Suns Game 6 in 2010 (5.8). There was no comparable game last year. The 7.1 overnight is the third-highest of the Conference Finals, trailing only Games 4 and 5 of Celtics/Heat on...
That. Is. Awesome. Well played, Tri-City Herald of Kennewick, Wash. Nothing much more to add here. Except to say, sorry, Sonics fans. You guys got totally jacked. 2008 may seem like a long time ago to most of us, but to those folks up in Washington who lived and breathed and supported the Seattle SuperSonics [...]
OKLAHOMA CITY (AP) - For the San Antonio Spurs, a season spent building greatness unraveled almost in an instant. From 20 straight wins to four consecutive losses, from 18 points up to behind when it counted, the Spurs saw it all wash away too fast. Kevin Durant had 34 points and 14 rebounds while playing all of regulation for the first time all season, and the Oklahoma City Thunder...
Following a devastating loss in the Western Conference Finals after leading the series 2-0, San Antonio Spurs head coach Gregg Popovich addressed the media in an attempt to define what went wrong: ''We faced a team that beat us fair and square. We reached our limit,'' Popovich said. Pop, famous for his...shall we say, brevity...has dropped another gem on us.  With...
Following the Spurs' regrettable season-ending loss to the Thunder in Game 6 of the Western Conference Finals on Wednesday, Tim Duncan suggested the Thunder benefited from plenty of whistles going their way. "I thought our effort was there, our execution was there, they just made shots for a stretch there and really got back into it," Duncan told reporters after the game. "Down...
If there's anything sports fans love it's a narrative. Remember: Kevin Durant is humble. Gregg Popovich is cool. Phil Jackson is zen. The San Antonio Spurs are boring. Russell Westbrook is selfish. Lebron isn't clutch. A real sports fan would never let the truth get in the way of what they already think. Though I must admit that last night Lebron did an awful lot (for the 100th...
One of the most overstated messages about the game of basketball is that you have to play for a full 48-minutes. It's not one good quarter, one great half, but a complete 48-minute ball game. The San Antonio Spurs' season came to an end on Wednesday night as the Spurs were eliminated from the Western Conference Finals by the Oklahoma City Thunder 107-99 in six games, due to...
A 15-point halftime deficit couldn't stop Kevin Durant and the rest of the Oklahoma City Thunder of their championship dreams. And after a 107-99 victory over the San Antonio Spurs on Wednesday night, the Thunder are now Western Conference Champions and will await the winner between Miami and Boston to battle in The Finals.  The Spurs, who were facing elimination, got off to...
NBA News

Delivered to your inbox

You'll also receive Yardbarker's daily Top 10, featuring the best sports stories from around the web. Customize your newsletter to get articles on your favorite sports and teams. And the best part? It's free!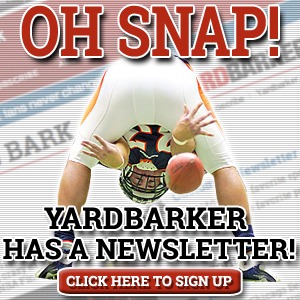 Latest Rumors
Best of Yardbarker

Today's Best Stuff

For Bloggers

Join the Yardbarker Network for more promotion, traffic, and money.

Company Info

Help

What is Yardbarker?

Yardbarker is the largest network of sports blogs and pro athlete blogs on the web. This site is the hub of the Yardbarker Network, where our editors and algorithms curate the best sports content from our network and beyond.