Found March 14, 2012 on NBA 24/7 365:
Corey Brewer has been an unsung hero in Denver all season long.  It's kind of funny that you never hear a word about him, because, statistically speaking, he's actually having his second-best NBA campaign to date.  However, his contributions (which include 10 points and a steal in just 22 minutes) tend to get lost in the shuffle.  Denver has depth like few other teams, and guys like Danilo Gallinari, Nene, Ty Lawson, Al Harrington, and Arron Afflalo get all the press for making the majority of the stand-out plays.
Last night it was Gallinari who played hero.  With the final seconds of regulation ticking off the clock, the young star nailed a tough three-point shot that ended up sending the game to overtime.  The opportunity wouldn't have been there, though, had Corey Brewer not made what may be the biggest play he's made all year.  Fittingly, you won't find any sign of it in the box score.
With 10 seconds left in a two-point game, Atlanta had the ball and the lead.  Ty Lawson had just missed a layup that would've tied the score.  It was the kind of blown opportunity that will take the wind out of a team's sails.  Corey Brewer's sails always seem to have wind behind them, though.
Atlanta proceeded to inbound the ball to Jannero Pargo, an 86% career shooter from the stripe.  Pargo caught the ball just a foot or two from the sideline, and Corey Brewer pursued him, presumably to commit a foul.  There was no foul, though.  Brewer elected to swipe at the ball before he resorted to blatantly hacking (why more players don't do this I have no effing clue).  He ended up jarring it loose, and it rolled out of bounds.  The officials initially gave the Hawks possession, but a video review revealed a deflection directly off the knee of Pargo.  The call was overturned and the table was set for Gallinari.
Corey Brewer wasn't perfect last night.  You may have noticed that Gallo's three gave the Nuggets a one point lead, yet the game ended up in OT.  Yeah, well, it was Brewer who committed the foul that sent Kirk Hinrich to the line for the game-tying freethrow.  He made the mistake of defending with his hands at a crucial juncture, and the officials blew the whistle.  He and the Nuggets caught a break when Hinrich missed the second of two.
Despite the foul, Brewer's deflection is as big a reason as any that the Nuggets remain in 6th place this morning.  He made the big play that no one saw coming, and restored the hope that had been lost when Ty Lawson missed from point-blank range.  It was kind of a microcosm of his season, really.  Everyone but Masai Ujiri viewed him as a mere throw-in in the Rudy Fernandez trade.  While Rudy has been one of the many Nuggets to fall victim or injury, Brewer has stepped up in his place, helping to keep that hopeful flame burning when it looked like it might be going out.
In less cheesy terms, he's run the floor like a madman and hustled his ass off, yet I feel like his efforts have been underappreciated.  It's wrong to discuss Denver's bench without mentioning Corey Brewer.  Just keep that in mind.
Original Story:
http://nba247365.com/?p=5441
THE BACKYARD
BEST OF MAXIM
RELATED ARTICLES
Yes, the stories keep on coming in!! This time, there are many reports that the Denver Nuggets and Wilson Chandler are "very close" to agreeing to a long-term deal. The Denver Nuggets are closing in on a long-term deal with restricted free agent Wilson Chandler, according to sources with knowledge of the talks. Sources said [...]
By now, if you are a Denver Nuggets fan, you are aware that JaVale "I want 14 milly a year" McGee is a Denver Nugget. JaVale was part of a three-team trade that sent Nene to Washington and JaVale to Denver, among other players. While, JaVale is FAR from having a high basketball IQ, he isn't what the media portrays him to [...]
The Nuggets and Wilson Chandler are close to an agreement on a contract worth more than $30 million over five seasons.
Nene scored 22 points, Ty Lawson had 21 points and seven assists and the Denver Nuggets rallied to beat the Atlanta Hawks 118-117 in overtime on Tuesday night. Joe Johnson scored 34 points and Josh Smith had a season-high 33 points and 13 rebounds for the Hawks, who had a chance to win it at the buzzer. Trailing by one with 3.5 seconds left, Atlanta got the ball to Zaza Pachulia...
A person with knowledge of the trade says the Nuggets are sending Nene to the Wizards in a three-team deal, with Washington sending JaVale McGee and Ronny Turiaf to Denver and Nick Young to the Los Angeles Clippers. The person told The Associated Press on Thursday that Washington also picked up forward Brian Cook. The person spoke on the condition of anonymity because no formal...
Every morning, we'll give you five things from the night before in the NBA to start your day. 1:  It was free basketbal night in The Association Lots of free basketball played last night in the NBA, as four overtimes were played in three games.  The Lakers needed two of them to top the Grizzlies (more on that later).  While Atlanta/Denver and Miami/Orlando both went an...
Last season, the Denver Nuggets defeated the Atlanta Hawks twice as part of their surge to earn a playoff spot after dealing away Carmelo Anthony. This year, it's Atlanta coping with a disgruntled star as the visiting Hawks take on the Nuggets in the teams' lone 2011-12 meeting Tuesday night. Denver (23-19) went 18-7 after sending Anthony to New York to gain an eighth straight...
NBA News

Delivered to your inbox

You'll also receive Yardbarker's daily Top 10, featuring the best sports stories from around the web. Customize your newsletter to get articles on your favorite sports and teams. And the best part? It's free!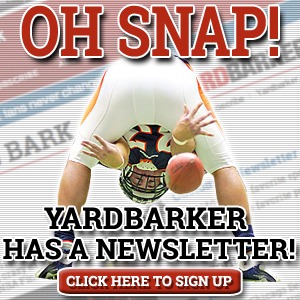 Latest Rumors
The Backyard

Today's Best Stuff

For Bloggers

Join the Yardbarker Network for more promotion, traffic, and money.

Company Info

Help

What is Yardbarker?

Yardbarker is the largest network of sports blogs and pro athlete blogs on the web. This site is the hub of the Yardbarker Network, where our editors and algorithms curate the best sports content from our network and beyond.