Found June 13, 2012 on Cleveland Sports Torture:
Well, game one of the 2012 NBA Finals is in the book and the story brings back lots of memories. Unstoppable tonight. Look familiar? (Reuters) Of playoffs past. Of LeBron James. But I'm not talking about the false narrative (that I've never floated here) that he chokes in crunch time or can't ever win a championship. (Although I'll most likely go to my grave rooting against him ever getting one one.) What I mean is that feeling. That feeling that every single person on the floor, every single person in the stands, and every single person watching on TV knows--who's getting the ball, and that there's nothing in the world that will keep that man from scoring. Tonight it wasn't LeBron's turn. It wasn't 2007. It was 2012, and it was Kevin Durant. Making the opposing team look slow. And old. And utterly unable to stop him late. TGiM did not have a bad game. Forget comparing the fourth quarter stats of Durant and James. Irrelevant. NBA's studio...
Original Story:
http://feedproxy.google.com/~r/clevel...
THE BACKYARD
BEST OF MAXIM
RELATED ARTICLES
Kevin Durant and his mother, Wanda Pratt, are very close. If you weren't already aware of that, you know it now after seeing the two of them embrace after the Thunder beat the Spurs in the Western Conference Finals. According to Sports Illustrated, Pratt even lived with Durant during his rookie season and K.D. was perfectly fine with it, saying his mother makes him a better person...
Why aren't you rooting for LeBron James? Unless you're an Oklahoma City Thunder, Boston Celtic (Classy) or Indiana Pacer fan, it has no intellect at all. Aren't you tired of giving all your effort to hating LeBron? Or have you not reached your peak and plan on taking your disgust Facebook statuses to the next level? We get it, LeBron left you clinching your...
There is no question that Miami Heat star LeBron James is the best player in the NBA but last year in the NBA finals against the Dallas Mavericks he choked. James was horrible when the games where on the line in the 4th quarter. Below are some of what I wrote during last year's NBA finals. Game 2 LeBron James was awful during the 4th quarter; he was 0 for 4 from the...
The Oklahoma City Thunder finally faced a deficit even Kevin Durant couldn't rescue them from. Another slow start put Oklahoma City down 16 almost from the start, and even Durant's 16-point fourth quarter wasn't enough to rally the Thunder back in a 100-96 loss to the Miami Heat in Game 2 of the NBA Finals on Thursday night. In a postseason filled with thrilling comebacks...
Game 1 off the NBA finals went to the Thunder. But what about the OTHER battle, the fashion one? Russell Westbrook wore a shirt from the 2012 Prada spring collection and of course, personality frames. KD opted for a slim cut suit in black. King James opted for a color mash featuring a berry shirt, [...]
The tipoff of Game 1 between the Heat and Thunder for the NBA championship can't come soon enough, as reporters have officially run out of questions to ask the players and coaches. In fact, some of them ran out of things to discuss a couple of days ago. On Sunday, Thunder coach Scott Brooks was asked about the ridiculous fashion statement Russell Westbrook has been making throughout...
With the NBA Finals tipping off this very evening, LeBron James will once again try to win the highly-coveted prize which has found a way to escape his annual grasp. This past Sunday, author Tony Meale released his chronicles of the 2002 basketball team from Cincinnati's Roger Bacon, the state championship team which topped Akron's St. Vincent-St. Mary — led by one LeBron James...
Who knew that boxer Mike Tyson was also one of the greatest singer-songwriter-entertainers of our generation? No one. They still don't. (I hear he can chew your ear with a good story though). But they do know what he thinks of LeBron James, after this piece of brilliance which he sung on the Jimmy Kimmel show:  
Mike Tyson, who hasn't boxed since losing to Kevin McBride in 2005, is still relevant and still hilarious. Tyson showed off his singing skills on "Jimmy Kimmel Live" last night by performing his song power ballad about LeBron James. All bets are that Tyson wrote the piece himself and if he didn't, Jimmy Kimmel and his writers are pure geniuses to dish off the line "LeBron...
It was a tough night for the Heat. Shawn Battier was on fire early and the Heat had a big lead, but they were only up by 7 at the half, and as the game went on it was just a matter of time. Oklahoma City was too fast and too talented, and the Heat players were too tired in the fourth quarter. Kevin Durant is an assassin. He's fearless and he has the best shooting stroke since...
Prior to getting traded to the Rockets during the 1994 season Clyde Drexler had been a seven-time All-Star, he was the most important player on two Portland teams which had reached the NBA Finals yet lost and he finished second in MVP voting after the 1991-92 season. Drexler was an accomplished star and perhaps, for a short period, he was the second best player in the NBA behind...
Man, this series is off to a great start. Even when the Heat went up 16-2, you knew at some point, the Thunder would make it into a game. Oklahoma City waited almost the whole game, but they didn't disappoint. The biggest difference I saw in last night's game compared to Game 1 was the help LeBron James got from his All-Star teammates. James has done what should be expected of...
NBA News

Delivered to your inbox

You'll also receive Yardbarker's daily Top 10, featuring the best sports stories from around the web. Customize your newsletter to get articles on your favorite sports and teams. And the best part? It's free!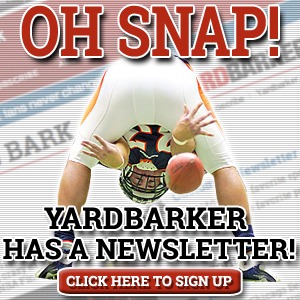 Latest Rumors
Best of Yardbarker

Today's Best Stuff

For Bloggers

Join the Yardbarker Network for more promotion, traffic, and money.

Company Info

Help

What is Yardbarker?

Yardbarker is the largest network of sports blogs and pro athlete blogs on the web. This site is the hub of the Yardbarker Network, where our editors and algorithms curate the best sports content from our network and beyond.