Found May 14, 2012 on Celtics Life:
Ray Allen, Paul Pierce, and Kevin Garnett interviews after the jump.
Original Story:
http://www.celticslife.com/2012/05/ga...
THE BACKYARD
BEST OF MAXIM
RELATED ARTICLES
Listen to the interview at WEEIKevin Garnett's comments from the interview above, presented with no commentary:"Man, I would die out here if I had to, real talk. I've been doing this for a long time. … When I train in the summer, I train for lack of rest. My intervals are back in 30 seconds, I program my body to recover as quickly as it can. Sometimes it works, sometimes...
Following Monday night's loss at home, the Celtics find their series with the Philadelphia 76ers tied at one game apiece. Boston now travels to Philadelphia for Game 3 on Wednesday and Game 4 on Friday. Game 2 gave Celtics fans plenty to talk about, including a controversial foul call made against Kevin Garnett in the final seconds of the game. NESN.com's Celtics beat writer...
Paul Pierce is playing despite a sprained medial collateral ligament in his left knee.
Our friends at Project Spurs were kind enough to alert us to a new Tim Duncan interview with Sports Illustrated's Chris Ballard. Ballard's reliable sources claim Duncan hates Garnett: In fact, Duncan hates Kevin Garnett. Hates him the way liberals hate Sean Hannity. This information comes from very reliable sources, who talk about how KG has made a career of trying to...
LL Cool J once said, "Don't call it a come-back. I been here for years, rocking my peers and putting suckas in fear." The same could be said for Kevin Garnett who has had a resurgence in this year's playoffs. It's time for the certifiably insane, chest-pounding, lockdown-defending, 6'11" big man to get the love he deserves; this time, as the best center in the NBA.
The Boston Celtics got off to their regular, slow start, in game 1. The Philadelphia 76ers came to TD Garden ready for their first semi-finals match since 2003. The Garden was rocking for opening tip, no less than any of the great Sixers/Celtics matchups, since the rivalry began in the 1960s. Unfortunately, the Celtics did [...]
BOSTON -- There is tough, hounding defense, and then there is whatever the Celtics played in the fourth quarter on Saturday. If the Philadelphia 76ers were prepared for it, they did not look like it. Almost always a sound defensive squad, the Celtics took their defensive energy to another level down the stretch of Game 1 against the Sixers. Kevin Garnett and Avery Bradley delivered...
The Boston Celtics head into game 3 with the Philadelphia 76ers tonight tied at one game apiece in their 7-game series. They have only themselves to blame after scoring just 11 points in the 3rd quarter of Game 2, but they have to be a little bitter about not getting one last chance to finish off a crazy comeback. Down three with 10 seconds to go, Kevin Garnett was whistled for...
<a href="http://www.mogreet.com/moshare/it/" class="moshare-button-hor" data-channel="wordpress-1.2.8" data-message="Atlanta Hawks owner Michael Gearon was fined $35,000 by the NBA for publicly criticizing NBA officiating and calling Kevin Garnett the "dirtiest player" in the league. Indiana Pacers coach Frank Vogel was fined $15,000...
BOSTON -- The Celtics actually committed two key fouls at the end of Game 2. Kevin Garnett's controversial illegal screen drew most of the attention, but a decision by the Celtics a few seconds earlier may have had just as big an impact on the outcome of Boston's 82-81 loss to the Philadelphia 76ers. In a game in which almost nothing seemed to go according to plan, the Sixers...
When Lavoy Allen's prayer with 0.9 seconds on the shot clock improbably banked through the rim and the refs shortly thereafter declined to call a travel after Evan Turner took approximately 19 steps, I figured this might be Philadelphia's night.Yes, the Celtics responded with a couple threes and made a number of other important plays down the stretch, including Rajon Rondo's...
The Sixers want this series. After the disappointment that was game one, where the Sixers outperformed the much more experienced Celtic squad for the bulk of the game in Boston but ultimately still came up short, many expected the young team to come out shattered and shaken in game two, and all but give the series to the guys in green. Instead they did the exact opposite and battled...
Celtics News

Delivered to your inbox

You'll also receive Yardbarker's daily Top 10, featuring the best sports stories from around the web. Customize your newsletter to get articles on your favorite sports and teams. And the best part? It's free!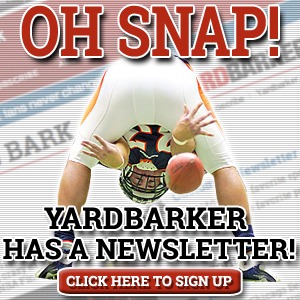 Latest Rumors
Best of Yardbarker

Today's Best Stuff

For Bloggers

Join the Yardbarker Network for more promotion, traffic, and money.

Company Info

Help

What is Yardbarker?

Yardbarker is the largest network of sports blogs and pro athlete blogs on the web. This site is the hub of the Yardbarker Network, where our editors and algorithms curate the best sports content from our network and beyond.