Found November 28, 2012 on Beyond The Buzzer:
While Time Magazine will count down their picks for the most influential people of the year sometime in the near future, GQ Magazine has something far more interesting in the meantime: "The Least Influential People of 2012″.  Topping the parody list is this year's biggest loser, Mitt Romney, followed by celebrity trainwreck of the year, Amanda Bynes, Madonna with a failed attempt at a comeback, and rounding out the top 4 is Dwight Howard and his circus show in Orlando. According to GQ: Congratulations, Dwight! You're a Laker now. And all you had to do to become one was spend months making vague demands of the Orlando Magic and then backtracking on those demands like a spineless p**** until every American hated your guts and wanted to see you fail. "I'll stay in Orlando if you fire my coach! Or maybe I won't. Or maybe you could fire the coach and then build a statue of me made out of frozen butter. NO WAIT TRADE ME TO BROOKLYN NO WAIT DON'T TRADE ME THERE BECAUSE I THOUGHT BROOKLYN W...
Original Story:
http://feedproxy.google.com/~r/Beyond...
THE BACKYARD
BEST OF MAXIM
RELATED ARTICLES
Dwight Howard was at Serra High School on Wednesday to film a series of commercials for Mission Athletecare and their various on court products, such as Court Grip, which reduces on court slippage.  Howard joins Dwyane Wade, Brandon Jennings and Carmelo Anthony as other partners with the company.
Lakers center Dwight Howard will make nearly $20 million playing basketball this season.  The man inside the Los Angeles Kings mascot suit will probably make zero dollars dancing around at Kings games this year. So when the two got together for a little contest during the Lakers' Wednesday morning shoot-around, you would think that Howard should dominate.  Right?  Even if the...
GQ recently released a list titled "The Least Influential People of 2012″.  One particular NBA player made that list.  That player, you may ask?  Dwight Howard of the Los Angeles Lakers.  GQ did include an important note that states, Please note that these folks are ranked in no particular order, because all zeros are created equal. With that said, Dwight Howard is listed...
The continuing chronicle of Dwight Howard versus The Free Throw Line hit a new rut for the Los Angeles Lakers center on Tuesday when Howard, at the end of the team's morning shootaround, was defeated by Bailey, the Los Angeles Kings lion mascot, in a shooting contest Repeatedly. Upon Baileys invitation, according to Dave McMenamin of Sulia.com, Howard was challenged to a free...
During the fourth quarter of last night's Indiana Pacers/Los Angeles Lakers game, Indiana forward Gerald Green was attempting to throw down a baseline slam dunk.Sadly for Gerald, he ended up missing the dunk attempt and to add insult to injury, his second shot attempt was swatted by Lakers center Dwight Howard:
A year of waffling, saying one thing and meaning another and changing your mind while fans wait on your every word has the tendency to make you not trust a man. It also has the tendency to make you want to burn everything with his name on it in effigy, but Orlando fans largely held back on that front. Yes, Dwight Howard is not exactly the guy you want to hold up as a bastion of...
Los Angeles Lakers center was challenged by Los Angeles Kings mascot "Bailey" to a free throw and three-point shooting contest. Bailey won both challenges. "Sometimes you have to lose to win," joked Howard afterwards. Howard's free throw average this season is 47.8 percent while his three-point average is 0.00 percent as it should be.  
Tonight, the Magic take on the Spurs who are very much the forerunners and the model of what the Magic are trying to do in the post-Dwight Howard reality. These two teams right now are on opposite ends of the spectrum as far as championship expectations. The Magic though showed Sunday that you have to play the games and anything can happen. Orlando will certainly feel like it can...
I know box scores don't tell the whole story of a game but it can sure tell a lot. And there have been a couple crazy games already this week in the NBA. On Monday night, the Oklahoma City Thunder defeated the Charlotte Bobcats 114-69. In the middle of the 3rd quarter the score was 79-25. And then the Thunder coach pulled the starters. If this was last year when they were the worst...
The San Antonio Spurs (12-3) are traveling to the Amway Center to go head-to-head with the Orlando Magic tonight (5-8). The Spurs are on a four game winning streak and coming off tough back to back wins against Toronto in a double overtime thriller and a dominating performance against the winless Washington Wizards. I had the opportunity to talk to Orlando Magic Daily's Philip...
NBA News

Delivered to your inbox

You'll also receive Yardbarker's daily Top 10, featuring the best sports stories from around the web. Customize your newsletter to get articles on your favorite sports and teams. And the best part? It's free!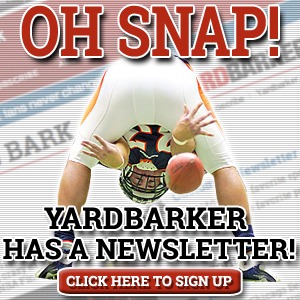 Latest Rumors
Best of Yardbarker

Today's Best Stuff

For Bloggers

Join the Yardbarker Network for more promotion, traffic, and money.

Company Info

Help

What is Yardbarker?

Yardbarker is the largest network of sports blogs and pro athlete blogs on the web. This site is the hub of the Yardbarker Network, where our editors and algorithms curate the best sports content from our network and beyond.