Found July 16, 2013 on NorthWest Sports Beat:
PLAYERS:
Damian Lillard
,
Meyers Leonard
,
Blake Griffin
,
Ralph Sampson
,
Will Barton
,
Nicolas Batum
,
C.J. McCollum
,
Allen Crabbe
,
Thomas Robinson
,
Dorell Wright
,
Earl Watson
,
Robin Lopez
,
Terrel Harris
TEAMS:
Portland Trail Blazers
,
Los Angeles Clippers
PDX Mad Man Neil Olshey came to the Portland Trail Blazers after quite some time with the Los Angeles Clippers, watching that team go from the lowest of lows to the highest of highs. Similar to his tenure with the Clippers, Olshey was greeted in Portland by a complete mess. The Blazers had been inefficient in recent years, fans were beginning to mock the team, and they weren't being respected by their NBA counterparts. Olshey seemingly changed all of that in just over a year. Now there aren't many GM's in the league who could have completely revamped an organization in just one year, but Portland seems to have gotten lucky with Olshey. Coming to the Blazers right before the 2012 NBA Draft, he executed an amazing draft strategy that saw Portland snag Damian Lillard and Meyers Leonard. While Leonard still has to develop into a more intimidating big man, all Lillard did this year was be unanimously named the Rookie of the Year. He joined Blake Griffin, David Robinson, and Ralph Sampson to unanimously win the award. Olshey has been outstanding in year one. (AP Photo/Don Ryan) Aside from the two high draft picks, Olshey also got great talent in the second round, selecting Will Barton, a player with a lot of potential who didn't see that many minutes in 2012-2013. Earning high accolades for his first draft, Olshey then went into free agency with a fire in his eyes. Though he missed on Roy Hibbert, he managed to help secure JJ Hickson, retained Nicolas Batum, and secured several veterans and rights to players who could have been extremely valuable to the future of Portland. While some of these assets have left/been traded away, Olshey appears to have the knowledge and poise to build a successful basketball organization that will see itself be perennial contenders. That may have even occurred this year, too, had Olshey been willing to trade some valuable future assets to other teams that were more than interested. He did not do so, however, as he valued the future potential of his team more than a short term, one-and-done season. I definitely like the way this guy thinks. Though they did miss out on the playoffs, the Blazers' organization has been putting together quite the offseason already, especially with the combination of the 2013 NBA Draft and free agency. Like they did in the 2012 draft, Portland and Olshey selected a player from a lesser known school with a high pick. C.J. McCollum, who figures to be the third guard for the Blazers, was drafted with the 10th overall pick and could be an impact man in the future. Also securing Allen Crabbe in the draft, Portland then made waves in free agency. Trading two future second-round picks to Houston and the rights to two Greek players, Olshey brought in Thomas Robinson, the fifth overall pick in the 2012 NBA Draft. He'll need to find his form again, but this player still has all the potential to dominate the NBA. Olshey didn't stop at Robinson either, as he and Portland managed to sign Dorell Wright and Earl Watson while taking part in a three-team trade that saw them acquire Robin Lopez and Terrel Harris. The Blazers' bench that everybody was mocking last year appears, at least now, to be one of the deepest in the league. Olshey has been a savior for an organization that was previously in a mess. He's reinvigorated the fan base, brought top talent to Portland, and created an atmosphere around the team that will make big name players come to the Rose City. There aren't many bad things to say about his tenure, and I fully expect him to continue leading the Blazers down the road to success. Great job Olshey, keep it up. Grade: A CLICK HERE TO CHECK OUT THE BLAZERS BLOG IN OUR CLUBHOUSE TODAY AT NWSB!
Original Story:
http://www.nwsportsbeat.com/trailblaz...
THE BACKYARD
BEST OF MAXIM
RELATED ARTICLES
COMEBACK TRAIL
Oft-injured big man Greg Oden reportedly is scheduled to meet face-to-face with officials from three NBA teams in Las Vegas on Monday.
Clearing out the depth chart As we traverse through the summer we get closer to the 2013/14 NBA opening night. The closer things get, the more Portland's roster begins to take shape. The Trail Blazers have picked up a lot of players this offseason, and they might not be done. There's a lot of depth here, and unfortunately that means some guys won't make it through the summer...
The Portland Trail Blazers had their opportunities.  J.J. Hickson was allowed to leave, eventually signing with Denver.  Gorgui Dieng was still available at number ten in the 2013 NBA Draft.  The Blazers passed on him and instead selected Jeff Withey, the center out of Kansas in the second round.  But Neil Olshey turned Withey, regarded by many scouts as the best interior defender...
In the 2007 NBA Draft, little did the Portland Trail Blazers know that they would make one of the biggest mistakes in NBA Draft history.  They chose Greg Oden, the muscular, seven-foot center over the three-time NBA scoring champion, Kevin Durant.  Durant has already made his mark as one of the best players of this generation.  On the other hand, Oden has played a total of 82...
Free Agent center Greg Oden is still only 25-years-old, as he attempts to jump-start his NBA career again this summer. However, the number one pick of the 2007 NBA Draft, has faced enough adversity for a man three times his age, trying to play the game he loves with a body that has been unable to withstand the stress. Since entering the Association he has been plagued by injuries...
Remember Greg Oden? He was the first overall pick in the 2007 NBA draft out of Ohio State University for the Portland Trailblazers. He was selected before Kevin Durant.  It's no secret that the Wizards have struggled to find a long term option at center for what seems like more than 30 years.  The team has found talent, but they've either traded that talent away, had that talent...
The Portland Trail Blazers defeated the Atlanta Hawks by a final score of 70-69 in Summer League play on Wednesday. Thomas Robinson had 13 points, 17 rebounds and two blocks. C.J. McCollum scored 19 points on 5-for-14 shooting. Mike Scott had 19 points and nine rebounds for the Hawks.
We Almost Left… The date was April 23, 2011. This was Game 4 of the 2011 NBA Playoffs. The Portland Trail Blazers were getting their asses handed to them by the Dallas Mavericks. My friend and I seriously contemplated leaving early. With less than a minute left in the third, the Blazers found themselves down as many as 23 points. Both my friend and I lost our ID's the week before...
Chris Haynes of Comcast Sportsnet Northwest in Portland, Ore., reports the Magic have agreed to terms with point guard Ronnie Price. Josh Robbins of the Orlando Sentinel and Max Luckan of Crossover Chronicles confirmed this report. Price played in 39 games last year with the Trail Blazers before he was waived to make room for Eric Maynor in a mid-season trade. He averaged 2.7...
The Los Angeles Lakers defeated the Portland Trail Blazers by a final score of 81-63 in Summer League play on Sunday. Lester Hudson led the Lakers with 15 points on 5-for-8 shooting and five rebounds. Robert Sacre had eight points and eight rebounds. Will Barton had eight points, seven rebounds and three assists to lead the Blazers. Thomas Robinson had seven points on just 3-for...
Breaking down Rip City's backcourt The Portland Trail Blazers have had a successful offseason, and with training camp right around the corner, it's clear that the team has added talent across the board. At this juncture, fans in Portland have a good idea of what their opening night roster will look like. There are a few players who could really go either way, but the rotation...
Bright Future The Portland Trail Blazers added much needed depth this offseason. They were last in bench points per game last season scoring just 18.5 per game. The added depth should help to increase their productivity off the bench. Not only did Portland add depth, but they did so without having to give up much. They will have two new guys coming in off the bench at the forward...
NBA News

Delivered to your inbox

You'll also receive Yardbarker's daily Top 10, featuring the best sports stories from around the web. Customize your newsletter to get articles on your favorite sports and teams. And the best part? It's free!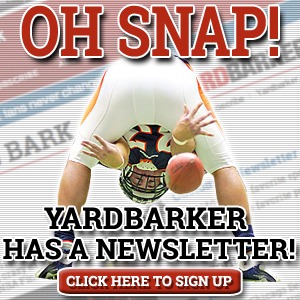 Latest Rumors
Best of Yardbarker

Today's Best Stuff

For Bloggers

Join the Yardbarker Network for more promotion, traffic, and money.

Company Info

Help

What is Yardbarker?

Yardbarker is the largest network of sports blogs and pro athlete blogs on the web. This site is the hub of the Yardbarker Network, where our editors and algorithms curate the best sports content from our network and beyond.