Found January 04, 2013 on Pass The Pill:
San Antonio Spurs' head coach, Greg Popovich, feels that Spurs' small forward, Stephen Jackson, spends too much of his time on social media juggernaut, Twitter. An accusation Jackson fired back at with a funny response. "Jack's a pain in the (butt),"Popovich said. "Look at him, all he does is twitters. "He's twittering some stuff right now that'll probably get him fined, and then I've got to call the league and talk to the league and say, 'Yeah, I talked to him.' " To which Jackson responded. "It's not Twitter. It's Instagram." Oh, well since you put it that way, no big deal. This is a classic case of when your dad yells at you for spending too much time playing "that damned Sega Genesis", when in reality you're playing Xbox, because Sega Genesis hasn't been relevant since the 1990′s…. and your dad is really lame and outdated for having no idea that there is even a difference between the two. Greg Popovich, like many coaches, or people his age, probably doesn't use Twitter, or Instagram, or even Facebook, but he does know his personnel, and his idea that Jackson was on social media saying/doing something that could get him in hot water with David Stern seems pretty realistic, knowing Stephen. Pop may not know a thing about social media, but he has his players pegged. The post Greg Popovich thinks Stephen Jackson spends too much time on Twitter appeared first on Pass The Pill.
Original Story:
http://sports-kings.com/passthepill/g...
THE BACKYARD
BEST OF MAXIM
RELATED ARTICLES
Stephen Jackson had to leave Thursday's Spurs-Knicks game at Madison Square Garden after spraining his ankle falling on a waitress who was serving Mayor Bloomberg. We're not even joking. The injury occurred late in the first quarter of the game after Jackson attempted a three-point shot from the corner. As he was backing up while tracking his shot, he stumbled over a waitress...
San Antonio Spurs forward Stephen Jackson sprained his ankle in the first quarter of Thursday night's game at Madison Square Garden against the New York Knicks when he fell on a courtside waitress. The waitress was crouched down by the front row and reportedly in the midst of serving NYC mayor Michael Bloomberg when Jackson stepped backwards after taking a 3-point shot and...
Spurs forward Stephen Jackson has left San Antonio's game against the Knicks after spraining his right ankle when he crashed into a waitress working the sideline in front of New York Mayor Michael Bloomberg. Jackson was hurt in the first quarter Thursday night when he shot a 3-pointer from the corner. The shot missed and he stepped backward out of bounds and onto the waitress...
Stephen Jackson was injured in a collision with a waitress last night.  And no, this was not after the game when the team went out for food.  This was during the game.  Jackson turned his ankle during the collision and had to leave the game.John Shuhman of NBA.com says the waitress was squatting down at the court-side seats just behind the sideline when Jackson was attempting...
Add Spurs forwards Stephen Jackson's newly sprained right ankle to the list of freak sports injuries, after Jackson injured himself tripping over a courtside waitress taking an order from New York City Mayor Michael Bloomberg.  Jackson had just attempted a three-pointer in the first quarter of Thursday night's 100-83 loss to the Knicks when he took a few steps back and fell...
New York City Mayor Michael Bloomberg and an unsuspecting waitress were involved in a Larry David-esque sideline incident that sent San Antonio Spurs forward Stephen Jackson to the locker room Thursday night. Jackson came down after shooting a corner three, stepped back, and fell awkwardly on the waitress, who was serving Bloomberg at the unfortunate moment. Announcers reported Jackson...
The San Antonio Spurs having a healthy team lasted for a few games and they looked dominant (7-game win streak) during that stretch. That streak ended on Thursday night against the New York Knicks and the team's short lived streak of being healthy ended on the same night when Stephen Jackson tripped over a waitress who was courtside taking an order for New York Mayor Michael...
We've posted some pretty flukey injuries here on That NBA Lottery Pick but this one from last night's Spurs/Knicks game is as flukey as they come.In the first quarter, Spurs forward Stephen Jackson attempted a three point shot in the left corner and accidentally tripped over a Madison Square Garden server who was serving the mayor of New York, Michael Bloomberg:Jackson would...
The reverse alley-oop by J.R. Smith wasn't the only thing worth pointing out in the Spurs loss to the Knicks last night.  Spurs forward Stephen Jackson had an unfortunate incident with a waitress during the game.  And no it was not sexual.  He was taking a jump shot in the corner when he took a step back and his ankle twisted on a waitresses foot.  Bad luck huh???  The funniest...
New York City Mayor Michael Bloomberg played an unwitting part in the New York Knicks 100-83 victory over the San Antonio Spurs Thursday night at Madison Square Garden.  Bloomberg was sitting courtside (where else?) at last night's game when he ordered a box of popcorn and a bottle of water — No large sodas for this mayor — when he got up close to the action. As the waitress...
((HT: NBA/MSG/Youtube)) The HQ, admittedly, isn't that much of an NBA fan... But when these things happen on the parkay floor, we'll bite... First, JR Smith just gets abusive... Pablo Prignioni has good eyesight... Then, there's the whole notion that when Gregg Popovich rested his guys and sent them home early and he caught hell for it. THIS IS WHY HE...
Calling Thursday's sideline incident at Madison Square Garden that led to forward Stephen Jackson's right ankle sprain "a Mayoral mishap," Spurs coach Gregg Popovich called on the NBA to police activity along the league's sidelines and baselines. "It's maddening," Popovich said of the incident in which Jackson lost his balance after running into a waitress during...
Spurs News

Delivered to your inbox

You'll also receive Yardbarker's daily Top 10, featuring the best sports stories from around the web. Customize your newsletter to get articles on your favorite sports and teams. And the best part? It's free!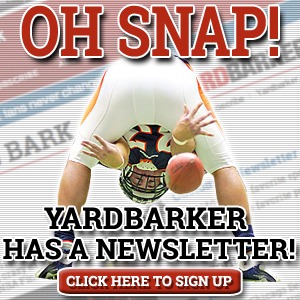 Latest Rumors
Best of Yardbarker

Today's Best Stuff

For Bloggers

Join the Yardbarker Network for more promotion, traffic, and money.

Company Info

Help

What is Yardbarker?

Yardbarker is the largest network of sports blogs and pro athlete blogs on the web. This site is the hub of the Yardbarker Network, where our editors and algorithms curate the best sports content from our network and beyond.