Posted March 28, 2013 on AP on Fox
PLAYERS:
Dwyane Wade
,
Kobe Bryant
,
Erik Spoelstra
,
LeBron James
,
Shane Battier
,
Pau Gasol
TEAMS:
Miami Heat
,
Chicago Bulls
,
Los Angeles Lakers
,
Houston Rockets
,
Pittsburgh Penguins
,
New York Knicks
,
Notre Dame Fighting Irish
Their winning streak finally over, the Miami Heat did on Thursday what they had planned to do all along. They took the day off. While the circus atmosphere around the team may slow down now - until the playoffs start, anyway - the way the reigning NBA champions go about their business over the final 11 games of the regular season probably will not. Miami's epic, historic, sometimes-mindboggling 27-game winning streak ended with a 101-97 loss to the Chicago Bulls on Wednesday night, and Heat guard Dwyane Wade was among those sounding absolutely relieved afterward. ''It really didn't matter to us,'' Wade said. ''If you get it, it's awesome. If you don't, we still won 27 games in a row. That's pretty awesome. So, we really weren't like, `We've got to get that record.' Not at all. And now that it's over, I'm glad it's over.'' Next up: Friday night at New Orleans, where the Heat will try to return to their winning ways. Miami's quest for NBA history ended with the Heat six games shy of matching the 1971-72 Los Angeles Lakers for the league's longest winning streak. The Lakers will keep their record, but the biggest Lakers star of this generation offered the Heat plenty of respect when their run was over. ''I think just as a student of the game, as a fan of the game, you appreciate those kind of streaks and you realize how difficult it is to put together that big of a streak,'' Lakers star Kobe Bryant said after learning of the Heat loss. ''Obviously the Lakers winning 33 in a row was phenomenal, but the Heat's one was just as impressive.'' Still, the Heat insist they can get better. When Indiana beat the Heat on Feb. 1, Miami coach Erik Spoelstra's postgame theme was that his club had to get better. Nearly two months later, when the Heat streak ended in Chicago, much of Spoelstra's postgame remarks had the same theme. Players understood his point. ''At the end of the day, a win is a win in our league,'' said reigning MVP LeBron James, who averaged exactly 27 points per game during the 27-game winning streak. ''We've gotten better throughout the season. Each and every month we've improved. We've started from behind some games, but for the most part we've played some great basketball. We're not a team that builds bad habits. That's not even who we are so we're not worried about that.'' No matter how they did it, no matter how many double-digit deficits they erased or fourth-quarter comebacks they pulled off, the bottom line was Miami enjoyed 7 1/2 weeks of dominance. Entering Thursday, 10 NBA teams hadn't won 27 games yet this season. ''Really proud of the grind of the last few weeks from my guys,'' Miami forward Shane Battier, who was part of a 32-game win streak at Duke, 22 with the Houston Rockets and now 27 with the Heat, wrote on Twitter early Thursday. ''The focus and effort (and luck) was phenomenal.'' Battier closed that tweet with two hashtagged words - onward and upwards. Whether it was because they were revered or reviled, the Heat probably got more eyeballs on NBA regular-season basketball than any team had in some time, with people watching to root for either the streak continuing or the streak ending. They were must-see TV, as proven by national networks like ESPN and NBA TV scrambling to pick up Heat games as the streak rolled along. ESPN said the overnight rating for Heat-Bulls was the fifth-best of any regular-season game ever shown on the network. Media coverage was as intense as any time during the Big Three era in Miami. On Monday in Orlando, the visiting locker room was overwhelmed by reporters. And on Wednesday in Chicago, Wade freely said he was ready for the circus to end. ''I don't know who half you people are,'' Wade said. For those who still need streaks to follow, there's plenty of options. Women's basketball is chock-full of them right now, with Baylor (32), Notre Dame (28) and Delaware (27) all taking streaks that at least match the Heat run into NCAA regional games this weekend. The NHL's Pittsburgh Penguins were seeking for a 14th straight win against Winnipeg on Thursday night. In men's college basketball, Louisville takes a 12-game winning streak into its Midwest Regional semifinal against Oregon on Friday night. As far as the NBA goes, the longest current winning streak now belongs to the New York Knicks - a mere six games. What the Heat did obviously won't be exceeded this season, and probably not for a while. If Miami won every game left on its schedule and swept all four playoff series, they would end the year with another 27-game winning streak. Don't count on that one happening. Bryant may have tipped his cap to the Heat, but not all the Lakers were exactly heartbroken that their franchise will keep the record. ''We kept the streak,'' Lakers center Pau Gasol said. ''And it's about time that Miami lost.'' During the streak - starting from the moment Miami lost in Indiana on Feb. 1 to the final buzzer in Chicago - every other NBA team lost at least five times. Nearly two-thirds of the league lost at least 10 games. Orlando lost more than anyone else, falling on 23 occasions. Maybe the biggest sign of Miami's dominance was that 12 teams endured more defeats during the streak than the Heat had lost all season. Starting Friday, they begin another chapter. ''Now that it's over,'' Wade said, ''let's look back on it as something that was great.'' --- AP Basketball Writer Jon Krawczynski in Minneapolis contributed to this report.
Original Story:
http://msn.foxsports.com/nba/story/He...
THE BACKYARD
BEST OF MAXIM
RELATED ARTICLES
There was a prediction that existed among optimistic Chicago Bulls fans that their MVP Derrick Rose would pick Wednesday to return to the lineup to vanquish the mighty Miami Heat. Please click here to read this story. The post Dwyane Wade in, Derrick Rose still out as Miami Heat go for 28th straight appeared first on Players View.
Kevin Durant and Dwyane Wade have teamed up with Gatorade for a pretty cool new commercial entitled Fixation. The commercial reenacts the NBA Finals matchup between the Oklahoma City Thunder and the Miami Heat from last year's playoffs. From the YouTube description, "Fixation is a story about the relentless inner drive of athletes to be the best they can be." Durant even...
CAN'T TAKE IT ANYMORE
The Heat's winning streak came to an end Wednesday against the Bulls and LeBron appeared to be most frustrated about two hard fouls against him during the game.
We here at That NBA Lottery Pick love posting commercials starring NBA players and the latest one from the folks over at Gatorade feature two of the biggest stars in the Association.Check out Miami Heat star Dwyane Wade and Oklahoma City Thunder forward Kevin Durant in a new commercial which shows one of KD's worst dreams:
For the next 48 hours, the sports media will be on fire as we all lament the death of the Miami Heat's winning streak. For historical purposes, we all enjoy watching our generation of legends detonate history so that we can be a part of something special. These things define us just as much as it defines the players that get the job done. Please click here to read the rest...
According to The Dallas Morning News, Dallas Mavericks center Chris Kaman does not like Dwyane Wade.  Kaman said, I just never really got along with Dwyane Wade.  I guess I [...]
Tweet Sports drink Gatorade has been ramping up their advertising as the NBA playoffs approach an have enlisted Kevin Durant and Dwyane Wade to star in their newest campaign. This one features Durant and Wade having nightmares about facing each other: Check out the cool new ad below: If you recall, the Heat and Thunder [...]
Miami Heat forward LeBron James said Friday that he doesn't care what other people think about the comments he made over the hard intentional fouls he encountered Wednesday night. "I actually 
Take heart, Heat. Look out, NBA. When the Los Angeles Lakers' 33-game winning streak ended, they hit a bit of a lull before rolling through the playoffs and winning the NBA title. That scenario likely would suit Miami just fine since the defending champions have said all along they were focused on repeating more than breaking a record. Dwyane Wade even sounded relieved Miami...
The Heat's unforgettable chase for history has come to a screeching halt at 27 games after the Bulls pulled off the upset Wednesday night. But don't fret because it's time to relive all the highlights (remarkable and ridiculous) Miami authored during this nearly two-month run. The Harlem Shake Love 'em or hate 'em, the Miami Heat know how to have a good time...
The 27-game winning streak is a thing of the past and the Eastern Conference's best record is clinched. There's only one order of regular-season business left for the Miami Heat. That's getting the NBA's best overall record. And the Heat could go a long way toward wrapping that up in San Antonio on Sunday night. The Heat have a two-game lead over the Spurs with...
SCOTT JACOBS Back in the fall of 2009 I had the opportunity to do a feature story on then Seminoles star (and highly recruited McDonalds All-American) Chris Singleton. Sunshine State hoops was not what it is today, and the thought of LeBron James, Dwyane Wade, and Chris Bosh on the same team wasn't just a pipe dream, it wasn't even conceivable. FSU was in the middle of another...
NBA News

Delivered to your inbox

You'll also receive Yardbarker's daily Top 10, featuring the best sports stories from around the web. Customize your newsletter to get articles on your favorite sports and teams. And the best part? It's free!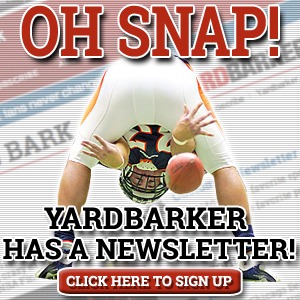 Latest Rumors
The Backyard

Today's Best Stuff

For Bloggers

Join the Yardbarker Network for more promotion, traffic, and money.

Company Info

Help

What is Yardbarker?

Yardbarker is the largest network of sports blogs and pro athlete blogs on the web. This site is the hub of the Yardbarker Network, where our editors and algorithms curate the best sports content from our network and beyond.