Found November 21, 2012 on Blog So Hard Sports:
Wednesday Wizards Report Photo Courtesy of Joe Glorioso   Hope is "the feeling that what is wanted can be had or that events will turn out for the best" according to Wikipedia. What we hope for as Wizards fans is to become relevant again and start winning on a consistent basis. We want our management to make sound decisions that help build the foundation of a winning franchise, not clog our roster with over-paid veterans and terrible draft picks. Even through our worst start in franchise history and a roster that, to put it nicely, isn't what we were hoping for; there are signs of hope that are peaking over the horizon. As much as we pray for the departure of Grunfeld, some of our hope can be fulfilled this season with this current roster. This first decision that needs to be made is the firing of Randy Wittman. This man has never won on a consistent basis, never won an NBA title as a player or coach, and just recently made himself sound like the world's most idiotic coach. We probably won't be able to hire a free-agent coach with credentials at this point in the season, but we have an assistant coach who might just fit the bill in Sam Cassell.  Even if he isn't the long term solution at head coach, we can at least see if he needs to part of this franchise moving forward. I personally would really love to see what Cassell can bring to the table as head coach. He is a three time NBA champion as a player and knows what it takes to make it the top of the pecking order in the NBA. Also, Cassell is young enough to be able to really relate to these players and hopefully be able to motivate them in ways Flip Saunders and Randy Wittman could not. We're 0-9 and Wittman has proclaimed that he doesn't even know what to do with his rotations. Why keep this guy around when we have an NBA Champion sitting beside him on the bench. Players tend to listen a little more when orders are being barked from a man with rings on his finger. And hey, it can't get any worse so why not give Cassell a chance. After the coaching change takes place, the next piece of the pie to fall in line would be for us to exterminate the injury bug. If we can get a full healthy roster, this team can be something worth cheering for as we all had hoped for at the beginning of the season. The Wiz rattled off 6 wins in a row to end last season, and the last 5 were with John Wall and Nene in the line-up. With  Nene on the court, Wall played his best basketball. In those 5 games, John averaged 14 points and 12.4 assists per game. Those numbers are the numbers we are desperately missing at the point guard position.  Also, Nene provides a scoring punch in the post that Okafor just does not offer. With Wall and Nene's returns now in sight, a better brand of basketball is just over the Wizard's horizon. John Wall's return will also provide much more than just a statistical boost to our point guard numbers. His dashing and slashing will open up looks for teammates that AJ Price just cannot generate. Bradley Beal, Cartier Martin, and Jordan Crawford will be seeing wide open looks that will make them think they are in a 3-point contest. Seraphin, Okafor, Booker, and the rest of our post gang with be salivating at the wide open dunk opportunities that Wall creates. To sum it all up, the Wiz will look much more like a successful basketball team when our star floor leader makes his return, and hopefully that will be sooner rather than later. There have been reports that Nene could be making his season debut tonight in Atlanta. Nene will not only provide another physical presence in the post, but should provide a leadership boost on the court that the Wiz have been lacking. Nene will also give the Wiz a 4th quarter scorer that we have been deeply missing to close out all these close contests. With a healthy line-up and a much needed coaching change, things could turn around quickly for this Wiz squad and our hope that we had at the beginning of the season can be somewhat restored.
Original Story:
http://blogsohardsports.com/wizards-2...
THE BACKYARD
BEST OF MAXIM
RELATED ARTICLES
Photo courtesy Joe Glorioso   The 2012-13 Washington Wizards are off to an 0-9 start. Another way of putting that is that this Wizards team is off to the worst start in the history of their entire franchise. You have to be pretty bad to set records of futility for a franchise that is more known as a punchline than they are as successful. A commenter on the Wizards Extreme message...
Things have gotten really bad for the Washington Wizards. At 0-9, they are the NBA's only winless team and — not surprisingly — are in the bottom five of almost every category in the league, including attendance. They may have hit a new low Monday, when the banged-up and listless Pacers came to town and handed the Wizards a 96-89 defeat. Aftward, Wizards coach Randy Wittman...
As the coach of the only NBA team without a victory this season, Randy Wittman is struggling to pick a starting lineup for the Washington Wizards. Can't even zero in on a nine-man rotation, actually. All the while, he needs to buoy his own flagging spirits and try to prevent his players from getting too down on themselves after a franchise-worst 0-9 start. ''This isn...
EYE CANDY
Atlanta Hawks center/power forward Al Horford's little brother got an eye full as a well-endowed Hawks cheerleader served snacks to spectators at the game against the Washington Wizards Wednesday night. The expression on his face is priceless.
What do you have to do to win a game in the NBA? Martell Webster was ready to play the hero for the 0-9 Washington Wizards on Wednesday night (say that 10 times fast), but his attempt came up a split-second short as the officials overturned his last-touch layup and gave the Atlanta Hawks a 101-100 victory instead. The Wizards have had a rough season, but things appeared to finally...
Well. In front of a sparsely populated Verizon Center crowd last night, the Washington Wizards saw their spirited second half fail to net a victory, as they fell to the Indiana Pacers 96-89.  The Wizards are now 0-9 on the young season and off to the worst start in franchise history. Aside from eternal optimists, you'd be hard pressed to find a Wizards fan that thought this...
ATLANTA -- Most of the Washington Wizards were in the locker room thinking they had claimed their first victory after Martell Webster saved a Kevin Seraphin air ball and scooped it into the basket as time expired in overtime. Only Nene stayed on the court, praying. But after scrutinizing the video, the officials ruled no shot. The Atlanta Hawks had hung on to win 101-100 Wednesday...
Coach Randy Wittman remains optimistic while trying to find the answers to help the Washington Wizards end the worst start in franchise history. A visit to Atlanta might not provide the solution Washington needs to finally win a game. The Wizards can avoid a 10th straight loss to open the season if they snap an eight-game road skid to the Hawks on Wednesday night. While Washington...
ATLANTA – Kyle Korver hit a three-point shot with 1.7 seconds left in overtime and the Atlanta Hawks beat the Washington Wizards 101-100 Wednesday night. The winless Wizards almost had a final bucket -- Martell Webster tipped in a Kevin Seraphin shot, but time had expired. Seraphin had a season high 21 points and 10 rebounds and Trevor Ariza 15 rebounds and 12 points. The Wizards...
Wizards News

Delivered to your inbox

You'll also receive Yardbarker's daily Top 10, featuring the best sports stories from around the web. Customize your newsletter to get articles on your favorite sports and teams. And the best part? It's free!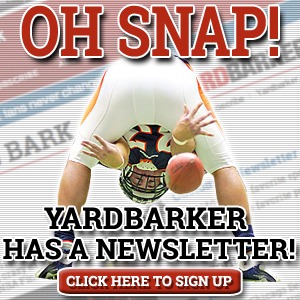 Latest Rumors
Best of Yardbarker

Today's Best Stuff

For Bloggers

Join the Yardbarker Network for more promotion, traffic, and money.

Company Info

Help

What is Yardbarker?

Yardbarker is the largest network of sports blogs and pro athlete blogs on the web. This site is the hub of the Yardbarker Network, where our editors and algorithms curate the best sports content from our network and beyond.